Baby Means Coach Bag, Jordan Shoes in 'Milk Like Sugar': Review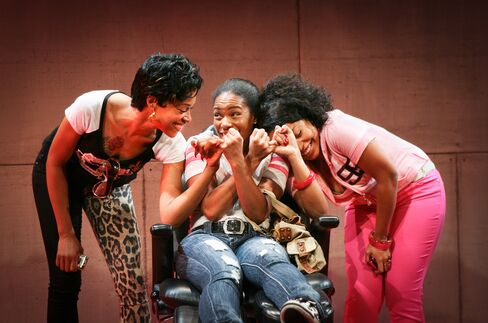 In "Milk Like Sugar," three high school girls vow to get pregnant at the same time, with an eye to the cool stuff a baby will endow them with.
Kirsten Greenidge's play, given a high-voltage New York premiere at Playwrights Horizons, opens in a tattoo parlor in an unidentified inner city. Nearly every sentence uttered by these high-spirited girls ends in "yo," an obscenity, or both.
Annie, played with startling grace by Angela Lewis, is getting a tattoo to celebrate her Sweet Sixteen.
She's the smart one; Talisha (Cherise Boothe) is vicious and mean, while Margie (Nikiya Mathis) already is pregnant and giggly with anticipation of those goodies coming her way: A Coach diaper bag. Jordan sneakers. A three-wheeled jogging stroller, perhaps. Definitely a better cell phone.
The litany of brand names serves as an early warning alarm that we're in for a morality tale, and "Milk Like Sugar" -- a reference to the formula that the girls were weaned on rather than mother's milk -- doesn't disappoint.
This is a tiresome after-school special pumped up with naughty words and such heavy-handed symbols as a telescope to survey the infinite universe and a notebook that may hold the key to a better future. Directed by Rebecca Taichman, it even seems to be taking place on a sound stage.
Ferocious Pinkins
And yet there is, in addition to Lewis, a ferocious performance by Tonya Pinkins as Annie's mother, Myrna, who cleans offices at night and uses her access to computers to write her stories. (Not in this age of security, another point that makes "Milk Like Sugar" feel like yesterday's news.)
Myrna, never seen without a cigarette dangling menacingly from her lips, is acid on Annie's dreams. College will be too expensive, and who is she, anyway, thinking she's better than the rest?
Will Annie resist the pull of conformity? Keep your eye on the tattoo guy.
At 416 W. 42nd St. Information: +1-212-279-4200; http://playwrightshorizons.org. Rating: *
What the Stars Mean:
****        Do Not Miss
***         Excellent
**          Good
*           So-So
(No stars)  Avoid
(Jeremy Gerard is the drama critic for Muse, the arts and leisure section of Bloomberg News. The opinions expressed are his own.)
Before it's here, it's on the Bloomberg Terminal.
LEARN MORE