U.K. Economy May Struggle to Grow as Recession Risk Mounts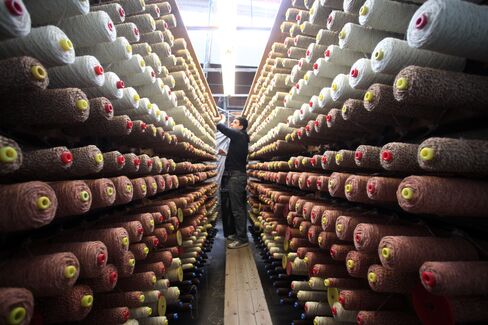 Nov. 1 (Bloomberg) -- Britain's economic recovery will continue to falter in the current quarter after it struggled to build momentum in the previous three months, economists said.
Gross domestic product rose 0.3 percent in third quarter compared with a 0.1 percent increase in the second quarter, according to the median of 36 forecasts in a Bloomberg News survey. The Office for National Statistics will publish the data at 9:30 a.m. in London. Manufacturing probably stagnated in October and services growth slowed, according to separate surveys of economists before reports this week.
The Bank of England expanded stimulus for the first time in two years last month and the government is working on a plan to boost lending as Europe's debt crisis raises the risk of another U.K. recession. With the increase in third-quarter GDP partly due to a rebound from one-off factors, Bank of England Markets Director Paul Fisher said the pace may not be sustained and there's a chance of stagnation in the current quarter.
"The risks are still skewed to the downside," said Ross Walker, an economist at Royal Bank of Scotland Group Plc in London. "As long as the data continues to come in on the weak side, the Bank of England will be minded to loosen more."
The central bank expanded its bond-purchase program by 75 billion pounds ($120 billion pounds) to 275 billion pounds on Oct. 6, and left its benchmark interest rate at a record-low 0.5 percent. Walker, who sees the economy expanding 0.1 percent in the current quarter and the first three months of 2012, forecasts the central bank will add another 50 billion pounds of so-called quantitative easing in February.
Greek Concern
The pound declined for a second day against the dollar. It traded at $1.6016 as of 8:04 a.m. in London, down 0.4 percent from yesterday.
European stocks fell after Greek Prime Minister George Papandreou pledged to hold a referendum on the European Union's latest bailout plan for the nation, raising concern it may default. The FTSE 100 Index fell 2.3 percent and the Stoxx 600 dropped 2.5 percent.
An index of U.K. manufacturing by Markit Economics and the Chartered Institute of Purchasing and Supply probably declined to 50 in October from 51.1 in September, according to the median forecast of 29 economists in a Bloomberg survey. An index of services, which account for about 75 percent of the economy, may have fallen to 52 from 52.9, another survey shows. The manufacturing gauge will be published today and the services measure on Nov. 3. A reading above 50 indicates growth.
Domestic Pressure
In addition to the euro-area crisis, the U.K. economy is under pressure from Prime Minister David Cameron's budget squeeze, the nation's biggest since World War II. With unemployment at a 15-year high, Cameron's government is working on a credit easing plan to boost lending to small companies and aid the recovery.
Tesco Plc, Britain's biggest supermarket chain, said last month it is seeing "subdued" U.K. demand in what is "the most challenging retail market we have seen for a generation."
Bank of England officials hold their next policy meeting on Nov. 9-10. Fisher said in an interview last week that U.K. growth may be "not much better than flat" in the fourth quarter and there is a "significant" chance of another recession.
U.K. second-quarter output was affected by the March 11 earthquake in Japan and an additional public holiday to mark the wedding of Prince William and Kate Middleton on April 29.
The statistics office estimated when it released the second-quarter data that growth would have been about 0.5 percentage points higher excluding temporary factors.
"The temporary influences that held GDP down during the second quarter reversed in the third quarter, which in turn is likely to boost growth," said Alan Clarke, an economist at Scotia Capital. "It will not be until the fourth quarter, assuming no disasters such as snow, hurricanes or floods, that we have an undistorted gauge of growth. At that point, we expect confirmation that the recovery has stalled."
To contact the reporter on this story: Scott Hamilton in London at shamilton8@bloomberg.net
To contact the editor responsible for this story: Craig Stirling at cstirling1@bloomberg.net