U.K. Third Quarter Growth Rebounds Before Crisis Escalation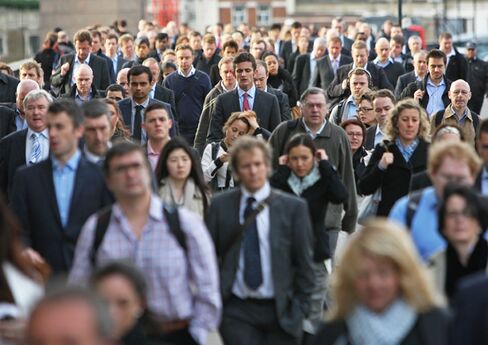 The U.K. economy grew faster than economists forecast in the third quarter as it rebounded from one-off factors before an escalation of Europe's debt crisis that threatens to push Britain back into recession.
Gross domestic product rose 0.5 percent from the second quarter, when it increased 0.1 percent, the Office for National Statistics in London said today. Economists forecast 0.3 percent, based on the median of 36 estimates in a Bloomberg News survey. A separate report showed manufacturing unexpectedly shrank the most in 28 months in October, pointing to weakness at the start of the fourth quarter.
The Bank of England expanded stimulus for the first time in two years last month and the government is working on a plan to boost lending as Europe's debt crisis raises the risk of another U.K. recession. With the increase in third-quarter GDP partly due to a rebound from one-time factors, Bank of England Markets Director Paul Fisher has said the pace may not be sustained and there's a chance of stagnation in the current quarter.
"Activity is fading quickly," David Tinsley, an economist at BNP Paribas SA in London. "You only to have to look at today's manufacturing number to see that. We see the possibility of a contraction in the fourth quarter."
An index of manufacturing by the Chartered Institute of Purchasing and Supply fell to 47.4 in October from 50.8 in September. That's lower than the 50 reading that was the median forecast in a Bloomberg survey. A services gauge to be published Nov. 3 probably fell to 52 from 52.9, according to a survey of economists.
Pound Drops
The pound extended its decline against the dollar after the reports were published. It traded at $1.5932 as of 10:15 a.m. in London, down 1 percent on the day.
European stocks also fell today after Greek Prime Minister George Papandreou pledged to hold a referendum on Europe's latest bailout for the nation, raising concern it may default. The FTSE 100 Index fell 2.2 percent, while Europe's Stoxx 600 Index dropped 2.8 percent.
In the third quarter, U.K. services output grew 0.7 percent, while industrial production increased 0.5 percent, the statistics office said. Services was led by finance and business services, which jumped 0.8 percent, the most since the third quarter of 2007, just before the start of the financial crisis. Within production industries, manufacturing increased 0.2 percent. Construction fell 0.6 percent.
'Difficult Journey'
"This is a positive step, the economy is growing, and it is a better number today than many people were forecasting," Chancellor of the Exchequer George Osborne told Sky News today. "It's still going to be a difficult journey for the economy because of what's happening in the world."
Barclays Plc, Britain's second-biggest bank by assets, yesterday posted quarterly profit that beat estimates as earnings at the U.K. consumer bank more than doubled and investment bank revenue declined by less than European peers.
While the third quarter "looks respectable it is important to remember that this follows a figure depressed by having fewer working days because of the royal wedding and supply disruptions caused by the Japan earthquake," said James Knightley, an economist at ING Bank in London. "The underlying picture remains weak" and "it looks as though we should be expecting negative growth in the fourth quarter."
The Office for National Statistics said the interpretation of the third-quarter GDP estimate is "complicated" by the one-off factors in the second quarter. It "may be wise" to look at both quarters together, it said, adding that growth was 0.6 percent in the six-month period.
BOE Policy
In a separate report, the statistics office said services, which account for about 75 percent of the economy, grew 0.3 percent in August from the previous month and were up 0.9 percent on the year. On a three-month basis, the index of services rose 0.4 percent.
The Bank of England expanded its bond-purchase program by 75 billion pounds ($120 billion pounds) to 275 billion pounds on Oct. 6 as Europe's debt crisis raised bank funding costs and threatened to push the U.K. economy back into recession.
In addition to the euro-area crisis, the U.K. economy is under pressure from Prime Minister David Cameron's budget squeeze, the nation's biggest since World War II. With unemployment at a 15-year high, Cameron's government is working on a credit easing plan to boost lending to small companies and aid the recovery.
Bank of England officials hold their next policy meeting on Nov. 9-10. Fisher said in an interview last week that U.K. growth may be "not much better than flat" in the fourth quarter and there is a "significant" chance of another recession.
Before it's here, it's on the Bloomberg Terminal.
LEARN MORE