Swap ETFs, SocGen's Lyxor Have Record Outflows Amid Crisis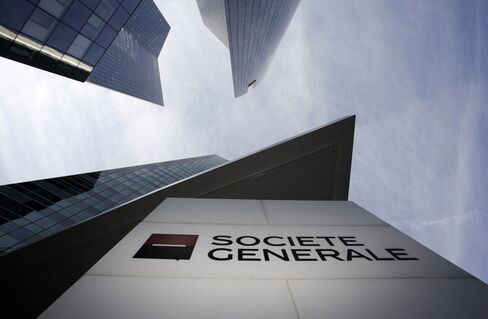 Investors pulled the most money in at least two years from European exchange-traded funds that use derivatives to track asset performance, moving record amounts into ETFs backed by physical bonds and shares instead.
About 2 billion euros ($2.8 billion) of net withdrawals were incurred by the five largest providers of synthetic ETFs last quarter, with the steepest outflows from Societe Generale SA's Lyxor Asset Management, according to Deutsche Bank AG, which has compiled the data since 2009. Another 1.2 billion euros left those firms through the third week of October.
ETFs that use swaps to clone stock, bond or currency returns have been criticized by regulators and firms including Fidelity Investors, which say clients risk losing money should the banks writing the derivatives become insolvent. Outflows from Lyxor are another blow to Societe Generale, France's second-largest bank, whose shares have tumbled this year as the escalating sovereign-debt crisis squeezes lenders' funding.
"It's an issue of counterparty risk related to the financial health of the backing bank," said Jose Garcia Zarate, an ETF analyst at Morningstar Inc. in London. "Fears over synthetic replication have been building up, and at the same time, fears of banks' peripheral-debt exposure have grown. Put those two together: bingo!"
Some of Lyxor's biggest funds, trackers for the Euro Stoxx 50 Index, emerging markets and benchmarks for sovereign debt in the euro region, posted outflows of 4.4 billion euros from the start of 2011 through Oct. 25, the Paris-based company said.
Index Reallocation
"The outflows are only linked to asset-allocation decisions and not to any CDS spreads," and have "nothing" to do with the company's synthetic-replication technique, said Simon Klein, Lyxor's head of ETFs for Europe.
Lyxor, which was created by Societe Generale and pioneered Europe's first synthetic ETF, managed 31.2 billion euros in ETF assets through August.
Five-year credit-default swaps on Societe Generale reached a record 435 basis points in September, Bloomberg data shows. That means investors paid 435,000 euros a year to protect 10 million euros worth of debt from default over that period. The bank reiterated on Oct. 27 that it wouldn't need to tap the state or markets to meet capital requirements.
"There are a lot of people who have become cautious over the last few months and taken out money from some providers due to rumors about the vulnerability of French banks," said Detlef Glow, Frankfurt-based head of research for Europe, Middle East and Africa at Lipper, a funds analyst.
The Stoxx Europe 600 Index fell 3.2 percent at noon in London today, led by banks, as the announcement of a Greek referendum on austerity plans spurred concern that the country may default. A measure of banks in the European index has lost 32 percent in 2011, the worst performance among 19 industries.
DAX Demand
Lyxor isn't the only swap-based ETF manager to struggle this year. New inflows so far this year for synthetic ETF companies slumped to 1.4 billion euros, according to the Deutsche Bank data, from 17.2 billion euros for all of 2010.
Source, whose ETFs rely on swaps signed by the firm's investment-bank owners, had negative flows of 499 million euros last quarter and outflows of 59 million euros in the first three weeks of October, Deutsche Bank data show. ComStage, the ETF provider owned by Commerzbank AG, had 156 million euros in outflows last quarter and a further 59 million euros this month, respectively.
Lyxor says outflows were boosted because the Euro Stoxx 50 was particularly hurt in this year's market turmoil, with investors switching to ETFs linked to the DAX Index for the perceived safety of German assets and the measure's lighter weighting of troubled bank stocks.
Though Lyxor has a DAX ETF, it's only the company's fifth-largest by assets, though it has attracted 342 million euros in the first three quarters of the year. The DAX is down 11 percent this year, compared with the Euro Stoxx 50's 15 percent decline.
Regulatory Concern
Deutsche Bank's db x-trackers DAX and BlackRock Inc.'s iShares DAX lead the market for ETFs tracking the German benchmark, based on assets under management. Deutsche Bank, the biggest provider of swap-based ETFs in Europe, has lured 529 million euros in net inflows in the second half.
Lyxor's DAX ETF is a fifth the size of its Euro Stoxx 50 fund, its largest. It's also about one-tenth the size of a similar product by iShares and a sixth the size of its db X-tracker counterpart, Bloomberg data show.
Christos Constantinides, an analyst at Deutsche Bank in London, also says outflows may be a result of allocation shifts between regions and assets. He estimates 65 percent of European ETF flows have been drawn to both synthetic and non-synthetic DAX trackers. Deutsche Bank compiles its data from ETF issuers and other providers.
Still, the better figures for funds that replicate indexes with physical stock suggest investors may be wary of their synthetic counterparts. The U.S. Securities and Exchange Commission has declined to approve new swap-based ETFs for more than a year, while Emil Wolter, an analyst at Royal Bank of Scotland Group Plc, last year said risks of counterparty default weren't getting enough scrutiny and called synthetic ETF's a "Frankenstein" product.
Physical Inflows
Synthetic ETFs have responded by boosting reporting of collateral and holdings on a daily basis.
"There's been an asset-allocation move out of the Euro Stoxx 50, and those went to other funds with the highest liquidity," Lipper's Glow said. "But many people are saying we will not buy synthetic replication funds anymore."
Investors poured a record net inflow of 6.1 billion euros in the third quarter into the top five sellers of physical-replication ETFs, followed by an additional 504 million euros in October, the Deutsche Bank data show.
Physical-replication flows have already about matched 2010's total of 17 billion euros, the data show. BlackRock, the biggest provider of physical ETFs in Europe, received 17 percent more inflows so far this year than in the whole of 2010.
BlackRock's iShares Euro Stoxx 50 ETF, which buys physical shares, had $3.7 billion in net inflows through the third quarter. The New York-based asset manager has lobbied for swap-based funds to be subject to "clear labeling."
$270 Billion
ETFs, which trade like stocks, are now a $270-billion industry in Europe, BlackRock says. Early versions partnered investors with a provider that would buy the securities each fund tracked. Banks seeking new sources of fees a decade ago saw an opportunity to move into the market.
In synthetic ETFs, pioneered by Lyxor's CAC 40 product, the fund seller pays a bank like Societe Generale or Deutsche Bank a fee to receive the return of an underlying index or security, then transfers those proceeds to the investor. The pledge is achieved through the purchase of a total-return swap from the bank, which also leaves either collateral assets or transfers holdings as a guarantee. The bank pockets a fee and also aims to trade and lend the assets the ETF tracks for a profit.
Lyxor's Klein says concerns about his company's products are unfounded, since Lyxor's contracts give investors ownership of physical assets as a guarantee.
"Our risk structure and that of physical ETFs are quite similar," given that the latter regularly lend out stock to institutions, creating counterparty risk, he said.
Before it's here, it's on the Bloomberg Terminal.
LEARN MORE