Sarkozy Says Last Week's Plan Is 'Only Way' to Fix Greece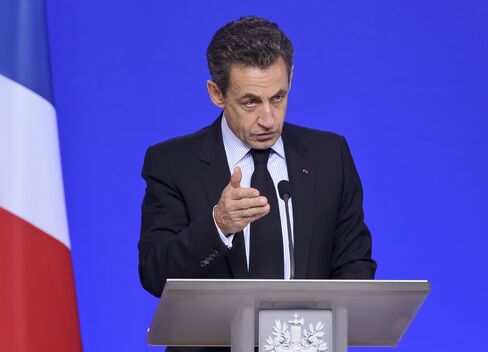 French President Nicolas Sarkozy said the plan agreed upon by European leaders last week is the "only way" to repair Greek finances after Prime Minister George Papandreou announced a referendum on the matter.
Stock indexes around the world dropped following Papandreou's announcement and the extra yield investors demand to hold Italian 10-year bonds over their German counterparts rose to a euro-era record. That prompted Italian Prime Minister Silvio Berlusconi to call for a ministerial meeting to discuss planned austerity measures.
Papandreou's decision to seek the support of Greek voters is a fresh challenge to the European Union-led bailout that involves a 50 percent writedown on Greek debt and further austerity measures in that country. The package was forged over four days of meetings culminating on Oct. 27.
The referendum proposal "surprised all of Europe," Sarkozy told reporters in Paris. "The plan adopted unanimously by the 17 members of the euro area last Thursday is the only possible way to resolve the problem of Greek debt," he said.
Sarkozy will meet tomorrow with German Chancellor Angela Merkel, officials from the International Monetary Fund and European institutions to discuss the Greek situation. The gathering will take place at 5:30 p.m. in Cannes, France, before a meeting Chinese President Hu Jintao and then Papandreou later in the evening. Group of 20 leaders gather in Cannes the following day.
Before it's here, it's on the Bloomberg Terminal.
LEARN MORE