Pfizer May Bring Over-the-Counter Lipitor Pill to Market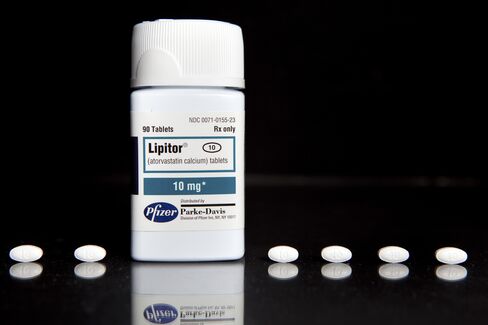 Pfizer Inc. will try to introduce a nonprescription form of top-seller Lipitor to help cushion tumbling sales of the cholesterol pill as generic versions reach the market, Chief Executive Officer Ian Read said.
Lipitor, which is Pfizer's biggest product, loses U.S. patent protection on Nov. 30. The New York-based company is looking for ways to replace its $10.7 billion in annual revenue as cheaper copies drive down prices.
"There is an intent at some point to have an OTC version of Lipitor in the marketplace," Read said today on a conference call discussing third-quarter earnings. A nonprescription version of Lipitor wouldn't be available until at least 2013 because of the regulatory process to get it approved, he said.
"We have no definitive evidence we can do it," Read said in an interview. An over-the-counter version of Lipitor would be the first of the statin cholesterol drugs on the market that consumers could buy without a prescription. The medicine would still compete with generic versions.
The loss of Lipitor's patent-protected revenue will drop Pfizer from its place atop the pharmaceutical world, where it leads all competitors in drug sales, EvaluatePharma Ltd. said yesterday in a report. In 2012, Paris-based Sanofi will hold the top spot, followed by Basel, Switzerland-based Novartis AG, and Pfizer in third, EvaluatePharma said.
'Rapid' Decline
Read said the company expects the decline in Lipitor sales to be "very rapid." Revenue from the cholesterol drug will fall by about half next year to $4.57 billion and to $3.17 billion in 2013, according to an average estimate by four analysts surveyed by Bloomberg.
Read declined to give a specific sales projection for over-the-counter Lipitor. "We believe it would be economically important, but you have to look in the context of some of the larger OTC brands," he said. The company's Advil and Centrum nonprescription drugs generate $175 million to $250 million each per quarter, Chief Financial Officer Frank D'Amelio said in the interview.
Pfizer increased less than a percent to $19.33 at 4 p.m. New York time, the only gainer among the 30 members of the Dow Jones Industrial Average index.
Divesting Units
The company is divesting its animal health and nutritional units to focus on producing new, brand-name pharmaceuticals. Pfizer will keep its generic drug business, which also oversees sales abroad.
The company has been examining an over-the-counter version of Lipitor, a person familiar with the situation said in August. The U.S. Food and Drug Administration must determine if patients can safely and effectively dose themselves without a doctor's prescription.
Pfizer successfully took its allergy medicine, Zyrtec, over-the-counter in 2008 before selling its consumer unit that year to Johnson & Johnson for $16.6 billion.
Along with trying to get an over-the-counter Lipitor to market, the company has struck agreements with pharmacy benefit management companies including Medco Health Solutions Inc. and Express Scripts Inc. to sell brand-name Lipitor at a lower price, Timothy Anderson, an analyst with Sanford C. Bernstein & Co., said in a note to clients on Oct. 30. The agreements are mostly for customers who get their drugs by mail, he said.
Pfizer reported third-quarter earnings today that beat the average estimate of 18 analysts surveyed by Bloomberg by 6 cents a share, as increased sales overseas and favorable exchange rates helped boost revenue. Profit excluding one-time items was 62 cents a share.
Net income increased more than fourfold to $3.74 billion, or 48 cents a share, from a year earlier when the company had charges related to an acquisition and asbestos litigation, Pfizer said in a statement.
Before it's here, it's on the Bloomberg Terminal.
LEARN MORE