Palestinians May Lose More Than Gain From Unesco Membership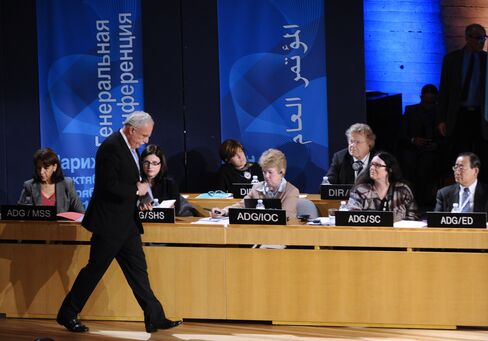 Acceptance into the UN cultural agency Unesco, best known for its designation of "world heritage" sites, hasn't brought the Palestinians closer to full membership in the United Nations itself.
If anything, the victory has come at a price.
A day after the Palestinians won full membership in the UN group with 107 votes in favor and 14 against, the U.S. cut off its funding, almost a quarter of the agency's budget. Moreover, swing votes the Palestinians need to bolster their support on the Security Council for full UN membership have evaporated.
Palestinian admission to Unesco is "a complication to the goal they set for themselves: a two-state solution," said Brian Katulis, a senior fellow at the Center for American Progress who studies U.S. security policy in the Middle East.
Any boost in public support that the vote may give Palestinian Authority President Mahmoud Abbas is questionable, said Katulis, who has worked in the West Bank and Gaza Strip.
For many Palestinians, the prisoner swap deal that Hamas -- considered a terrorist group by the U.S., Israel and the European Union -- negotiated with Israel last month "looks a lot stronger than Abbas getting membership in a social-cultural organization," Katulis said.
Still, the Palestinian envoy at the UN in Geneva said today Unesco membership will be followed by an effort to join 16 other UN agencies within weeks. Unesco will "open the door for us now to go further in our efforts," Ibrahim Khraishi said, according to an Associated Press report.
U.S. Opposition
If successful, that would require the U.S. to cut off financial support to those bodies in accordance with U.S. law.
"We're making clear to our partners around the world that we oppose continuing this effort in other UN organizations," State Department spokeswoman Victoria Nuland said today at a briefing in Washington. "And we are prepared to maintain our same position if this comes up in other places."
By pursuing elevated status in other international bodies, including the World Trade Organization and the Council of Europe, Abbas is seeking to sustain momentum and interest for a quest that began after Middle East peace talks collapsed more than a year ago. Cracks in that pursuit have begun to appear.
While Palestinians claim they enjoyed a two-thirds majority in the UN General Assembly in New York, the number of abstentions in the similarly sized Unesco assembly was more than expected, said Hussein Ibish of the American Task Force on Palestine, a nonpartisan Washington-based group that advocates a peaceful two-state solution with Israel.
Short-Term View
"The Unesco decision is another short-term political victory for Palestinian leader Abbas, enabling him to demonstrate to Palestinians that he is moving forward," said Daniel Byman, director of the Center for Peace and Security Studies at Georgetown University. "Long-term success, however, will remain elusive."
Among the more than 52 countries that abstained from voting in Unesco, there were three critical Security Council members -- Portugal, Colombia and Bosnia and Herzegovina. That is a blow for Abbas, who had been courting them personally for months to try to gain the upper hand in the 15-member council.
In more bad news for Abbas, the three leaders representing the Muslims, Croats and Serbs of Bosnia and Herzegovina met yesterday and failed to reach a unified position to support the Palestinians' UN application.
One Vote Short
That leaves the Palestinians one vote short of the nine needed in the Security Council to approve the application for full UN membership. Reaching that number would represent a moral victory and force the U.S. to use its veto to block Palestinian membership.
Instead, as things stand, the Palestinians can still only count on eight council members -- Russia, China, Gabon, Nigeria, South Africa, Brazil, Lebanon and India -- to vote yes.
Abbas, applauded in New York when he presented his statehood bid on Sept. 23, has been left with little choice other than let the application languish in an admissions committee while he mulls an alternative course of action.
The council meets on Nov. 11 to discuss the final report of experts on the viability of the Palestinian application. The Palestinians might circumvent the Security Council and try to upgrade their UN status to "non-member state" from "entity" in the UN General Assembly, where they need a majority and the U.S. has no veto.
Strain Relations
"Unesco is far from an unmitigated victory," said Robert Danin of the Council on Foreign Relations and a former aide to Mideast Quartet envoy Tony Blair, the former U.K. prime minister. "This will further strain relations between the U.S. and the Palestinians and harden positions."
The U.S. yesterday scrapped a planned $60 million payment to Unesco, leaving it stripped of its biggest contributor for the first time since President Ronald Reagan withdrew membership from the agency in 1984.
Under federal law, the U.S. is prohibited from giving funds to the UN or any UN agency that grants the Palestine Liberation Organization the same standing as member states.
"We express our sorrow for such a decision at this stage," said Palestinian Authority Foreign Minister Riad Malki, speaking in a phone interview from Paris. "The U.S. administration should have put more pressure on Congress to change laws relating to the Palestinian Liberation Organization which were enacted a long time ago and don't express the current reality."
'No Substitute'
"The vote to grant Palestinian membership in Unesco is no substitute for direct negotiations, but it is deeply damaging for Unesco," U.S. Ambassador to the UN Susan Rice said in a message posted on her Twitter feed.
The Palestinian victory in Unesco has also fired up the rhetoric of Republicans, who say the drive for UN statehood recognition begun on Sept. 23 can't go unpunished. The Palestinians receive an annual $500 million in foreign aid.
U.S. Representative Ileana Ros-Lehtinen, a Florida Republican and chairwoman of the House Foreign Affairs Committee, said today's outcome "is anti-Israel and anti-peace" and "only the beginning" of further initiatives.
Israeli Prime Minister Benjamin Netanyahu, who yesterday criticized the Palestinians for taking "unilateral steps at the UN" instead of negotiating, will consult senior ministers today on possible responses. Israel pays an annual $2 million to the organization, according to its Foreign Ministry.
Qamar-ul Huda, who studies the Middle East and Islam at the U.S. Institute for Peace and is author of "Crescent and Dove: Peace and Conflict Resolution in Islam," offers a contrarian view of the Palestinians on the Unesco vote.
"They are aware of the setbacks," Huda said of Palestinian leaders about the decision to join Unesco. The Palestinian may think, he said, that "the setbacks will be converted into a political gain in the long term."
Before it's here, it's on the Bloomberg Terminal.
LEARN MORE