New York Flight-Slot Bids Set Up Southwest-JetBlue Showdown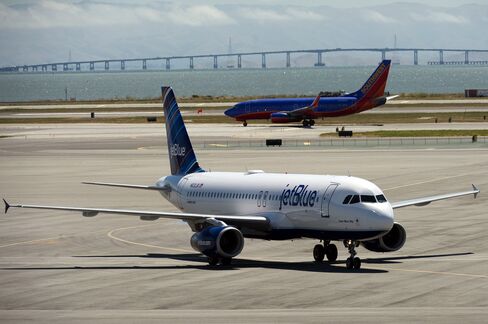 Southwest Airlines Co. and JetBlue Airways Corp. are poised to jockey for the chance to add flights in New York and Washington, possibly bringing lower fares on some routes.
The two carriers are the largest of seven registered bidders in an auction this month of takeoff and landing slots at New York's LaGuardia and Washington's Reagan National airports, according to the Federal Aviation Administration. The FAA accepted applicants through Oct. 28.
None of the group is a traditional full-fare airline, raising the prospect that the winners will challenge incumbents such as Delta Air Lines Inc. and US Airways Group Inc. with lower prices to some markets. U.S. flight caps at the airports mean carriers must buy or trade landing rights in order to grow.
"The entry of JetBlue or Southwest into LaGuardia or Reagan airports will be very disruptive in terms of pricing," said Jay Sorensen, a former Midwest Airlines marketing director who now works as a consultant. "The additional capacity, and the tradition for lower fares, will cause a drop in the prices consumers pay for the new destinations."
LaGuardia International, part of the nation's busiest aviation market, and Ronald Reagan Washington National Airport are attractive to airlines because each is popular with the business fliers who typically buy the most-expensive tickets.
Delta, US Airways
The slots in the auction are being divested by Delta and US Airways as a condition of federal approval for their own trade. The FAA has said that airlines or affiliates already holding a certain amount of slots can't participate in bidding that ends Nov. 22. The Transportation Department hasn't estimated what the slots may fetch, Bill Mosley, a spokesman, said in an e-mail.
Besides Southwest and JetBlue, the auction registrants are WestJet Airlines Ltd., Canada's largest discount carrier; Frontier Airlines, a unit of Republic Airways Holdings Inc.; Spirit Airlines Inc.; Allegiant Travel Co.; and closely held Sun Country Airlines Inc.
The transaction may be the biggest for landing rights at LaGuardia and Reagan, according to Sandy Rederer, a principal at consultant Aviation Planning & Finance in Washington and a former Trans World Airlines executive.
"A dozen slots or 14 slots was about as big as it ever got on an individual basis," Rederer said in an interview. "Fifteen slots would be considered a big deal in historical perspective, and this dwarfs that."
Slot Groups
Southwest, the biggest low-fare airline, and New York-based JetBlue may have an advantage because the slots are being auctioned in groups of 16, or eight pairs, instead of smaller increments. Airlines will bid on two bundles of slots at LaGuardia and one at Reagan.
"Southwest is going to have to pay a full price for these," said Jeff Straebler, an aviation debt strategist at RBS Securities Inc. in Stamford, Connecticut. "Southwest isn't likely to take any chances, so they're going to have to come in high."
Allegiant, Sun Country, WestJet, Spirit, Frontier and Virgin America Inc. said in earlier federal filings that large batches of slots were too costly and would hurt competition, not increase it. JetBlue also argued unsuccessfully that slots should be grouped by departure time rather than spread through the day.
Southwest had $3.7 billion in cash and short-term investments as of Sept. 30, while JetBlue had about $1.2 billion and Calgary-based WestJet's total through June 30 was C$1.22 billion ($1.2 billion), according to the airlines. Next closest was Spirit, with $351 million.
JetBlue's Approach
JetBlue will "aggressively bid" on slots at both airports, Chief Executive Officer Dave Barger has said. JetBlue has as many as 11 daily flights from LaGuardia and nine from Reagan. Its chief hub is at New York's Kennedy airport.
Southwest is "certainly interested," CEO Gary Kelly has said. The Dallas-based airline has eight daily LaGuardia flights and obtained 20 more by purchasing AirTran Holdings Inc. in May. That deal also gave Southwest access to Reagan, where AirTran had 12 daily departures.
"LaGuardia and Reagan slots hold such tremendous allure that it doesn't matter what type of airline you are, when the opportunity presents itself, you jump at it," said Sorensen, who is president of Shorewood, Wisconsin-based IdeaWorks.
Spirit fell 6.6 percent to $15.37 in New York. That was the biggest drop in two months and led declines in the 10-carrier Bloomberg U.S. Airlines Index. Allegiant slid 0.9 percent to $51.49, while Republic lost 2.7 percent to $2.53. Southwest fell
1.1 percent to $8.46 and JetBlue was down 4 percent to $4.30.
One Winner
According to the FAA's Oct. 13 notice of the auction, an airline can win only one of the two available slot groups at LaGuardia.
US Airways and Delta agreed to surrender the slots to win approval from regulators for a swap giving Delta 132 more pairs of LaGuardia slots, assuring control of more than half the flights there. US Airways will get 42 pairs at Reagan, $66.5 million in cash and an additional daily route to Sao Paulo.
The plan allows Delta to bolster its leading market share at LaGuardia while letting US Airways shed most of its unprofitable operation there and focus on Washington. The U.S. Justice Department is still reviewing the Washington half of the exchange, which the airlines hope to complete in early December.
Before it's here, it's on the Bloomberg Terminal.
LEARN MORE