Nebraska Lawmakers Commence Battle to Re-Route Keystone Pipeline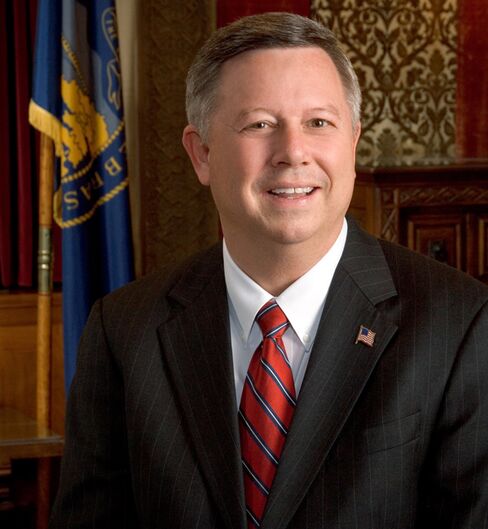 Nebraska lawmakers today open a special legislative session to consider how the state might force TransCanada Corp. to re-route its $7 billion Keystone XL pipeline. The company signaled yesterday it will fight any such law as unconstitutional.
Ranchers, environmental activists and some state politicians including Republican Governor Dave Heineman oppose the pipeline's path across a major source of freshwater in Nebraska. The 1,661-mile (2,673-kilometer) Keystone XL would cross six states and bring crude from Canada's oil sands to the Texas Gulf Coast.
Bills introduced in the special session are expected to focus on three areas, said Senator Chris Langemeier, whose Natural Resources Committee will review the proposed laws next week. He expects bills that would give the state authority over pipeline routes, strengthen landowner rights to contest condemnation of land needed to build pipelines, and redefine liability for potential leaks so that landowners can obtain insurance.
Pipeline legislation designed to take effect immediately would require approval by a two-thirds majority, or 33 of the 49 senators in Nebraska's non-partisan, one-house legislature.
"I would be surprised if that were to happen," Curt Bromm, a former speaker for the legislature from 2002 to 2004, said yesterday in a telephone interview.
Unconstitutional Proposals
A move by Nebraska to re-route the pipeline would be unconstitutional because federal agencies have authority over interstate pipelines, TransCanada said in a statement yesterday.
"If individual states could make these decisions, the decisions would be based on the limited interests of those states, potentially defeating broader national interests," the company said after commissioning a legal analysis. The company previously has said re-routing the pipeline would jeopardize the entire project.
The legal warning from TransCanada is an attempt to "bully the legislature," Ken Haar, a senator who opposes the pipeline, said in a telephone interview yesterday. "We could be sued on just about everything we do when we pass bills. At least from my perspective, we can't let this stand in the way."
Opponents of the Keystone XL have commissioned their own legal analyses that show pipeline legislation could be crafted to withstand legal challenges.
Public hearings on bills that make it through committee review will begin Nov. 7, Langemeier said. The governor has said he expects the session to conclude before the U.S. Thanksgiving holiday Nov. 24.
The U.S. State Department, which must approve the pipeline project because it crosses an international border, is expected to issue its decision by the end of the year. The project has been under federal review for more than three years.
Before it's here, it's on the Bloomberg Terminal.
LEARN MORE