Nebraska Lawmakers Move to Reroute TransCanada Pipeline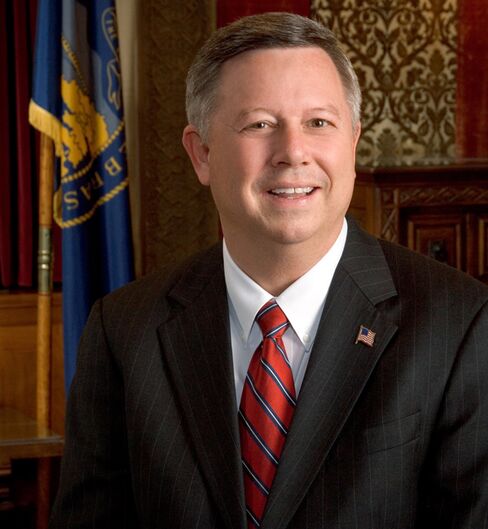 Three years after TransCanada Corp. proposed running its $7 billion Keystone XL oil pipeline through Nebraska, lawmakers say they still have time to divert the project from an aquifer providing 80 percent of the state's drinking water.
State Senator Annette Dubas introduced legislation today in Lincoln, the state capital, that would require TransCanada to secure a permit from Nebraska to build the pipeline. The proposed route would traverse the Ogallala aquifer, which serves 1.5 million people.
Dubas introduced the measure at a special session of the state legislature called by Republican Governor Dave Heineman in response to opposition from ranchers, environmental activists and some lawmakers to the pipeline's path. Other bills are expected to strengthen landowner rights to contest condemnation of land needed to build pipelines and redefine liability for potential leaks so that property owners can obtain insurance.
"By no means is this an easy challenge," Dubas said in an interview. "There's been some good lobbying efforts to keep anything from happening and there was a lack of good understanding on the part of the state as to what we could really do. We still have an opportunity."
The U.S. State Department has jurisdiction over the pipeline because it crosses an international border. Any move by Nebraska to usurp that authority would be unconstitutional, according to TransCanada.
Seeking Alternatives
Such a delay could kill the pipeline because it may lead Canadian oil producers, or "shippers," and U.S. refiners to turn to other supplies if TransCanada can't begin delivering crude as scheduled, Chief Executive Officer Russ Girling said.
"Those shippers will only wait so long, and then they will start looking for alternate markets," Girling said on a conference call today after Calgary-based TransCanada released third-quarter results. "Similarly, the refiners can only wait so long for Canadian crude oil to come into their marketplace."
The 1,661-mile (2,673-kilometer) Keystone XL would deliver 700,000 barrels a day of crude from Alberta's oil sands to the Gulf of Mexico through Montana, South Dakota, Nebraska, Kansas, Oklahoma and Texas. U.S. Senator Mike Johanns, a Nebraska Republican, has said the planned route goes "through some of the most fragile country in the United States."
Pipeline Ad Booed
Anthony Swift, a policy analyst in Washington with the Natural Resources Defense Council, said local opposition to the project is rising. In September, the University of Nebraska ended a sponsorship deal with TransCanada after an advertisement for the pipeline was booed at a Cornhuskers football game.
"It's going to be very difficult for state senators to meet in Lincoln, have a special session and not approve something to give to voters that has a substantial effect on the route of the pipeline," Swift said in an interview.
Public hearings on bills that make it through the unicameral legislature's Natural Resources Committee will begin Nov. 7, according to Senator Chris Langemeier, who heads the panel. The governor has said he expects the session to conclude before the U.S. Thanksgiving holiday Nov. 24.
"Because this was a relatively new experience for our state, there was a feeling initially that we couldn't do anything because it was a federal project," Dubas said. "Of course they're saying it's too late to impact any route changes."
Before it's here, it's on the Bloomberg Terminal.
LEARN MORE