Corzine Key Man Bonds Default Before Coupon: Corporate Finance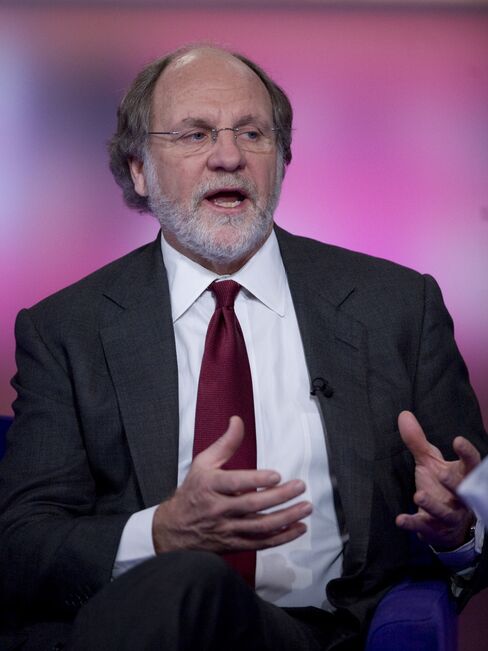 Bond investors lent MF Global Holdings Ltd. $650 million three months ago in a bet Jon Corzine would succeed in turning the futures broker into a mini-version of Goldman Sachs Group Inc. The firm filed for bankruptcy before making its first interest payment on the debt.
Investors from mutual fund manager Franklin Resources Inc. to teacher retirement plan manager TIAA-CREF purchased $325 million of debt sold as 6.25 percent senior unsecured notes, according to data compiled by Bloomberg. The bonds, due in 2016, dropped 8.25 cents to 40 cents on the dollar today after the brokerage filed for bankruptcy protection yesterday and U.S. regulators investigated whether hundreds of millions of dollars are missing from client accounts. Another $325 million of convertible bonds sold in August fell to 39 cents.
The plunge shows how quickly a financial company can falter when it loses investor confidence. Less than three months before Corzine, 64, disclosed the extent of a $6.3 billion bet on European sovereign debt, the former New Jersey governor and Goldman Sachs co-head was deemed so key to the broker's success that bondholders demanded an extra percentage point of interest if he left for a post in the Obama administration.
Unusual Provision
"It was highly unusual and underscores how people at the time thought Corzine was essential to the success," said Alexander Diaz-Matos, an analyst at Covenant Review LLC in New York, who researches loopholes and other flaws in bondholder protections. Instead, he said, "it was Corzine taking on additional trading risk that is largely assumed to be one of the root causes for today's activities."
MF Global is the first company in more than three years to default on its bonds while rated investment grade by Standard & Poor's. The last was Washington Mutual Bank in September 2008.
The broker also joined the thin ranks of companies to default on debt before the first interest-rate payment came due. It's "certainly very rare," Martin Fridson, New York-based global credit strategist at BNP Paribas Investment Partners, said in an e-mail.
European Holdings
MF Global announced in September that the Financial Industry Regulatory Authority required the firm to boost capital in its U.S. unit because of the holdings it had amassed in European countries with some of the biggest increases in borrowing costs amid the region's debt crisis. The company's bonds lingered at or above 95 cents on the dollar for another seven weeks.
On Oct. 24, Moody's lowered the firm's credit ratings in part on concern that the company wasn't sufficiently managing risk. A day later, the broker reported its largest-ever quarterly loss and disclosed how much its exposure to bonds sold by Italy, Spain, Belgium, Portugal and Ireland had grown.
Within a day the bonds dropped to 63.75 cents on the dollar and on Oct. 27 Moody's and Fitch Ratings cut the firm to below investment grade, or junk.
Stock Plunge
Assurances that all the European debt MF Global had invested in would mature by December 2012 and that the company had financed the transactions through the life of the bonds didn't stop its shares from falling 66 percent in four days to $1.20 a share. The broker tapped almost all of a $1.2 billion credit line.
Bondholders are now in line with creditors owed $39.7 billion, according to Chapter 11 papers filed yesterday in U.S. Bankruptcy Court in Manhattan. The firm listed $41 billion in assets.
Jefferies Group Inc., the investment bank that arranged MF Global's $325 million sale of five-year bonds including the so-called key man provision, said yesterday it has less than $9 million of exposure to MF Global debt.
Franklin, which manages $660 billion, held $15.1 million in MF Global's key-man bonds as of Sept. 30, Bloomberg data show. TIAA-CREF, which manages a total of $440 billion, held $2.75 million of the debt.
Leverage
Matt Walsh, a spokesman for Franklin Resources, didn't immediately comment. Abby Cohen, a spokeswoman for TIAA-CREF, declined to comment.
"The fault lies with Corzine and Corzine alone," said Matt McCormick, a money manager at Cincinnati-based Bahl & Gaynor Inc. which oversees $4.1 billion and doesn't own MF Global stock or bonds. "He leveraged up and bet on Portuguese and Irish bonds at the wrong time, and if there's any justice in this world, then his severance package should be paid in those bonds."
Corzine would get $12.1 million in severance and pro-rated bonus and benefits payments if he leaves for "good reason" or is fired "without cause," according to an MF Global proxy statement filed in July. Of that, $9 million is in severance payments, according to the filing, which said the company's compensation committee found Corzine's performance had been "exemplary" since joining the firm in March 2010.
The broker's junk ratings "sparked an increase in margin calls" and threatened the firm's liquidity, MF Global President Bradley Abelow said in an affidavit filed with the bankruptcy court.
S&P maintained its investment-grade rating until after the bankruptcy filing, then lowered it to default status.
"The fact that Jon Corzine, the ex-head of Goldman Sachs, was at the helm for MF Global gave the company a lot more ability to extend their reach than they ordinarily would," Sean Egan, president of Egan-Jones Ratings Co., said yesterday on Bloomberg Television's InBusiness with Margaret Brennan.
The balance sheet reached 40 times the firm's equity, Egan said.
"They should have been levered in the area of maybe about six-to-one," he said. "Having only 2.5 percent equity to assets is ridiculous. That means if you have a 2.5 percent downdraft in the balance sheet, which is very likely, then they're bankrupt."
Bonds Drop
MF Global's $325 million of 3.375 percent convertible notes due in August 2018 dropped 10 cents to 39 cents on the dollar as of 9:40 a.m. in New York, according to Trace, Finra's bond-price reporting system. They traded as low as 34 cents yesterday.
"You'll rapidly see they're not going to get 100 cents on the dollar," Egan said.
The nation's largest banks have manageable, to "not material" exposure to MF Global, CreditSights Inc. analysts led by David Hendler wrote in a note to clients yesterday.
JPMorgan Chase & Co., which is listed as indenture trustee for a $1.2 billion liquidity facility, indicated it had "no material exposure" the analysts said. In the past, JPMorgan has said it initially may hold as much as 7 percent to 10 percent of a syndicated credit facility, then sells down that amount over time, according to CreditSights.
Unsecured Facility
Other banks involved in the unsecured facility included Citigroup Inc. and Bank of America Corp.
"We sense that these banks would have manageable exposure," the analysts said.
MF Global was ordered by the enforcement division of the Commodity Futures Trading Commission to preserve records for a review of client accounts, according to a person with knowledge of the matter. The brokerage told regulators yesterday about deficiencies in accounts that it managed for clients in the futures market, the CFTC and Securities and Exchange Commission said in an e-mailed statement.