U.S. Manufacturing Probably Grew at Faster Pace in October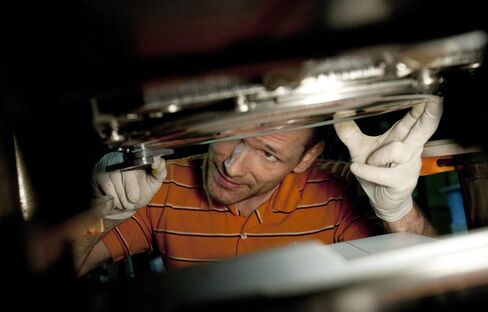 Nov. 1 (Bloomberg) -- Manufacturing in the U.S. probably expanded at a faster pace in October, driven by gains in exports and consumer spending that are keeping the recovery intact, economists said before a report today.
The Institute for Supply Management's factory index rose to 52 from 51.6 a month earlier, according to the median forecast in a Bloomberg News survey. A level of 50 is the dividing line between growth and contraction. Construction spending rose in September, another report may show.
American factories may keep leading the economy as growing demand from emerging economies drives orders and production. The industry is also benefiting from increasing business investment as companies take advantage of tax depreciation allowances on equipment purchased before the end of the year.
"Manufacturing is holding its own amid what is being characterized as a very moderate recovery," Sean Incremona, a senior economist at 4Cast Inc. in New York, said before the report. "Whatever sort of economy we have going forward, manufacturing should be toward the top tier."
The Tempe, Arizona-based ISM's survey results will be released at 10 a.m. New York time. Estimates from 85 economists ranged from 50.5 to 55. While 50 is the midway point between expansion and contraction, a reading greater than 42.5 generally indicates an expansion in the overall economy, the group says.
Global Manufacturing
Other figures today showed global manufacturing cooled last month. A Chinese factory index dropped to the lowest level since February 2009, while a U.K. manufacturing gauge declined to a 28-month low.
The Purchasing Managers' Index fell to 50.4 in October from 51.2 in September, the China Federation of Logistics and Purchasing said in a statement today. The U.K. measure, based on a survey by Markit Economics and the Chartered Institute of Purchasing and Supply, dropped to 47.4 from a revised 50.8 in September, according to an e-mailed report in London today.
Federal Reserve officials begin a two-day meeting today to determine whether additional steps, including another round of securities purchases or changes to public communication, are needed to spur growth. In August and September, the central bank used unconventional tools aimed at lowering borrowing costs.
Peoria, Illinois-based Caterpillar Inc., the world's largest maker of construction and mining equipment, said last month it expects sales and revenue to increase 10 percent to 20 percent from the 2011 outlook of around $58 billion.
'Slow Recovery'
"We believe continued economic recovery, albeit a slow recovery, is the most likely scenario as we move forward," Doug Oberhelman, chairman and chief executive officer of Caterpillar Inc., said in an Oct. 24 statement.
Recent regional factory surveys were mixed. New York-region factories shrank for a fifth straight month in October, while manufacturing in the Philadelphia area expanded after two months of contraction, figures from the Fed showed. A report from ISM-Chicago Inc. yesterday showed business activity grew last month at about the same pace as in September.
A Commerce Department report last week showed orders for durable goods other than transportation gear rose in September by the most in six months. Demand for all durable goods fell, reflecting fewer commercial-aircraft bookings, the report said.
Corporate spending on equipment and software climbed at a 17.4 percent pace in the third quarter, the most in a year, as the economy grew at a 2.5 percent pace, the Commerce Department reported last week.
Equipment Depreciation
A rush to qualify for a government tax incentive may be contributing to the increase in business investment. The Obama administration's compromise with Congress allows companies to depreciate 100 percent of investment in capital outlays in 2011 and 50 percent in 2012.
"We are starting to see our customers resume their investment activity," Richard S. Hill, chairman and chief executive officer at San Jose, California-based Novellus Systems Inc., a maker of machinery used in semiconductor production, said on a conference call last week.
Consumer spending on autos is also improving. Chrysler Group LLC, boosted by deliveries of Ram pickups, led September U.S. auto sales gains that exceeded analysts' estimates. General Motors Co. and Ford Motor Co. also beat estimates on Silverado and F-Series trucks.
Auto Sales
Auto purchases climbed to a 13.04 million annual pace, the highest since April, compared with a 12.1 million rate the prior month. Purchases may have increased to a 13.2 million pace last month, according to the median forecast in a Bloomberg survey ahead of industry data today.
A dollar that has lost 11 percent of its value since June 2010 has made American goods more competitive. July and August were the best months for U.S. exports on record, according to figures from the Commerce Department.
Data from the Commerce Department at 8:30 a.m. may show construction spending rose 0.3 percent in September after a 1.4 percent gain the prior month, according to the median estimate of economists surveyed by Bloomberg.
                     Bloomberg Survey

====================================================
                         Construct      ISM      ISM
                          Spending     Manu   Prices
                              MOM%    Index    Index
====================================================

Date of Release              11/01    11/01    11/01
Observation Period           Sept.     Oct.     Oct.
----------------------------------------------------
Median                        0.3%     52.0     55.0
Average                       0.3%     52.3     54.5
High Forecast                 1.5%     55.0     57.0
Low Forecast                 -0.5%     50.5     51.0
Number of Participants          50       85       23
Previous                      1.4%     51.6     56.0
----------------------------------------------------
4CAST                         0.5%     52.0     ---
ABN Amro                      ---      52.0     ---
Action Economics              0.5%     52.0     55.0
Aletti Gestielle              ---      52.5     55.5
Ameriprise Financial          0.0%     53.0     57.0
Banca Aletti                  ---      51.7     56.0
Banesto                       0.4%     52.1     ---
Bank of Tokyo- Mitsubishi     ---      52.5     ---
Bantleon Bank AG              ---      51.5     ---
Barclays Capital              0.4%     52.0     ---
Bayerische Landesbank         ---      52.0     ---
BBVA                          0.2%     52.0     ---
BMO Capital Markets           0.3%     52.0     55.0
BNP Paribas                   0.3%     52.5     ---
BofA Merrill Lynch            0.2%     52.5     ---
Briefing.com                  0.8%     53.0     ---
Capital Economics             0.5%     52.5     ---
CIBC World Markets            ---      53.0     ---
Citi                         -0.3%     52.0     51.0
ClearView Economics           ---      51.0     53.0
Comerica                      0.8%     52.0     ---
Commerzbank AG                ---      52.0     ---
Credit Agricole CIB           ---      52.7     ---
Credit Suisse                 ---      52.5     56.0
Daiwa Securities America      0.0%     52.0     55.0
Danske Bank                   ---      52.5     54.5
DekaBank                      0.3%     52.5     ---
Desjardins Group              1.0%     52.0     ---
Deutsche Bank Securities      0.4%     52.0     ---
Deutsche Postbank AG          ---      52.5     ---
DZ Bank                       ---      51.6     ---
Exane                         ---      52.0     ---
Fact & Opinion Economics      0.4%     52.2     ---
First Trust Advisors          0.3%     51.8     ---
FTN Financial                 ---      53.1     ---
Goldman, Sachs & Co.          0.3%     51.5     ---
Helaba                        ---      52.0     ---
High Frequency Economics      0.0%     52.0     ---
HSBC Markets                  ---      53.0     ---
Hugh Johnson Advisors         ---      53.0     ---
IDEAglobal                    0.2%     53.0     55.0
IHS Global Insight            0.1%     52.2     ---
Informa Global Markets       -0.2%     51.8     55.0
ING Financial Markets         0.4%     52.2     52.0
Insight Economics             0.5%     52.0     ---
Intesa-SanPaulo               0.3%     52.0     ---
J.P. Morgan Chase             0.3%     52.0     ---
Janney Montgomery Scott       0.0%     51.5     ---
Jefferies & Co.               0.2%     52.5     ---
Landesbank Berlin             1.5%     50.5     ---
Landesbank BW                 ---      52.0     ---
Maria Fiorini Ramirez         ---      52.5     ---
Market Securities             ---      52.4     ---
MF Global                     0.2%     51.8     54.0
Mizuho Securities             0.1%     52.0     ---
Moody's Analytics             0.5%     51.9     ---
Morgan Keegan & Co.           0.3%     ---      ---
Morgan Stanley & Co.         -0.3%     52.0     ---
National Bank Financial       ---      52.1     ---
Natixis                       ---      52.0     ---
Nomura Securities             ---      53.7     56.3
Nord/LB                       ---      53.0     55.0
OSK Group/DMG                 ---      52.0     ---
Parthenon Group              -0.2%     50.9     53.7
Pierpont Securities           ---      52.3     ---
PineBridge Investments        1.0%     55.0     ---
PNC Bank                     -0.5%     53.0     ---
Prestige Economics            ---      52.5     ---
Raiffeisenbank International  ---      52.5     55.0
Raymond James                -0.5%     52.5     ---
RBC Capital Markets           ---      51.8     ---
RBS Securities                ---      52.2     ---
Scotia Capital                ---      51.5     54.0
SMBC Nikko Securities         1.0%     52.0     ---
Societe Generale              1.2%     53.5     54.0
Standard Chartered            ---      53.0     ---
State Street Global Markets   0.2%     52.3     54.5
Stone & McCarthy Research    -0.5%     52.7     ---
TD Securities                 ---      53.0     ---
UBS                           0.0%     52.5     53.0
Union Investment              ---      51.6     ---
University of Maryland        0.4%     51.8     55.0
Wells Fargo & Co.             0.1%     52.1     ---
WestLB AG                    -0.2%     52.0     ---
Westpac Banking Co.           0.6%     53.0     ---
Wrightson ICAP               -0.1%     52.0     ---
====================================================

To contact the reporter on this story: Bob Willis in Washington at bwillis@bloomberg.net
To contact the editor responsible for this story: Christopher Wellisz at cwellisz@bloomberg.net