U.S. Economy: Manufacturing Expands Less Than Forecast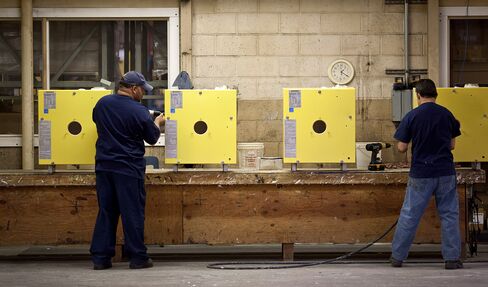 Nov. 1 (Bloomberg) -- Manufacturing in the U.S. was close to stagnating in October as cooling global demand prompted factories to pare production and reduce inventories.
The Institute for Supply Management's factory index dropped to 50.8 last month from 51.6 in September, the Tempe, Arizona-based group's data showed today. A reading of 52 was the median forecast in a Bloomberg News survey of economists. Fifty is the dividing line between growth and contraction.
Manufacturing weakened from China to the U.K., partly a reflection of Beijing's efforts to cool its economy and Europe's debt crisis. Signs the industry that spearheaded the U.S. recovery is stumbling highlight the risks to growth as Federal Reserve policy makers meet to determine if more monetary easing is needed to spur demand.
"There are concerns that manufacturing in Europe and China are showing signs of softening, and that could potentially feed into the U.S.," said Ryan Sweet, a senior economist at Moody's Analytics Inc. in New York. "The markets seem to be more worried about the European sovereign-debt crisis. We'll likely struggle to surpass third-quarter GDP growth."
Estimates for the manufacturing index from 85 economists ranged from 50.5 to 55. A reading above 42.5 generally indicates an expansion in the overall economy.
U.S. stocks dropped, driving the Standard & Poor's 500 Index to its biggest two-day slump in a month. The S&P 500 declined 2.8 percent to 1,218.28 at the close in New York as investors were concerned a Greek referendum on Europe's bailout will worsen the debt crisis.
Chinese Manufacturing
A Chinese factory index dropped to the lowest level since February 2009, while a U.K. manufacturing gauge declined to a 28-month low, reports today showed.
The China Federation of Logistics and Purchasing said its Purchasing Managers' Index fell to 50.4 in October from 51.2 in September. The U.K. measure, based on a survey by Markit Economics and the Chartered Institute of Purchasing and Supply, dropped to 47.4 from a revised 50.8 in September.
Even with the drop in the overall index, the U.S. factory report showed the weakness in October may not last.
The group's measure of new orders climbed to the highest level in six months at the same time that inventories were drawn down. Factories also saw prices paid for raw materials declined for the first time since May 2009, indicating less pressure on profit margins.
Orders 'Encouraging'
"While the decline in the production index suggests only very modest growth in manufacturing output in October, the rebound in new orders is an encouraging sign for later in the quarter," Peter Newland, an economist at Barclays Capital Inc. in New York, said in an e-mail to clients.
The production index dropped to the second-lowest since May 2009. The inventory measure declined to the weakest level since June 2010, while a measure of customer stockpiles was at a five-month low.
The declines show "good inventory-control discipline," Bradley Holcomb, chairman of the ISM survey, said in a conference call from Dallas. He said he saw manufacturing "remaining in positive territory" for the next few months, even as he anticipated no "big upturns."
With the global economy cooling, the group's gauge of export orders decreased to the lowest since June 2009.
Whirlpool Cuts
Benton Harbor, Michigan-based Whirlpool Corp., the world's largest maker of household appliances, last week said it will cut more than 5,000 jobs and reduce capacity by 6 million units after lowering its earnings targets as consumers rein in spending. Whirlpool said reductions in Europe and North America account for about 10 percent of all employees in those regions.
"During the quarter, we experienced weaker than expected global industry demand and elevated material costs," Chief Executive Officer Jeff M. Fettig said in the statement. "Our results were negatively impacted by recessionary demand levels in developed countries, a slowdown in emerging markets and high levels of inflation in material costs."
The ISM's factory employment index was little changed at 53.5 after 53.8. Manufacturing payrolls rose by 2,000 last month after a 13,000 decrease, according to a Bloomberg survey of economists before Labor Department data due Nov. 4. Total payrolls rose by 95,000, the survey median shows.
Federal Reserve
Fed officials begin a two-day meeting today to determine whether additional steps, including another round of securities purchases or changes to public communication, are needed to spur growth. In August and September, the central bank used unconventional tools aimed at lowering borrowing costs.
Construction spending increased in September for a second month, helped by spending on multifamily housing as more families opt to rent rather than buy, Commerce Department figures showed today. Building outlays increased 0.2 percent after jumping 1.6 percent in August.
To contact the reporter on this story: Bob Willis in Washington at bwillis@bloomberg.net
To contact the editor responsible for this story: Christopher Wellisz at cwellisz@bloomberg.net