India's Biggest Lender to Get $609 Million Capital Infusion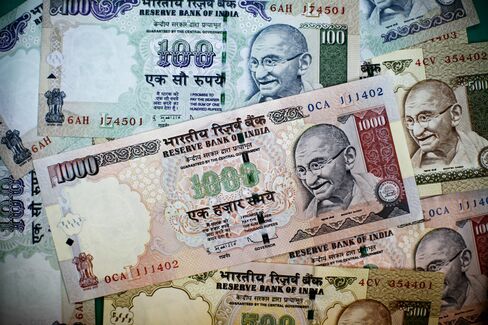 State Bank of India, the nation's largest lender, will get a capital infusion of more than 30 billion rupees ($609 million) from the government to bolster capital as concern that loans may sour mounts.
The funds are a part of the 140 billion rupees that the government plans to invest in state-run lenders, a finance ministry official said in New Delhi yesterday, declining to be identified citing government policy. The money is in addition to a 60 billion rupee investment planned for the year to March 31 and will ensure the banks have a Tier 1 capital ratio of more than 8 percent, said the official.
State Bank, which has been in talks with the government to raise capital since at least February 2010, has declined 32 percent this year as the fastest pace of interest rate increases among major economies and an economic slowdown trigger concerns that bad debts may mount. Moody's Investors Service cut State Bank's financial strength rating on Oct. 4, citing deteriorating asset quality.
"The capital infusion will help in soothing nerves of investors who have been rattled by the Moody's downgrade," Alex Mathews, head of research at Geojit BNP Paribas Financial Services Ltd., said by telephone. "The concern raised by Moody's regarding a cushion for absorbing bad loans will be addressed by this infusion."
Bad debts at State Bank reached a three-year high of 3.5 percent of total loans at the end of June, compared with 2.3 percent for India's financial institutions, Moody's had said.
Swaps at Record
Shares of State Bank fell 0.3 percent to 1,895 rupees at 9:20 a.m. The stock has been the second-worst performer on the nation's main gauge for banking stocks this year.
The cost of insuring State Bank of India's debt against default slid the most in more than two years in October as policy makers said they would provide capital to state-run lenders to help them cope with the threat of bad loans.
Five-year credit-default swaps on the nation's largest lender declined 87 basis points in October, the biggest drop since May 2009, to 266 basis points, according to data provider CMA. Similar contracts for HSBC Holdings Plc, Europe's largest bank, fell 29 and those for Cathay Financial Holding Co., Taiwan's largest listed financial services company, slipped 21.
Tier 1 Boost
India is likely to invest as much as 100 billion rupees in State Bank by December, boosting the bank's capital adequacy ratio to 13 percent and its Tier 1 capital ratio to 9 percent, Chairman Pratip Chaudhuri said in an interview last month. The "first tranche" of investment will be "definitely above 30 billion rupees" he had said. The bank's Tier 1 capital ratio was 7.8 percent as of March, it said in a release on Aug. 13.
Rival ICICI Bank Ltd., India's second-largest lender, had Tier 1 capital adequacy of 13.1 percent as of Sept. 30. The bank posted a 22 percent increase in net profit for the last quarter.
Loans at State Bank climbed 19 percent to 7.9 trillion rupees as of June 30, while deposits rose 17 percent to 9.5 trillion rupees, the bank said in a statement on Aug. 16. Its profit for the fiscal first-quarter dropped by a more-than-estimated 46 percent as bad loans climbed and it set aside more funds for defaults. The lender is scheduled to report results for the quarter ended Sept. 30 on Nov. 9.
"It is a certainty that the government will invest enough money in State Bank of India to adequately capitalize it," Diwakar Gupta, the Mumbai-based managing director at the lender, said in an interview yesterday. "Once the government decides on the timing of the infusion, the money can be immediately invested through preferential issue."