HTC Takes Lead in U.S. Smartphone Market as Apple, RIM Decline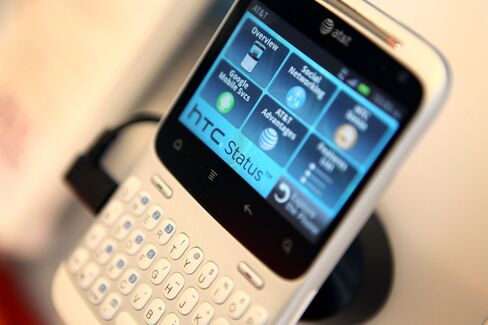 Nov. 2 (Bloomberg) -- HTC Corp. edged out Samsung Electronics Co. to become the largest smartphone vendor in the U.S., capitalizing on the Android platform's popularity and a lull in demand for iPhones to overtake Apple Inc. and Research In Motion Ltd.
A 10 percentage-point jump in share from a year earlier gave Taoyuan, Taiwan-based HTC 24 percent of the world's largest smartphone market in the third quarter, ahead of Samsung's 21 percent, Palo Alto, California-based researcher Canalys said in a statement yesterday. Apple fell to third at 20 percent while RIM, maker of the BlackBerry, had 9 percent.
HTC, which made the world's first phone using Google Inc.'s Android in 2008, benefited from strong relationships with U.S. carriers and made different models for each operator. Apple's iPhone 4S and new devices from Suwon, South Korea-based Samsung may help the two global smartphone leaders gain share in the U.S. this quarter as HTC forecasts its first shipment decline in almost two years.
"Because iPhone 4S wasn't yet ready during the quarter, there was a window of opportunity for others, and HTC benefited from this," said Wang Wanli, who rates the stock "buy" at RBS Asia Ltd. in Taipei. "HTC has historically done more customization of handsets, which has made operators more willing to market and sell their devices."
Apple, Samsung
HTC sells its high-end models, which include faster processors and higher-quality cameras, for less than similar Samsung products, Wang said. Samsung offers more low-price models overall, bringing its average sales price below the Taiwanese company's, he said.
HTC and Samsung benefited from the rising popularity of the Android operating system, while Cupertino, California-based Apple was affected by consumers awaiting the next iteration of the iPhone, Canalys said. Android has 44 percent of the U.S. market for smartphones in use, Apple's iOS has 27 percent, and the BlackBerry OS 20 percent, Reston, Virginia-based ComScore said earlier this month.
Samsung and Apple are the two largest smartphone vendors globally, followed by Nokia Oyj, U.K. researcher Strategy Analytics said last week.
RIM's 'Bleak Outlook'
RIM, hit by a three-day worldwide outage last month, had its BlackBerry market share in the U.S. decline to 9 percent from 24 percent a year earlier, the biggest decline of all smartphone makers, Canalys said. Samsung climbed to 21 percent from 14 percent a year earlier, while Apple dropped from 26 percent to 20 percent.
BlackBerry's drop makes Waterloo, Ontario-based RIM's U.S. outlook "certainly bleak," Canalys analyst Tim Shepherd wrote in the report. "RIM must deliver a competitive high-end 4G smartphone in early 2012."
The decline in demand for iPhones in the second half of last quarter was "substantial," Apple Chief Executive officer Tim Cook said in an Oct. 18 conference call. The iPhone 4S sold 4 million units in its first weekend of sales beginning Oct. 14, more than double the sales rate of the prior model, it said earlier this month.
HTC, founded in 1997 and now chaired by Taiwan's richest woman, Cher Wang, started as a contract maker of Compaq Computer Corp.'s iPaq personal digital assistant, among other devices.
Microsoft Phone
It was the first company to make a handset using Microsoft Corp.'s Windows operating system, and it manufactured most of its phones under operators' names before offering devices under its own.
The company posted six consecutive quarters of record sales and profit before forecasting on Oct. 31 a decline in revenue and shipments this quarter, guidance that missed analyst expectations. The stock lost 0.6 percent to NT$653 as of 11:45 a.m. today in Taipei, headed for the lowest close since Sept. 27, and has fallen 24 percent this year.
RIM fell 4.5 percent to $19.30 at the close in New York yesterday, and Apple dropped 2 percent to $396.51.
Samsung is the world's largest maker of smartphones, flat-panel displays and memory chips. In addition to sales from its own handsets, it gains revenue from each iPhone sold because its chip unit manufactures the main processor used in Apple's phones and tablets.
Shares fell 1.7 percent to 973,000 won at 12:44 p.m. in Seoul.
To contact the reporters on this story: Tim Culpan in Taipei at tculpan1@bloomberg.net; Hugo Miller in Toronto at hugomiller@bloomberg.net.
To contact the editor responsible for this story: Michael Tighe at mtighe4@bloomberg.net.