Fortress Favors Hu Over Sarkozy in Default Swaps: China Credit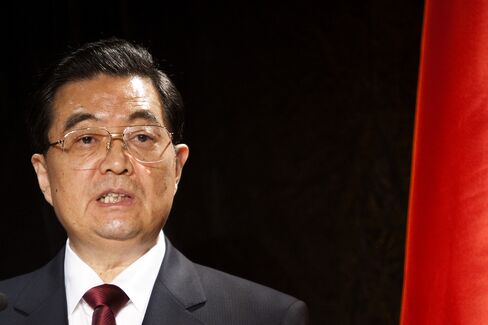 French President Nicolas Sarkozy's decision to turn to China last week to help bolster European finances comes as traders of credit-default swaps step up bets that the Asian nation has less risky debt than his country.
Five-year contracts protecting China's bonds from non-payment tumbled 70 basis points in October to 129, the biggest monthly drop since March 2009, CMA prices show. Contracts for France slid 11 basis points to 176. Don Hanna, a managing director at New York-based hedge fund Fortress Investment Group LLC, says he favors selling protection on China and buying insurance on France.
"Risks of a hard landing in China are overblown, allowing for lower CDS quotes," Singapore-based Hanna said in an Oct. 24 interview. "European stabilization, even if successful, means lower growth, widening the CDS gap." He declined to give further details of the trade.
Sarkozy telephoned Chinese President Hu Jintao on Oct. 27 with the goal of tapping the world's largest foreign-exchange reserves to help resolve Europe's sovereign-debt crisis. France's gross domestic product per capita is more than nine times China's and its AAA credit rating at Standard & Poor's is three steps higher than the Asian nation's AA- grade. The French government's benchmark 10-year bonds yielded 3.03 percent yesterday, less than China's 3.75 percent, data compiled by Bloomberg show.
China's economy, which is second only to the U.S. in size, expanded 9.1 percent from a year earlier in the third quarter and data last month showed growth industrial production and retail sales quickened in September. France's GDP increased 1.7 percent in the three months through June, the latest data show.
Highest Exposure
The Asian nation's credit-default swaps rose 17 basis points yesterday to 146. The contracts were 47 basis points cheaper than France's at the end of October, and 12 basis points more expensive at the start of the month, according to CMA, which is owned by CME Group Inc. and compiles prices quoted by dealers in the privately negotiated market.
The swaps pay the buyer face value in exchange for the underlying securities or the cash equivalent should a government or company fail to adhere to its debt agreements. A basis point equals $1,000 annually in a contract protecting $10 million of debt.
"The China CDS is likely to drop and I expect France's CDS to remain elevated or edge up further," said Rees Kam, a Hong Kong-based senior strategist at SJS Markets Ltd. "The problem with France is they still need to pay the bill to bail out the peripheral nations, and it has the highest exposure to peripheral debt."
'Severe Challenges'
Holders of Greek bonds have agreed to 50 percent losses on the securities as part of a proposed bailout, while Ireland and Portugal have accepted financial aid. The European Central Bank bought debt issued by Italy and Spain to help keep borrowing costs down.
The Group of 20 leaders convene Nov. 3-4 in Cannes, France, a week after euro-area authorities pledged to magnify the capacity of a rescue fund to 1 trillion euros ($1.4 trillion) and look beyond their borders for help. Premier Wen Jiabao has signaled a willingness to aid the European Union as the region's debt crisis threatens to crush demand in China's biggest export market.
Foreign Reserves
China's foreign-exchange reserves of $3.2 trillion are almost triple the $1.1 trillion held by Japan, which has the world's second-largest holdings, official figures show. Chinese exports in September rose the least in seven months and the customs bureau warned of "severe challenges" as growth in developed nations falters. Sarkozy's office said in an Oct. 27 statement that he agreed with Hu to "cooperate closely" to ensure global growth and stability.
The yuan was little changed today at 6.3553 per dollar as of 12:03 p.m. in Shanghai, according to the China Foreign Exchange Trade System. It's strengthened 3.7 percent this year and touched a 17-year high of 6.3375 on Oct. 11.
"The risks to China and Asia's growth are heavily biased to the downside," said Stephen Jen, the managing partner at SLJ Macro Partners LLP in London and a former head of the global currency strategy team at Morgan Stanley. "Buying protection against the unpredictable speed of the prospective slowdown makes sense to me."
The net amount of Chinese sovereign debt covered by credit-default swaps doubled this year to $9.3 billion, the eighth highest of 1,000 entities tracked by the Depository Trust & Clearing Corp. Contracts on China were the sixth most-traded tin he week ended Oct. 21 behind France, Spain, Germany, Italy and Brazil, with a daily average of $488 million.
Cheap Way
Viktor Hjort, head of fixed income-research at Morgan Stanley Asia Ltd. in Hong Kong, said the swaps are a relatively cheap way for investors to guard against a sharp economic slowdown. A "hard landing" is unlikely and there is limited potential for gains as China's reserves make non-payment a "remote possibility," he wrote in a Oct. 28 report.
Morgan Stanley defines a hard landing as a slowdown in Chinese economic growth to sub-five percent for at least four quarters, driven by domestic factors, not external events.
The People's Bank of China raised interest rates three times this year and boosted lenders' reserve-requirement ratios on six occasions, seeking to rein in an inflation rate that hit a three-year high of 6.5 percent in July. Consumer prices rose 6.1 percent in September, after gaining 6.2 percent in August.
BlackRock Inc., the world's biggest money manager, predicts China's economic growth will slow to a 7 percent to 8 percent pace in the next few years, saying an almost doubling in the Chinese reliance on credit over the past decade will lead to slower growth. Pacific Investment Management Co., manager of the largest bond fund, forecast on Oct. 24 that expansion would weaken to 7 percent in the next 12 months.
'Fine Tune'
China will "fine tune" its economic policies at an appropriate time and secure "reasonable" money-supply growth in the coming months, according to a government statement on Oct. 29 after a State Council meeting chaired by Premier Wen.
"Maybe early next year, they may relax the tightening a bit," Kam of SJS Markets said. "The growth can pick up and help market sentiment. The concern about a slowdown in the Chinese economy will ease."
The government loosened lending curbs for small companies last month and the banking regulator indicated that local authorities' financing units may be able to extend loan repayments. The Finance Ministry approved direct bond sales by the cities of Shanghai and Shenzhen on Oct. 20 as well as the provinces of Zhejiang and Guangdong, making it easier for their financing arms to refinance debt.
"Views of China's hard landing to some degree have receded," said Hanna. "The reason you don't get a hard landing is because 40 percent of the assets of the formal system are held in state banks and they have the backing of the government. You don't have the dynamic to get a hard landing. It's not a market economy in that sense."
Before it's here, it's on the Bloomberg Terminal.
LEARN MORE