Euro Drops on Concern Rescue Plan to Crumble; Dollar, Yen Climb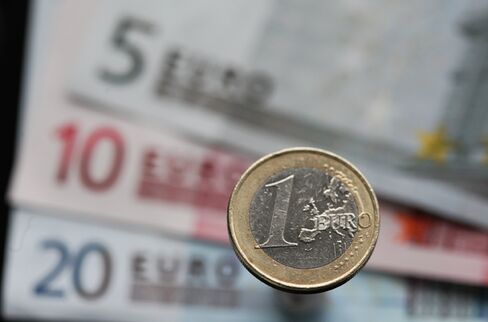 The euro weakened for a third day against the dollar, touching the lowest in almost three weeks, as concern the currency region's rescue plan will crumble and the European Central Bank will cut interest rates damped demand.
The 17-nation currency fell the most in two weeks versus the yen after Greek Prime Minister George Papandreou pledged to put the European Union's latest crisis accord to a referendum, risking a default if it's rejected by voters. The euro trimmed losses after a report that a Greek political official said later the vote was "basically dead." The dollar and yen rose as stocks slid and Chinese manufacturing slowed.
"The motivation for this referendum is anyone's guess, but it definitely raises the level of uncertainty going forward," said Brian Kim, a currency strategist in Stamford, Connecticut, at Royal Bank of Scotland Group Plc. "Uncertainty is not good at this point. The dollar has been a beneficiary, since you're seeing risk off across the board."
The euro dropped 1.1 percent to $1.3703 at 5 p.m. in New York after falling 1.8 percent earlier to $1.3609, the weakest level since Oct. 12. It declined 0.9 percent to 107.39 yen, after losing as much as 1.7 percent, the biggest intraday drop since Oct. 17. The dollar rose 0.3 percent to 78.37 yen after touching 79.53 yesterday, the strongest since Aug. 4.
The Dollar Index, which IntercontinentalExchange Inc. uses to track the U.S. currency against those of six trading partners, gained for a third day, rising 1.1 percent to 77.337.
Volatility Jumps
Implied volatility for the currencies of the Group of Seven nations surged as much as 9.2 percent to 13.5 percent today in its biggest increase since Aug. 8, according to a JPMorgan Chase & Co. index. Implied volatility, which traders quote and use to set option prices, signals the expected pace of swings.
Higher-yielding assets fell as investors sought safety. The Standard & Poor's 500 Index dropped as much as 3 percent before trimming the loss to 2.8 percent. The Thomson Reuters/Jefferies CRB Index of raw materials declined 1.4 percent.
Mexico's peso was the biggest loser against the dollar, weakening 1.9 percent to 13.6136. Norway's krone fell 1.9 percent to 5.6598 to the greenback.
The euro pared losses against the dollar and yen as stocks trimmed their retreat following a Dow Jones Newswires report that a Greek Socialist Party official said the call for a referendum was dead.
'Still Looks Bad'
"We've reduced some of the losses based on that, but it still looks bad," said Fabian Eliasson, head of U.S. currency sales at Mizuho Financial Group Inc. in New York. "It's still Europe that is driving risk away."
Greece will proceed with the referendum, and Papandreou will win a vote of confidence in Parliament this week, government spokesman Angelos Tolkas said in an interview today on state-run ERT3 TV.
European officials agreed last week to increase their bailout fund to 1 trillion euros ($1.4 trillion), and recapitalize financial institutions. They convinced banks to write down their holdings of Greek debt by 50 percent.
German Chancellor Angela Merkel and French President Nicolas Sarkozy held emergency talks on Greece today and in a joint statement called on Europe to implement the package of measures. Sarkozy told reporters the plan is the "only way" to fix Greece.
Merkel and Sarkozy are due to meet with ECB President Mario Draghi, European officials and International Monetary Fund representatives in Cannes, France, tomorrow, according to their joint statement. Papandreou will join them later. Group of 20 leaders meet in Cannes Nov. 3-4 to discuss the debt crisis.
Negative View
Papandreou's referendum call raised the prospect of derailing the bailout and pushing Greece into default. Austerity measures in Greece have cut pensions and wages, boosted taxes and sparked a wave of social unrest. An opinion poll published Oct. 29 showed most Greeks believe the plan is negative.
Fitch Ratings said in a statement the referendum plan poses a threat to financial stability in the region. It "dramatically raises the stakes for Greece and the euro zone," the company said, and boosts risks of a "forced and disorderly" default.
The ECB meets Nov. 3 to review interest rates. It will cut its 1.5 percent benchmark rate by 36 basis points, or 0.36 percentage point, over the next 12 months, according to a Credit Suisse Group AG index based on swaps.
A survey showed about 42 percent of the respondents at the Bloomberg FX11 Summit in New York last week predicted that in five years, the euro would no longer be used by all of the 17 nations in the union today.
Chinese Manufacturing
The dollar advanced versus all of its 16 most-traded counterparts after the China Federation of Logistics and Purchasing said its Purchasing Managers' Index fell to 50.4 in October, from 51.2 the previous month. The median estimate in a Bloomberg survey of economists was 51.8.
The greenback appreciated 5.7 percent over the past six months, according to Bloomberg Correlation-Weighted Indexes, which track the currencies of 10 developed nations. The yen gained 8.1 percent and the euro weakened 2.7 percent.
Australia's currency slid after the Reserve Bank of Australia lowered its cash rate target by 25 basis points to 4.5 percent, the first cut since April 2009. The currency fell 1.9 percent to $1.0329.
The yen maintained losses from yesterday versus the dollar, which occurred after Japan sold its currency to weaken it and protect exporters. Finance Minister Jun Azumi said the nation will continue to take appropriate action on the currency.