Draghi's Day One at ECB Blighted as Greece Faces Referendum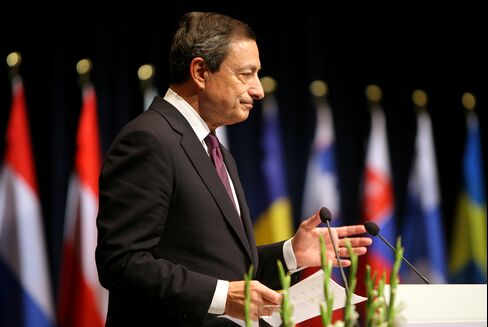 Mario Draghi's first day as head of the European Central Bank was blighted by George Papandreou.
Italian bonds slid and the risk premium between German debt and the rest of the euro area increased after the Greek prime minister announced late yesterday he will hold a referendum on the terms of his country's bailout.
Papandreou's gambit, hours before Draghi succeeded Jean-Claude Trichet, exposed the political pitfalls in the fight to keep the euro from blowing apart and adds to the pressure on the ECB to keep buying distressed bonds. An ultimate rejection of the rescue deal by the Greek electorate would threaten a default in Athens and a plunge in Italian and Spanish debt that may require the central bank to consider an unlimited guarantee of all euro-region bonds.
"Mr. Draghi, welcome to your new job," said Holger Schmieding, London-based chief economist at Joh. Berenberg Gossler & Co. "The Greek move makes it all the more important that Italian and euro-zone policy makers, including those from the ECB, build a reliable firewall around Greece to prevent more serious contagion to Italy."
The ECB was said by people with knowledge of the matter to be buying Italy's bonds today as the difference between the yield on its 10-year securities over similar German bunds widened to a euro-era record. The euro, stocks and U.S. index futures declined.
Italy 'Concerning'
Draghi, along with German Chancellor Angela Merkel and French President Nicolas Sarkozy, will be briefed by Papandreou on the sidelines of a Group of 20 meeting in Cannes tomorrow.
"With key peripheral spreads now again dependent heavily on the ECB, it is concerning that the Italian 10-year is still elevated despite heavy buying by the central bank on Monday," said Mohamed El-Erian, chief executive officer at Pacific Investment Management Co, in an e-mail.
Papandreou's decision to seek the support of the Greek people -- a majority of whom tell pollsters they dislike the bailout terms -- marks the latest challenge to Europe's five-day-old crisis-fighting strategy. Leaders last week agreed to cajole banks into accepting a 50 percent writedown on Greek debt, to recapitalize banks and boost the firepower of the European Financial Stability Facility to 1 trillion euros ($1.4 trillion).
Fading Optimism
While the euro enjoyed its biggest one day gain in more than a year after the deal was struck Oct. 27, investors have begun attacking the plan's lack of details with questions over whether the EFSF can attract foreign cash and even then if it is large enough to protect Italy and Spain. While banks have signaled acceptance of the write-offs, it also remains unknown what collateral they'll receive in return and if other cash-strapped countries will seek similar terms.
The Greek referendum "supports our view that the initial optimism regarding last week's European Union summit would fade fairly quickly," said Jonathan Loynes, chief European economist at Capital Economics Ltd. in London. It "clearly increases the risks both of a bigger and disorderly default on Greek debt and, ultimately, of Greece leaving the euro."
Draghi, until yesterday the governor of the Bank of Italy and a former banker at Goldman Sachs Group Inc., inherits from Trichet the task of stabilizing markets and supporting the 17-nation economy while politicians seek permanent remedies for the turmoil that is now in its third year. He chairs a meeting of the ECB's governing council for the first time on Nov. 3.
ECB Purchases
"The ECB remains the only credible backstop and will be forced to step up massively its bond purchases to prevent a new escalation of contagion risks across the system," said Jacques Cailloux, chief European economist at Royal Bank of Scotland Group Plc in London.
The Frankfurt-based central bank has bought 173.5 billion euros of bonds so far, starting with Greece, Ireland and Portugal last year, then extending the coverage to Italy and Spain in August. With the program running into opposition from some central bankers, most publicly those from Germany, Trichet had signaled a desire to retire the program once the EFSF won the right and cash to begin buying bonds.
A comment from Draghi last week that the ECB would maintain non-standard measures was seized upon by French President Nicolas Sarkozy as reason to expect the central bank to keep buying.
'Turbulent Week'
"Draghi takes the ECB driving seat during a very turbulent week in financial markets," said Jens Sondergaard, senior economist at Nomura International Plc in London, in an e-mailed note. "The ECB is likely to say that its" bond program "is 'ongoing,' we view this as a significant signal."
Draghi's ECB should also this week cut interest rates, reversing the 50 basis points of increases it enacted this year in lifting its benchmark to 1.5 percent, said David Owen, an economist at Jefferies International Ltd. in London. That remains a minority view as economists at Citigroup Inc. and Deutsche Bank AG say it will wait for new forecasts in December.
"This referendum substantially increases uncertainty at a time when there was probably going to be a fairly dysfunctional market anyway," said Owen.
The referendum proposal will also likely add to the demands for Draghi to go much further and pledge the ECB to guarantee Italian bonds in the hope that would restore the faith of investors in its market, said Tobias Blattner, an economist at Daiwa Capital Markets who previously worked at the ECB. It would also put the Rome native in a bind.
"Everything he does will be judged through the Italian lens," Blattner said. "His ideal scenario would be that he would have enough time to build up some credibility as a European before he'd make decisions like that."
Before it's here, it's on the Bloomberg Terminal.
LEARN MORE