China Airlines Has Edge as Accord Boosts Mainland Trade: Freight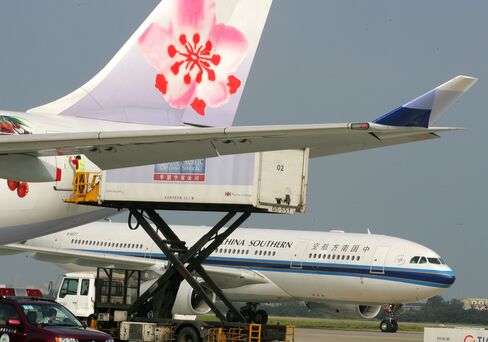 China Airlines Ltd. may gain the most of any air-cargo carrier from warming ties between China and Taiwan as the former foes dismantle barriers to their $150 billion in annual trade.
Taiwan's biggest airline will add 18 flights to five Chinese cities by the end of this year, cementing its position as the operator of the most cross-straits flights since a six-decade ban on direct shipments was lifted in 2008. Ongoing trade talks probably will further boost the 558 planned weekly airline journeys over the 130-kilometer (80-mile) channel between the two sides, said Fubon Securities Co. analyst Ken Shih.
"Cross-straits cargo flights have gone from zero to rapid-growth, so it's an area carriers can look to for expansion," said Taipei-based Shih, who has an "add" recommendation on China Airlines stock. "The next round of flight-easing talks will focus on adding more stops, and that will easily double cargo revenue for airline carriers."
Trade with China may help cushion Taiwan from any slowdown in demand from the U.S. and Europe for goods such as Acer Inc. and Asustek Computer Inc. notebooks, which are shipped by air. In addition, components made by companies such as Taiwan Semiconductor Manufacturing Co., the world's largest contract chipmaker, are sent to China as parts for Apple Inc. iPhones or Dell Inc. computers.
Because new flights approved across the strait are split evenly between China and Taiwan, the island's five carriers get a bigger slice of the pie relative to the mainland's eight airlines. Slots within each country are handed out based on fleet size, giving China Airlines an edge over Taiwanese cargo rival EVA Airways Corp.
High End
"Products shipped by air are high-end, high-priced goods," said Corinne Jian, an analyst at Macquarie Securities Ltd. in Taipei.
Electronic products made up 27.2 percent of Taiwan's exports in the first nine months of this year and Hong Kong and China together accounted for 40.6 percent of those shipments, data from the island's Ministry of Finance show.
President Ma Ying-jeou has made trade with China a key component of his policy of rapprochement with the mainland. An initial trade accord came into effect on Jan. 1 this year that lowered tariffs on 824 items. Ma has pledged to cut duties on 90 percent of commerce over the next decade.
The value of direct shipments between Taiwan and China rose 12 percent to $121 billion in the first nine months from the corresponding period a year earlier, Chinese government data shows.
To be sure, while air cargo makes up about 40 percent of China Airlines' revenue, cross-strait traffic only accounts for about a 10th of that now, according to the company's first-half financial report. And China demand can't entirely offset an economic slowdown in developed economies, said analyst Jian.
Slowing Export Growth
The European debt crisis is already having an impact on demand for Chinese goods. Export growth slowed to 17.1 percent in September and sales expansion to Europe, China's biggest market, slumped to 9.8 percent from 22 percent in August, the customs bureau said Oct. 13.
International air freight traffic by volume fell 3.5 percent in the first eight months of the year, data compiled by Bloomberg show. Concerns that the global economic recovery is faltering and high fuel costs have hit airline stocks. China Airlines is down about 40 percent this year against a 28 percent drop in the 30-member Bloomberg World Airlines Index.
"Cargo traffic, particularly air cargo because it's expensive, is very sensitive to global economic conditions," said Jian. She changed her rating on China Airlines to "buy" from "sell" on Sept. 22, citing a better-than-expected recovery in passenger traffic and an 11 percent drop in fuel costs in the past six months.
Across the Strait
Higher margins on cross-strait routes, additional flight quotas and a recovery in cargo may help drive a recovery in China Airlines' profit, she said. Direct flights are expected to contribute as much as 45 percent of Ebitda this financial year, from as much as 30 percent in 2010, she said. Ebitda is a measure of profit excluding non-operating expenses such as tax and interest.
"Our cross-straits cargo flights are doing pretty well and our passenger flights also have pretty good loading rates," said Roger Han, senior vice president for finance at the Taipei-based China Airlines. "We expect increases in our cross-strait cargo business next year," though he described the traffic as a "niche business."
Taiwan, which has been ruled separately since Chiang Kai-shek's Kuomintang forces fled there after losing to Mao Zedong's Communists at the end of the civil war in 1949, is betting that air trade with China will continue to grow.
Airport Renovations
Taoyuan Airport, Taiwan's biggest airport, is investing about NT$300 billion ($10 billion) to meet increased demand for cargo and passenger flights, according to the Council for Economic Planning and Development.
The island also plans a NT$3.9 billion airport in central Taiwan, and is investing NT$1.8 billion to double cargo capacity at Kaohsiung airport in southern Taiwan by 2012, according to the economic planning agency.
Taiwan's airlines have unique potential to benefit from thawing in ties between the two sides, said Chen Hui-Yi, a Taipei-based analyst at Polaris Securities Co. who recommends investors be "overweight" in China Airlines' stock.
In addition to passenger aircraft that carry freight in the holds, there are 56 direct cross-strait cargo-only flights weekly. China Airlines and EVA Airways each have 14 as the only operators in Taiwan, while Air China Cargo Co. and China Southern Airlines are among five mainland carriers sharing the other 28 flights.
"As China's economy gradually shifts to consumption-led growth from a manufacturing-driven model, demand for more cargo traffic will rise for sure," said Fubon's Shih.
Before it's here, it's on the Bloomberg Terminal.
LEARN MORE