BOJ Deposits Gain After Intervention Suggests Record Funds Spent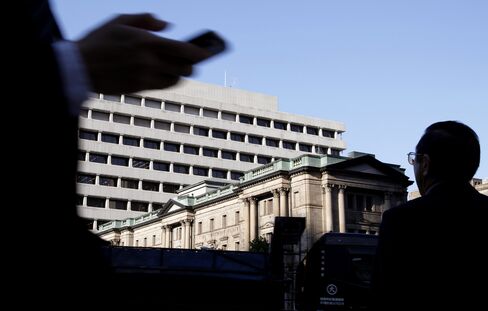 Japan may have spent a record amount intervening yesterday to stem the yen's gains, according to the Bank of Japan's projection of deposits held by financial institutions at the central bank.
The BOJ estimated that deposits climbed 7.7 trillion yen ($99 billion) to a total 37.2 trillion yen, it said in a statement released today in Tokyo. The figure suggests that the government sold approximately 8 trillion yen yesterday after the currency strengthened to a post-World War II high, said Yuichi Takahashi, a market economist at Totan Research Co. in Tokyo.
"Given the limited funds that Japan can use for intervention, massive and less frequent actions would be effective," said Masafumi Yamamoto, chief currency strategist at Barclays Bank Plc in Tokyo. "It could give speculative yen buyers the impression that they would take huge losses from unexpected intervention, and I think that's what authorities are expecting the market to know."
Finance Minister Jun Azumi said in Tokyo that he will "continue to intervene until I am satisfied," after the yen strengthened to a record 75.35 per dollar yesterday. Japan may have spent 10 trillion yen in its latest currency operation, the Asahi newspaper reported earlier, without saying where it obtained the information.
Japan's currency traded at 78.10 against the dollar as of 9:16 a.m. in London from 78.17 in New York yesterday, when it reached 79.53, the weakest since Aug. 4.
Yesterday's intervention was the third this year and the first since August, when Japan sold 4.51 trillion yen.
Before it's here, it's on the Bloomberg Terminal.
LEARN MORE