Berlusconi Popularity at New Low as Crisis Deepens, Poll Shows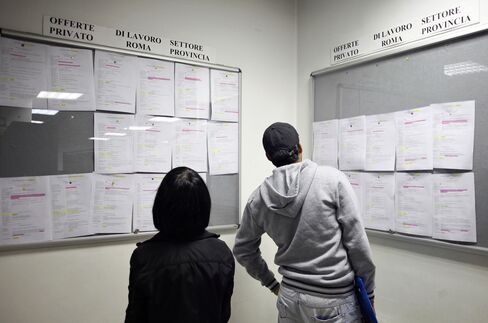 Nov. 1 (Bloomberg) -- Italian Prime Minister Silvio Berlusconi's popularity fell to the lowest since he took office as austerity measures and rising unemployment turned potential voters away from the ruling coalition, according to a poll.
Confidence in Berlusconi fell two percentage points to 22 percent from a survey last month, IPR Marketing said today. That's the lowest since he was elected in 2008. If elections were held now, 45.5 percent of Italians said they'd vote for the opposition, up from 44 percent, while support for the ruling coalition parties declined to 35.5 percent from 37.5 percent.
"The creeping crisis continues to affect confidence indices," Rome-based IPR said in an e-mailed statement. "The trend for the current government seems increasingly compromised."
Berlusconi is under pressure from his European partners to step up measures aimed at reducing Italy's debt of more than $2 trillion and keep the country from succumbing to the euro-area debt crisis. While his government has pushed through more than 100 billion euros ($135 billion) in austerity measures, borrowing costs have continued to rise.
Italy's jobless rate hit a 10-month high of 8.3 percent in September and the government was forced to cut its growth forecast for the economy to 0.7 percent this year, down from 1.1 percent.
'Nightmare'
Italy's biggest labor union, CGIL, called Berlusconi's measures, which include a gradual rise in the retirement age and easing of laws on firing workers, "a nightmare," according to a statement posted on its website last week. The union also said it is considering a general strike.
Berlusconi has repeatedly rejected stepping down, vowing to see out the end of his term in 2013.
The poll also showed support for Berlusconi's key coalition partner, the Northern League, dropped below 8 percent for the first time since the government took office. The party's leader, Umberto Bossi, also saw his popularity fall three percentage points to 38 percent.
The poll for Repubblica newspaper surveyed 1,000 adults by telephone on Oct. 28. No margin of error was given.
To contact the reporter on this story: Alessandra Migliaccio in Rome at amigliaccio@bloomberg.net
To contact the editor responsible for this story: Will Kennedy at wkennedy3@bloomberg.net.