Australia Cuts Rates as Europe Crisis Threatens Asian Growth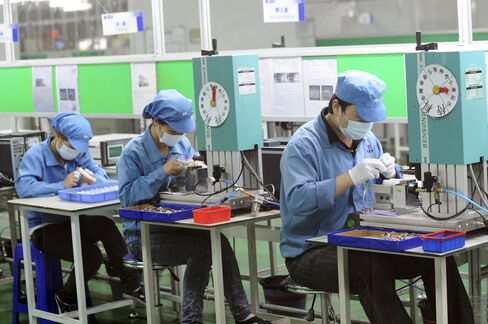 Australia's central bank cut interest rates for the first time since 2009 and a Chinese manufacturing index slid, stoking concern that Europe's debt crisis is weighing on Asia's export-dependent economies.
The Reserve Bank of Australia today reduced its key lending rate to 4.5 percent from 4.75 percent, saying Europe's woes are starting to hit Asian trade. In China, a purchasing managers' index fell to 50.4, the lowest level since February 2009, while South Korea reported the smallest gain in exports in two years.
Asian stocks fell for a second day as slowing growth in the region threatens to limit a global expansion already constrained by elevated unemployment in the U.S. and Europe's crisis. The Chinese report showed a contraction in export orders, fueling speculation that Premier Wen Jiabao may loosen policies to support the world's second-biggest economy.
"Similar to 2008, China has a lot of potential for fiscal stimulus and that's true across the region as well," said Frederic Neumann, co-head of Asian economics at HSBC in Hong Kong. "The situation in Europe clearly remains challenging."
The MSCI Asia Pacific Index slipped 2 percent as of 5:10 p.m. in Tokyo.
RBA Governor Glenn Stevens indicated that easing inflation had allowed the nation's first rate cut since April 2009. The local currency and government bond yields fell.
'Significant Slowdown'
Trade "is starting to see some effects of a significant slowing in economic activity in Europe, where the prospects are for economic weakness to continue," Stevens said in a statement. It is "likely to be some time yet before concerns about the European situation can definitively be laid to rest" and financial turmoil may have made companies and households cautious, he said.
The Australian dollar dropped to $1.0485 at 3:18 p.m. in Sydney from $1.0530 yesterday in New York and $1.0527 before the decision. The yield on 10-year government bonds fell eight basis points, or 0.08 percentage point, from yesterday's close to 4.43 percent.
Stevens joins Group of 20 counterparts from Jakarta to Ankara to Brasilia in easing monetary policy to bolster domestic demand. In Japan, officials yesterday intervened to weaken the yen as the currency's gains to post-World War II highs threaten that nation's exports.
G-20 leaders next meet in Cannes, France, on Nov. 3-4 to tackle Europe's crisis after Greek Prime Minister George Papandreou pledged to hold a referendum on the latest bailout plan for his nation.
Policy Outlook
The reading for China's official PMI, released by the government and the logistics federation, "is a reflection of slowing momentum in the economy" and export growth may decline "sharply in coming months," said Wang Tao, a Hong Kong-based economist at UBS AG. "Policy will ease more visibly in the first quarter of 2012."
Goldman Sachs Group Inc. said seasonal distortions may have dragged the number lower.
Released by the logistics federation and the statistics bureau, the index is based on a survey of purchasing managers in more than 820 companies in 20 industries. The gauge hasn't fallen below 50, the level dividing expansion from contraction, since February 2009.
A separate index released today by HSBC Holdings Plc and Markit Economics rose to 51 from 49.9. The gauges have different sample sizes and methodologies, with the official measure giving a bigger weighting to state-owned enterprises, according to Societe Generale SA.
Weaker Exports
South Korea's overseas shipments rose 9.3 percent in October from a year earlier, the least since 2009. Speaking in Gwacheon, south of Seoul, trade official Han Jin Hyun said Europe's crisis will weigh on exports this quarter. The October number was also pulled back by a high year-earlier base for comparison.
Taiwan's economy expanded at the slowest pace in two years last quarter, gaining 3.37 percent from a year earlier, a government report showed yesterday.
In a more positive sign for the region, India's manufacturing growth accelerated last month, according to a report today from HSBC and Markit. HSBC economist Leif Eskesen cited "resilient domestic demand."
Gauges of manufacturing in the U.S. and Europe are also pending. A U.S. factory index released by the Institute of Supply Management rose to 52 in October from 51.6 in September, according to the median estimate in a Bloomberg survey.
A manufacturing gauge based on a survey of purchasing managers in the 17-nation euro region fell to 47.3 in October from 48.5 in September, according to the median forecast in another survey.
— With assistance by Paul Panckhurst, and Michael Heath
Before it's here, it's on the Bloomberg Terminal.
LEARN MORE