Asian Stocks Drop on Slower China Manufacturing, Europe Concern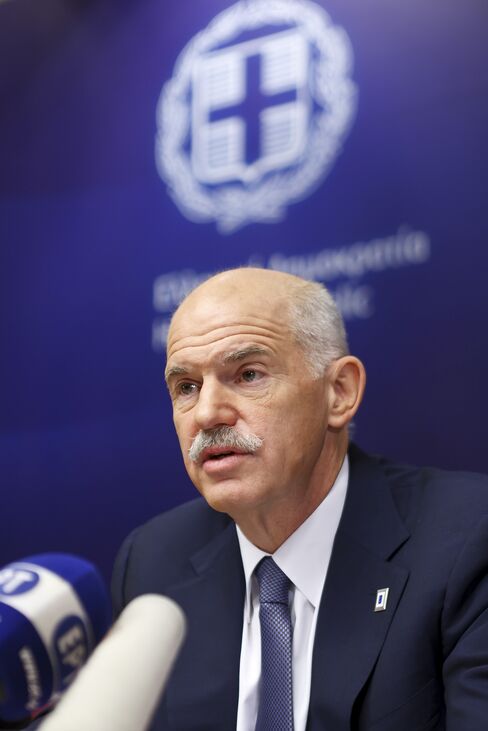 Asian stocks fell, with the regional benchmark index posting its biggest two-day drop in a month, as China's manufacturing growth slowed and Greece proposed a referendum on the Europe's latest aid package for the country.
Jiangxi Copper Co., China's largest producer of the metal, declined 5.3 percent. HSBC Holdings Plc, Europe's biggest lender by market value, dropped 3.9 percent in Hong Kong on speculation a default by Greece will threaten bank earnings. Panasonic Corp. sank 5.1 percent in Tokyo as the maker of Viera televisions predicted its worst annual loss in 10 years. DeNA Co. tumbled 20 percent after the Japanese website operator posted profit that missed its own forecast.
The MSCI Asia Pacific Index declined 2.2 percent to 119.08 as of 7:38 p.m. in Tokyo, extending its two-day drop to 4.5 percent. The measure gained 7.7 percent last month, the most since Sept. 2010, as Europe appeared close to a deal to contain its debt crisis, reports showed the U.S. economy grew faster and China hinted at easier monetary policy.
"We can't be too bullish," said Yoji Takeda, who manages about $1.1 billion at RBC Investment Management (Asia) Ltd. in Hong Kong. "The European situation continues to be problematic and there are signs Asian economies are slowing."
Australia's S&P/ASX 200 dropped 1.5 percent. The Reserve Bank of Australia lowered its benchmark interest rate for the first time since April 2009 as inflation eases and slower global growth threaten the nation's economy. Sixteen of 27 economists surveyed by Bloomberg predicted the move.
Commodities Drop
Japan's Nikkei 225 Stock Average declined 1.7 percent. Hong Kong's Hang Seng Index dropped 2.5 percent. China's Shanghai Composite Index added 0.1 percent, paring gains of as much as 0.9 percent, after the country's manufacturing index dropped to the lowest level since February 2009.
Taiwan's Taiex Index added 0.5 percent. The gauge earlier fell as much as 1.1 percent after a report showed the island's economy expanded at the slowest pace in two years last quarter as a faltering global recovery hurt exports.
A gauge of raw material producers led declines among the 10 industry groups in the MSCI Asia Pacific Index.
BHP Billiton Ltd., the world's biggest mining company, dropped 2.7 percent to A$36.77 in Sydney. Jiangxi Copper fell 5.3 percent to HK$18.28 in Hong Kong. Aluminum Corp. of China Ltd., the nation's biggest producer of the metal, slumped 5.5 percent to HK$4.10. Cnooc Ltd., China's biggest offshore oil producer, slipped 4.3 percent to HK$14.60.
'Cold Water'
Futures on the Standard & Poor's 500 Index slipped 2 percent today. In New York, the index fell 2.5 percent yesterday, extending losses in the final hour of trading after Greek Prime Minister George Papandreou said he will put Europe's new agreement on financing for Greece to a popular vote. An opinion poll published Oct. 29 showed most Greeks believe Europe's accord on a new bailout package and a debt writedown is negative.
"Papandreou's comments poured cold water on agreements that Europe finally got into shape last week," said Ayako Sera, a market strategist at Sumitomo Trust & Banking Co. in Tokyo, which manages the equivalent of $326 billion. "The Greek Prime Minister is thrusting responsibility on to the public. That sparked a lot of risk-off moves in the market."
Group of 20 leaders will convene Nov. 3-4 in Cannes, France, a week after euro-area authorities pledged to magnify the capacity of their rescue fund to 1 trillion euros ($1.4 trillion) and look beyond their borders for help in combating the debt turmoil posing the biggest threat to global economic growth. Europe has the capability to overcome its difficulties, Chinese President Hu Jintao said at a briefing yesterday in Vienna.
HSBC declined 3.9 percent to HK$67.20 in Hong Kong. Standard Chartered Plc, the U.K.'s second-biggest lender by market value, sank 4.5 percent to HK$179.50.
Company Earnings
The MSCI Asia Pacific Index declined 12 percent this year through yesterday, compared with a 0.4 percent loss by the S&P 500 and a 12 percent drop by the Stoxx Europe 600 Index. Stocks in the Asian benchmark were valued at 12.3 times estimated earnings on average, compared with 12.6 times for the S&P 500 and 10.5 times for the Stoxx 600.
Of the 356 companies on the Asian gauge that have reported results since Oct. 11, 176 missed analysts' estimates, while 127 exceeded expectations, according to data compiled by Bloomberg.
Panasonic slumped 5.1 percent to 768 yen. The Osaka-based electronics maker said it expects a full-year loss of 420 billion yen ($5.4 billion), the biggest annual loss in 10 years, because of a stronger yen, declining sales and a one-time charge for restructuring its TV and chip operations.
Biggest Loser
DeNA tumbled 20 percent to 2,752 yen, the most on the MSCI Asia Pacific Index. JPMorgan Chase & Co. cut its rating on the stock to "underweight" after the company reported net income of 17.6 billion yen for the six months through Sept. 30, missing its own forecast by 5.1 percent.
Hyundai Development Co., South Korea's second-biggest homebuilder by sales, plunged 12 percent to 20,650 won in Seoul. Citigroup Inc. lowered its rating on the stock to "neutral," citing weaker-than-expected third-quarter earnings.
HTC Corp., Asia's second-largest smartphone maker, slid 4.2 percent to NT$657 in Taipei. The company forecast revenue and shipments that missed analyst estimates amid competition from Samsung Electronics Co.'s Galaxy and Apple Inc.'s iPhone.
Neptune Orient Lines Ltd., Southeast Asia's biggest container carrier, dropped 5.3 percent to S$1.08 in Singapore. The company predicted a full-year loss after posting its third straight quarterly loss because of falling freight rates and higher fuel costs.