Thai Floods Disrupting Japanese Car Production Worldwide: Cars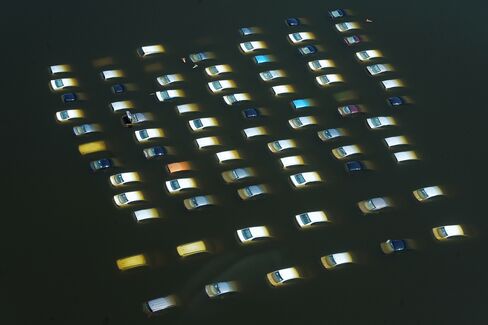 Toyota Motor Corp.'s Thai managers are trusting that a two-meter-high cordon of sandbags will save their factories from floodwaters spilling out from Bangkok. It may be too late to rescue the company's earnings forecast.
Floods in Thailand, the biggest Southeast Asian manufacturing hub for Japanese auto-related companies, have led to a shortage of parts and idled production of Prius hybrids and Camry sedans at Toyota's plants southeast of Bangkok. That may lead the company to cut its full-year profit forecast when it announces second-quarter earnings Nov. 8, said Yuuki Sakurai, Tokyo-based president at Fukoku Capital Management.
Japanese automakers are struggling to recover from the aftermath of March's record earthquake and contend with a yen close to its highest level in more than 60 years. Now, shortages of Thai parts from the country's worst floods in half a century are spreading disruptions to their car plants from Malaysia to Japan and the U.S., adding to the 22 percent drop in the Topix transport index since the March 11 temblor.
"The timing of the Thai floods couldn't have been worse," said Vivek Vaidya, automotive and transportation director at research firm Frost & Sullivan in Singapore. "The Japanese automakers were looking at reviving production, ramping up the parts supplies and assembly in overseas plants, and the floods have come and squashed their dreams."
Toyota is still assessing the impact of the Thai floods on its earnings, according to Amiko Tomita, a spokeswoman for the company.
Honda Motor Co., which made about 5 percent of all its cars in Thailand last year, yesterday said its factories may be flooded until mid-December and the financial toll will be big enough for the company's annual earnings guidance to be unreliable. The Tokyo-based company said it plans to cut output at six plants in the U.S. and Canada by about half from Nov. 2 through Nov. 10 because of the Thai floods in Thailand.
Missed Forecast
Honda, Japan's No. 3 automaker, reported net income of 60.4 billion yen in the three months ended Sept. 30, from 135.9 billion yen a year earlier. That missed the 66.1 billion yen average analyst estimate compiled by Bloomberg. Nissan Motor Co., Japan's second-largest automaker, has also closed its Thai factory and is scheduled to report earnings tomorrow.
Tokyo-based Honda has been hardest hit because its assembly lines and suppliers are clustered around the ancient capital of Ayutthaya, north of Bangkok, much of which lies under as much as three meters of water, according to Vaidya.
Toyota affiliate Aisin Seiki Co., which makes aluminum die-cast parts for the Toyota City, Aichi-based company, closed its factory in Ayutthaya on Oct. 18 and evacuated 1,500 workers after waters rose higher than 1.6 meters around the plant, spokesman Masayuki Toyama said. More than 100 suppliers have been affected, according a Toyota official in Thailand who asked not to be identified, citing company policy.
300,000 Drop
Thai-based automakers will produce 300,000 fewer vehicles this year than the 1.8 million they earlier expected, according to the nation's industry group. They may need to wait until December before output resumes, said Suparat Sirisuwannangkura, head of the Federation of Thai Industries' automotive club.
Toyota's operating profit may be reduced by 125 billion yen as plant closures cut production by 250,000 vehicles through Nov. 20, Tokyo-based analysts at Credit Suisse Group AG said in a report dated Oct. 26.
"The cost of the floods in Thailand will weigh heavily on Toyota," said Issei Takahashi, an auto analyst at the Zurich-based firm, who has a "neutral" rating on the shares.
Toyota halted output of cars in Thailand on Oct. 11, and production has since been affected in Indonesia, Vietnam, the Philippines, North America and Japan. Overtime production planned for last week at auto-assembly plants in Indiana, Kentucky and Canada and an engine factory in West Virginia were canceled, it said on its website.
Mini-Car Delayed
Supply-chain disruptions in Thailand forced Honda to shutter its factory in neighboring Malaysia last week and the company hasn't determined when the facilities will reopen. Honda pushed back the introduction of the Life Diva mini-car because of delays in deliveries of aluminum wheels from Thailand.
Toyota shares have dropped 28 percent since March 11, closing 0.5 percent higher at 2,644 yen yesterday in Tokyo. Honda fell 3.7 percent to 2,406 yen and is down 29 percent since the quake.
In the six months to Sept. 30, Toyota said global production fell 14 percent to 3.6 million vehicles. That followed a decline of 24 percent a year earlier as orders dried up because of the global financial crisis and economic downturn. The company is also trying to revive sales overseas after a record number of recalls last year dented its reputation for safety.
Flooded Industrial Parks
Thai authorities are diverting water to spare the capital from floods that have spread over 63 of the nation's 77 provinces since late July, killing at least 381 people. More than 9 billion cubic meters of water released last month from dams have swept down a river basin the size of Florida, inundating industrial parks that have helped transform Thailand into a manufacturing hub over the past four decades
Two-meter-high sandbag dikes guard entrance gates at Toyota's plants in Samut Prakarn and Chachoengsao province, located about 100 kilometers southeast of Bangkok. Each factory is ringed by a 1.2-meter flood wall, and a third set of flood barriers has been set up inside each plant to protect machinery that can't be moved, the Toyota official said. A third plant, in Chachoengsao province, is more than 40 meters above sea level and has no barrier wall.
"We've been getting prepared as the government plans to divert floodwater into the east," Suparat Sirisuwannangkura, senior vice president of Toyota Motor Asia Pacific, said Oct. 28. The plants, with an annual combined capacity of about 650,000 units, also produce Hilux, Corolla, Fortuner models.
Impact of the Yen
Thailand has grown as a supplier and assembly center as carmakers push production overseas to counter the impact of a rising yen on the competitiveness of products made at home. Every one-yen advance against the dollar cuts Toyota's operating income by 34 billion yen, according to the company's full-year forecast in August.
Toyota is basing this year's guidance on 80 yen to the dollar. The Japanese currency touched 75.35 yen yesterday, its strongest since World War II, prompting the government to intervene in the foreign-exchange markets. In 2006, the yen didn't trade below 100 to the dollar all year.
As the Thai shortages ripple through Japanese automakers' global production, investors are gaining an insight into the growing importance of carmakers' overseas operations.
The floods may cut Toyota's sales by 92 billion yen and operating profit by 23 billion yen, a bigger impact than earlier estimated, Kohei Takahashi, an auto analyst at JPMorgan Chase & Co. in Tokyo, said in a report Oct. 27. Still, he believes the company will weather the floods and raised his recommendation to "overweight."
Before it's here, it's on the Bloomberg Terminal.
LEARN MORE