Spanish Economy Stalled in Third Quarter, Bank of Spain Says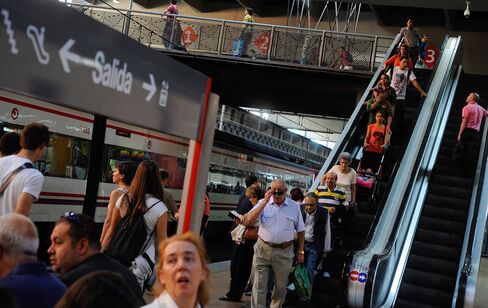 The Spanish economy stalled in the third quarter as unemployment surged, adding to the Socialist government's difficulties three weeks before a general election.
Gross domestic product stagnated from the previous quarter, when it grew 0.2 percent, the Bank of Spain in Madrid estimated today. From a year earlier, GDP rose 0.7 percent in the third quarter. Internal demand fell while exports and tourism bolstered the economy, the central bank said.
Prime Minister Jose Luis Rodriquez Zapatero's plan to cut Spain's borrowing costs from euro-era records has crimped domestic demand while eroding the Socialists' popularity as they reduced public wages and froze pensions. The opposition People's Party, which is set to approve its electoral program today amid pledges of deeper austerity, may win its largest-ever majority on Nov. 20, polls show.
"It will be very difficult to meet the deficit goals without additional austerity, which might push the economy back into recession," said Ben May, a European economist at Capital Economics in London. Unemployment, which was 21.5 percent in the third quarter, may rise as high as 25 percent, he forecast.
The yield on Spain's benchmark 10-year bond, which touched an intraday euro-era record of 6.46 percent on Aug. 2, rose to 5.65 percent at 10:30 a.m. in Madrid, pushing the premium investors demand to hold Spanish 10-year bonds instead of German debt of the same tenor to 353 basis points. Spain's Ibex-35 main share index fell 1.3 percent.
Jobless Surge
The government says it may miss its target for 1.3 percent economic growth this year, when it forecasts debt will rise to 67 percent of GDP, almost double the 2007 level. The International Monetary Fund predicts expansion of 0.8 percent in 2011.
The government's 1.3 percent growth forecast underpins its plan to reduce the budget deficit to 6 percent of GDP this year from 9 percent in 2010. PP leader Mariano Rajoy has said his government wouldn't deviate from the 4.4 percent target that is set for 2012 "under any circumstances."
The euro area faces "a crisis of confidence" that risks turning away investors as countries such as China and India strengthen, German Chancellor Angela Merkel said on Oct. 28 after European leaders pledged following a night-long summit to scale up the region's rescue fund to 1 trillion euros ($1.4 trillion).
Six Decades
Spanish joblessness increased in the third quarter to 21.5 percent, its highest level in 15 years, further undermining the economy's recovery from its worst recession in six decades, the National Statistics Institute said on Oct. 28. A third of the euro region's jobless are in Spain, Eurostat data shows.
The September unemployment rate rose to 22.6 percent, the highest in the European Union, the EU's statistics office in Luxembourg said today. The jobless rate among people under 25 years old increased to 48 percent, it said.
Alfredo Saenz, chief executive officer of Banco Santander SA, said on Oct. 27 that the ratio of bad loans to total lending is likely to go up to as much as 5.8 percent in the second half of next year from 5.1 percent now, as real-estate losses rise "like an arrow." Santander's default ratio on real-estate lending surged to almost 25 percent in September from 11.1 percent in December 2009. Spain is working through an excess of 700,000 unsold homes after a decade-long building boom collapsed, sparking a three-year slump that has pushed up unemployment.
The National Statistics Institute will publish its initial estimate of second-quarter GDP on Nov. 11 and a full breakdown 10 days later.
Before it's here, it's on the Bloomberg Terminal.
LEARN MORE