Sony Drops Most in 7 Months After Announcing TV Business Revamp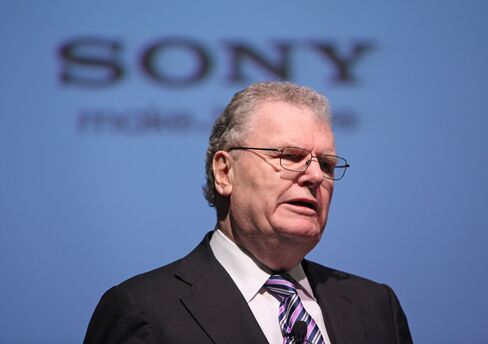 Sony Corp., reeling from seven consecutive annual losses in television manufacturing, plunged the most in more than seven months in Tokyo after announcing a reorganization of the business into three groups.
One group will oversee the liquid-crystal-display operations, another will coordinate contract manufacturing and a third will oversee the development of next-generation sets, Ayano Iguchi, a spokeswoman, said by telephone. The changes take effect today, a day before the company announces earnings.
Sony, which sells products ranging from PlayStation game consoles to life insurance, is trying to compete against Samsung Electronics Co. and low-cost TV set maker Vizio Inc. in an industry where sales have stagnated in developed countries. Chief Executive Officer Howard Stringer has said TVs remain vital to the Tokyo-based company's sales of related products, including Blu-ray players and video cameras.
The stock slumped 6.3 percent to 1,576 yen at the close of trading in Tokyo. Sony has lost 46 percent of its market value this year, compared with a 16 percent decline for the broader Topix index.
Samsung, the world's biggest TV maker, has gained 4.3 percent this year and LG Electronics Inc., the No. 2, has dropped 38 percent.
Smart TVs
Sony makes LCD and LED TVs, sets that connect to the Internet using Google Inc.'s Android operating system and models that let users watch video in 3-D. The company uses other manufacturers, including Taipei-based Hon Hai Precision Industry Co., to produce lower-end sets.
Sony has indicated it will create a separate unit to handle the commodity hardware side of the TV business, said Ben Bajarin, director of consumer technology practice at consulting firm Creative Strategies Inc. in Campbell, California.
The other units would be free to work on so-called smart TVs, which are more expensive sets that can pull content off the Internet, Bajarin said in an interview. These groups also would look at using Sony's music, movie and video-game assets in high-end TVs, tablets and smartphones.
"They are taking a much harder look at the three pillars of their business," Bajarin said. "It makes sense for them to have more of the manufacturing side outsourced."
Investors have been awaiting the company's turnaround plan after Sony, Japan's largest exporter of electronics, announced in August that a strategic review of the business was under way.
Panasonic, Toshiba
"Sony needs to focus on the strength of its mobile and set products," Eiichi Katayama, a Tokyo-based analyst at Bank of America Corp., wrote yesterday.
Other Japanese TV manufacturers also are trying to turn around their business. Panasonic Corp., the maker of Viera televisions, yesterday forecast its biggest annual loss in 10 years and cut its annual TV sales target to 19 million from 25 million.
Toshiba Corp., the maker of Regza televisions, said profit fell 19 percent as a strengthening yen eroded overseas sales. The falling prices of TVs and the end of a sales boom triggered by switching to digital broadcasts in July hurt the audiovisual division, the company said in a statement yesterday.
Toshiba's TV business had an operating loss of at least 10 billion yen in the six months ended Sept. 30, Corporate Executive Vice President Makoto Kubo said.
Before it's here, it's on the Bloomberg Terminal.
LEARN MORE