MF Global Bankruptcy Leaves Star Bankers Adrift Amid Cuts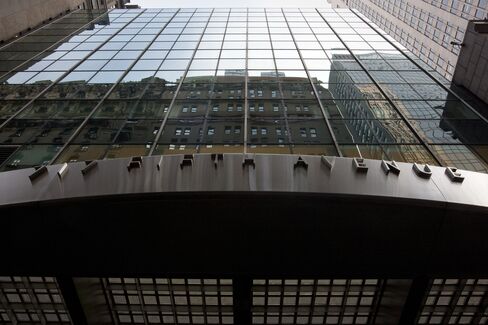 MF Global Holdings Ltd.'s bankruptcy filing is throwing into question the futures of some of Wall Street's most experienced bankers.
Jon Corzine, 64, who helped run Goldman Sachs Group Inc. from 1994 to 1999, added about 800 employees as he tried to remake the broker into an investment bank. Recruits included Michael Stockman, UBS AG's former chief risk officer for the Americas, Richard Moore, once Citigroup Inc.'s head of European fixed-income, and Jon Bass, 49, also previously of UBS, where he was a member of the investment bank's board.
MF Global sought bankruptcy protection yesterday within a week of Moody's Investors Service cutting the New York-based firm's credit rankings, reporting a record quarterly loss and disclosing $6.3 billion of wagers on the sovereign debt of some of Europe's most indebted nations. The firm was one of the few adding staff amid more than 120,000 layoffs announced by banks globally this year, according to Bloomberg Industries.
"No big banks are hiring," said Michael Karp, chief executive officer of New York-based Options Group Inc., whose recruitment firm fielded calls yesterday from at least three senior business managers at MF Global who want to move their groups elsewhere. "It's very tough to move them as a team."
U.S. regulators are investigating whether hundreds of millions of dollars are missing from MF Global client accounts, according to two people with knowledge of the matter, who spoke on condition of anonymity because the probe isn't public.
'Strategically Add'
MF Global employed 2,870 people globally, according to a bankruptcy filing. Corzine, the former New Jersey governor who started at Goldman Sachs in 1975 on the bond desk, became MF Global's chairman and chief executive officer in March 2010. He concentrated hiring in credit and curbed equity jobs in Europe and Asia, seeking to take advantage of firms that couldn't gain a foothold in fixed-income. As recently as two weeks ago it added high-yield bond trader Drew Meany from BTIG LLC, where Bass also worked. Meany declined to comment.
"We are going to continue to strategically add and take advantage of talent in the market that's additive to our firm and our business," Bass, global head of institutional sales and fixed income, told Bloomberg News in a September interview.
MF Global hired Mark Jicka, former head of credit trading at Mizuho Securities USA Inc., and Steven Madsen, who led credit trading in the Americas at Societe Generale SA that month. In July, it said it brought on Christopher Belhumeur and Chris Lau to expand trading in structured products and commercial-mortgage backed securities.
'Upgraded People'
While Corzine added staff, about 1,200 left as he attempted to transform the futures broker into a medium-sized investment bank by 2015. The board viewed Corzine's 2011 performance as "exemplary," in part for "significant improvements in the reputation of the firm as demonstrated by its ability to hire quality professionals," according to a regulatory filing.
"We think we've upgraded people," Corzine said Sept. 12 at the Barclays Capital Global Financial Services conference in New York.
Stockman, who started his career at Salomon Brothers Inc. trading mortgages, was hired in January to oversee MF Global's risk. Moore, who was Citigroup's head of fixed-income for Europe, Middle East and Africa, was appointed in March as regional chief executive officer to oversee MF Global's expansion in Europe.
Bass helped equity broker BTIG start its credit business in 2009 before joining MF Global the following year.
Stockman, Moore and Bass didn't return e-mails and phone calls seeking comment.
Debt Trading
The biggest Wall Street banks are cutting staff after JPMorgan Chase & Co., Bank of America Corp., Citigroup, Goldman Sachs and Morgan Stanley posted a combined 41 percent decline in investment-banking revenue in the third quarter from the previous period.
Credit Suisse Group AG, the second-biggest Swiss bank, said today it will cut about 1,500 more jobs and reorganize its securities unit after the division reported its first quarterly loss since 2008. That's in addition to 2,000 staff cuts announced in July.
Average daily trading volumes of high-yield debt dropped to $3.6 billion in July, the lowest this year, according to Trace, the bond-price reporting system of the Financial Industry Regulatory Authority, as concern mounted that a European sovereign default would disrupt the banking system.
Trading Declines
It became harder for investors to trade bonds as Wall Street dealers cut their holdings of corporate credit to the lowest in more than eight years the week ended Oct. 5. The primary dealers of U.S. government securities that trade directly with the Federal Reserve reduced inventories of corporate debt due in more than a year to $54.6 billion, down 42 percent since May.
Declines in trading and bond issuance hurt smaller firms that entered the market after Lehman Brothers Holdings Inc. filed for bankruptcy. As Corzine added staff, FBR Capital Markets Corp. cut its leveraged finance banking and trading operation, BTIG pared its high-yield brokerage team in September and Citadel LLC shed distressed debt and loan traders and salespeople in August.
The chance of a firm hiring an entire credit team from another bank becomes "less likely as each successive wave of layoffs occur," said Richard Lipstein, a managing director for Boyden Global Executive Search. "I wouldn't be surprised if the best of these people find something because firms will look to upgrade their talent."
European Wagers
Disclosure of MF Global's wagers on the bonds of countries including Belgium, Italy, Spain and Ireland on Oct. 25, fueled credit-rating downgrades from Moody's Investors Service and Fitch Ratings to junk status. That "sparked an increase in margin calls," according to the bankruptcy filing.
MF Global listed debt of $39.7 billion and assets of $41 billion. It aims to complete "a successful, rapid reorganization" of its finances in court, while maintaining a "business-as-usual atmosphere," MF Global President Bradley Abelow said in an affidavit.
MF Global told regulators yesterday about deficiencies in accounts that it managed for clients in the futures market, the Commodity Futures Trading Commission and Securities and Exchange Commission said in an e-mailed statement. The firm was ordered by the enforcement division of the CFTC to preserve records for the review of potentially missing funds, one of the people with knowledge of the matter said,
Corzine and Diana Desocio, an MF Global spokeswoman, didn't respond to e-mails or phone messages seeking comment.
Before it's here, it's on the Bloomberg Terminal.
LEARN MORE