Mechel Falls as Futures Signal Stocks May Drop: Russia Overnight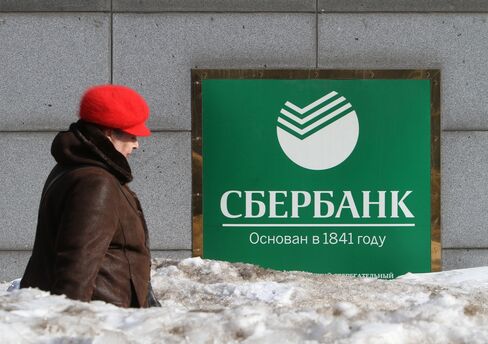 Russian stock futures fell and U.S.- traded shares of OAO Mechel, OAO Sberbank and OAO Gazprom sank more than 5 percent as leaders in Europe, the nation's biggest export market, struggled to contain the region's debt crisis.
Futures on the dollar-denominated measure expiring in December dropped 0.8 percent to 154,260 yesterday after the 30-stock Micex Index lost 1.8 percent in Moscow, trimming its monthly gain to 9.7 percent, the most since May 2009. The Bloomberg Russia-US 14 Index of Russian companies traded in New York posted its biggest one-day retreat in more than five weeks, as all but two stocks declined. The Micex may drop 0.8 percent at the open today, according to Alfa Bank.
Copper dropped and nickel declined while crude, which along with natural gas accounts for as much as about 17 percent of Russia's gross domestic product, slipped after China's official news agency said the country cannot play the role of "savior" for Europe. American depositary receipts of Mechel, which generated 19 percent of its 2010 sales from Europe, lost the most in four weeks. Sberbank, Russia's largest lender, fell after Chief Executive Officer German Gref said the bank is preparing for the government to sell its 7.6 percent stake.
"It's been an extraordinary rally, though there is a feeling that markets in the short term have gone a little bit ahead of themselves," said Martin Diggle, director of the $70 million Vulpes Russian Opportunities Fund, in a phone interview from Geneva. "There remains a great deal of uncertainty about how the European situation is going to play out, and even as there has been optimism in recent weeks about a bailout, many remain skeptical."
Micex Drops
The Micex retreated yesterday after entering a bull market on Oct. 27, having rallied more than 20 percent since touching its 2011 low on Oct. 5. The RTS Index declined 2.9 percent to pare its October advance to 17 percent, most since September 2009. The RTS Volatility Index, which measures expected swings in the index futures, increased 4.4 percent to 47.92 points, for its biggest two-day advance since Oct. 4.
Gazprom, the world's biggest natural gas exporter, plunged 6.5 percent to $11.61 on speculation demand will falter after the biggest monthly gain in more than two years. Brent oil for December settlement slipped 0.3 percent to $109.56 on the London-based ICE Futures Europe exchange. Gazprom shares in Moscow dropped 3.1 percent to 179.35 rubles, or the equivalent of $5.91. One ADR represents two ordinary shares.
Mechel Plunges
Mechel, Russia's largest coal producer for steelmakers, plunged 8.8 percent, the most in four weeks, to $13.14, its first decline in four sessions. Shares in Moscow fell 2.4 percent to 405.90 rubles, or the equivalent of $13.39. The Bloomberg Russia-US 14 Index dropped 5.3 percent to 999.39 as every stock on the gauge fell except the ADRs of OAO Rostelecom, Russian dominant fixed-line operator, and OAO Polyus Gold.
European governments, which convene Nov. 3-4 in Cannes, France for the Group of 20 summit, are finding pledges of hard cash are difficult to obtain as European banks are reluctant to lend funds to one another to prevent the crisis from worsening. Russia may lend Europe as much as $10 billion through the International Monetary Fund, Arkady Dvorkovich, the Kremlin's top economic aide, told reporters in Moscow yesterday.
"It's really important to us that Europe remains stable," said Dvorkovich. "If Europe becomes unstable, then the Russian economy will enter a period of instability."
Sberbank
Sberbank fell the most in four weeks, declining 7 percent to $10.75 in New York after Gref said the bank may start preparing for Russia's central bank to sell its stake once the share price approaches 100 rubles. Gref made the comment in a broadcast on Russia's state television after business hours on Oct. 28. Sberbank fell 4 percent on the Micex to 82.03 rubles, or the equivalent of $2.71. One ADR represents four ordinary shares.
Sberbank shares have gained 0.7 percent since Oct. 14 compared to the Micex's 4.7 percent advance.
OAO GMK Norilsk Nickel, Russia's biggest mining company and the world's largest nickel producer, slumped 6.2 percent to $19.25 in New York after the company completed a $4.5 billion share buyback program on Oct. 28. Shares in Moscow fell 2.7 percent to 5,966 rubles, or the equivalent of $196.66.
Norilsk began buying back as much as 7.7 percent of its stock on Sept. 28. The results of the buyback will be announced this week, Erzhena Ischenko, a company spokeswoman, said by phone on Oct. 28.
U.S. Stocks
The Standard & Poor's 500 Index dropped 2.5 percent to 1,253.30, paring its biggest monthly advance since 1991 to 11 percent, while Dow Jones Industrial Average fell 2.3 percent to 11,955.01.
Standard & Poor's GSCI index of 24 raw materials slipped 0.7 percent to 647.96 as copper futures for December delivery retreated 2 percent to close at $3.632 a pound on the Comex in New York while nickel lost 0.6 percent to settle at $19,575 a ton on the London Metal Exchange. Gold futures dropped the most in a week, losing 1.3 percent, to settle at $1,725.20 an ounce on the Comex.
Oil, Russia's biggest export earner, declined for a third day in four, dropping 0.1 percent to settle at $93.19 a barrel on the New York Mercantile Exchange. Crude oil surged the most in 29 months in October. Urals crude, Russia's chief export blend, lost 1.1 percent to $108.32. Oil and natural gas contribute about 40 percent of the government's budget revenue.
The Market Vectors Russia ETF, a U.S.-traded fund that holds Russian shares, and the Bank of New York Mellon Russia ADR Index both lost 5 percent, most since Sept. 30. The Market Vectors ETF closed at $30.45, while New York Mellon Russia ADR finished trading at 748.24.
The Micex has lost 11 percent in 2011 and trades at 5.4 times analysts' earnings estimates for member companies. That compares with a 16 percent slide for Brazil's Bovespa index, which trades at 10.4 times estimated earnings, according to data compiled by Bloomberg. The Shanghai Composite Index trades at 11.5 times estimated earnings, and the BSE India Sensitive Index has a ratio of 15.1.
Members of the Bloomberg Russia-US 14 Index:

CTC Media Inc.
OAO Gazprom Neft
OAO Lukoil
OAO Mobile TeleSystems
OAO Mechel
OAO GMK Norilsk Nickel
OAO Gazprom
OAO Polyus Gold
OAO Rostelecom
OAO RusHydro
OAO Sberbank
OAO Surgutneftegas
VimpelCom Ltd.
Yandex NV
Before it's here, it's on the Bloomberg Terminal.
LEARN MORE