Libya Council Elects Former Professor as Prime Minister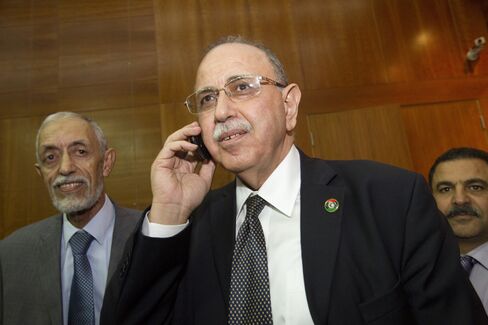 Abdurrahim El-Keib, an academic who lived in the U.S. for 10 years, was named as Libya's interim prime minister to guide the country to general elections.
El-Keib was elected by members of the National Transitional Council, gaining 26 out of 51 votes yesterday in the capital, Tripoli. He takes over from Mahmoud Jibril, who resigned when Libya's "liberation" was declared on Oct. 23, three days after the death of Muammar Qaddafi and the fall of his hometown of Sirte to forces loyal to the NTC.
"El-Keib presented his plan for the next eight months to the NTC, which includes working to restore order and stability, rebuilding cities destroyed by Qaddafi, rehabilitating the rebels and starting to collect their weapons," Abdul Majid Saif Al-Nasr, an NTC member, told Al Jazeera television.
Under plans outlined by the NTC in May, Libyans will choose a panel to oversee the writing of a new constitution within eight months. That will be followed by a referendum and presidential and legislative elections. El-Keib said after votes were counted that he will appoint a Cabinet within two weeks.
El-Keib "left everything" to join the NTC, formed shortly after Qaddafi put down anti-government protests that erupted in the eastern city of Benghazi in February, Salem Kenan, a member of the council, told Al Arabiya television. El-Keib, who is also a businessman, was born in Tripoli, Kenan said.
Petroleum Institute
El-Keib graduated from the University of Tripoli, earned a masters degree from the University of Southern California in 1976 and a doctorate from North Carolina State University in 1984 before teaching in Tuscaloosa, Alabama, according to a biography posted by the Petroleum Institute in Abu Dhabi, where he is listed as chairman of the department of electrical engineering.
He was one of the Tripoli representatives on the NTC.
The North Atlantic Treaty Organization formally ended its seven-month campaign to protect civilians in Libya with a visit by its chief, Anders Fogh Rasmussen, to Tripoli yesterday. He said the mission had been a success and that "it is now up to the Libyan people to draw up their own future."
Since taking control of Tripoli, the NTC has sought to unite the factions that helped end Qaddafi's 42-year-rule, disarm militias and restore oil output. Yesterday, Jibril warned against delaying elections, citing the risk of a power vacuum.
The United Nations Security Council asked the new Libyan government yesterday to prevent shoulder-fired anti-aircraft missiles from falling into the hands of terrorists.
The Russian-drafted resolution, adopted unanimously, urged Libyan authorities to take "all necessary steps to prevent the proliferation of all arms and related materiel of all types, in particular man-portable surface-to-air missiles."