Former Rebel Voted Mayor of Colombia Capital Vowing to End Graft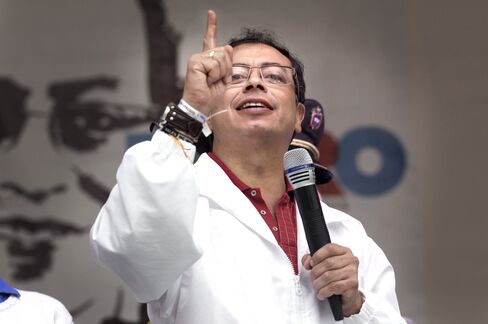 Oct. 31 (Bloomberg) -- Gustavo Petro, a former guerrilla, was elected Mayor of Bogota after campaigning against corruption in Colombia's political and financial capital.
Petro became the first former rebel to gain Colombia's second most-important elected office after winning 32 percent of yesterday's vote. He topped Green Party candidate Enrique Penalosa's 25 percent and former Senator Gina Parody's 17 percent.
Petro, who in the 1980s belonged to the M-19 urban guerrilla movement that tried to seize power, celebrated his victory as a sign that Colombia is ready to embrace political pluralism even as armed groups continue to wage war in the South American nation. After running a campaign focused on local issues and a pledge to root out corruption he blamed for traffic gridlock, Petro yesterday promised to transform his four-month-old Progressives party into Colombia's main opposition force.
"Bogota, in majority fashion, has decided to select as its mayor a son of the 1989 peace accords," Petro told supporters last night, referring to the political framework under which his rebel group laid down its weapons. "Bogota didn't fall in the trap of today's policy of internal war. Bogota said yes to reconciliation, yes to peace."
The 51-year-old former senator will take the reins of the city of 8 million on Jan. 1 from a caretaker administration appointed when Mayor Samuel Moreno was suspended in May, and later jailed, for allegedly taking kickbacks in public transportation contracts.
Investors Rattled
Plans by Petro to expand government control over the economy, including a pledge to block a sale of the city's 87 percent state in phone company Empresa de Telecomunicaciones de Bogota SA, have rattled investors. ETB shares fell 21 percent since Petro launched his campaign May 31, triple the 7 percent decline in the benchmark IGBC index.
Rodrigo Jaramillo, head of Bogota-based Grupo Interbolsa, which owns the country's biggest brokerage, said Petro created an "incipient political risk" and may try to use the mayor's office as a springboard to Colombia's presidency.
Petro said yesterday that he accepted his victory with "humility" and would work with opponents to protect Bogota's environment, and improve hospitals and schools in poorer areas. He praised President Juan Manuel Santos, the country's most-popular politician, for his initiative to return land to victims of paramilitary and guerrilla violence, the largest numbers of which, some 400,000, have resettled in Bogota's slums.
Crime, Traffic
Under Moreno, crime and traffic worsened in Bogota, which is responsible for more than 26 percent of the country's $288 billion gross domestic product. Since 2008, residents who say the city is heading in the right direction have fallen by half to 32 percent, according to an annual city government survey published in July. The number of murders, while below their peak a decade ago, has risen steadily since 2007 to 1,743 last year.
Born in a wattle and daub house near the Caribbean coast, Petro joined the Marxist-leaning M-19 at the age of 17, taking as his nom de guerre Aureliano Buendia, a character from his literary hero Gabriel Garcia Marquez's novel "100 Years of Solitude." He said he was tortured while in jail in 1985 as his comrades in arms stormed the Palace of Justice and took the Supreme Court hostage.
When the M-19 demobilized in 1991, Petro helped rewrite Colombia's constitution. After a stint in Europe, he resumed his political career in 1998 and was elected to the Senate in 2006. That same year he led the opposition to then-President Alvaro Uribe's rule by denouncing allies who allegedly took money and helped plot assassinations by paramilitary groups. For his effort, dozens of lawmakers and Uribe's former spy chief have been jailed.
Uribe, who left office last year with a 75 percent approval rating after a crackdown on the Revolutionary Armed Forces of Colombia, called Petro a "terrorist in civilian clothing" in 2007.
Uribe's Defeat
The former president's U.S.-backed security policies, while successful in weakening the Revolutionary Armed Forces of Colombia, were less popular in Bogota. Penalosa, who is remembered positively for building bike lines and expanding mass transit as mayor of Bogota from 1998-2001, saw his early lead in polls fade after he sought the former president's endorsement.
Candidates backed by Uribe also lost yesterday in Medellin, the country's second-biggest city, and Antioquia province. Uribe had held both offices in his home state before being elected president.
To contact the reporters on this story: Crayton Harrison in Mexico City at tharrison5@bloomberg.net; Blake Schmidt in Bogota at bschmidt16@bloomberg.net
To contact the editor responsible for this story: Joshua Goodman at jgoodman19@bloomberg.net