Crumbling Bridges' $140 Billion Tab Leaves Business Paying Price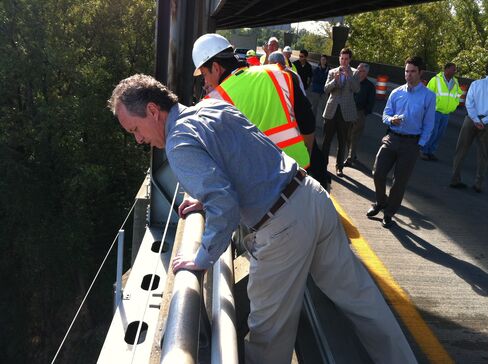 Jim Benton, a Jeffersonville, Indiana, jewelry-store owner, says sales fell 40 percent in two weeks after the Sherman Minton Bridge connecting his border community to customers in Kentucky closed Sept. 9.
Fifteen miles from the bridge's Kentucky side, officials at United Parcel Service Inc.'s Worldport, the world's largest automated package-handling facility, say they've used software to reroute trucks with no substantial impact. That's not so easy for Benton, who said he's keeping longer hours and buying less merchandise for the holiday season.
Benton's plight is playing out for small businesses across the U.S., where 3,538 bridges were closed in 2010, as customers shop elsewhere rather than take detours. With the average U.S. bridge seven years from the end of its useful life, and one-fourth of 600,000 crossings classified by regulators as "structurally deficient," more places will be hurt by closings, said Barry LePatner, founder of LePatner & Associates LLP, a New York-based construction law and consulting firm.
"Bridge failures throw a monkey wrench into the economic life of communities," LePatner said. "Things aren't going to get better, things are going to get much worse."
The Minneapolis-St. Paul regional economy lost as much as $73 million after the collapse in August 2007 of the Interstate 35W bridge, according to a 2008 study by the University of Minnesota. Thirteen people died and 145 were injured when the bridge, Minnesota's busiest, collapsed. It was rebuilt and reopened in September 2008.
Soda-Can Cracks
The Sherman Minton Bridge, which carried about 80,000 vehicles a day across the Ohio River, was closed after cracks as wide as a 12-ounce soda can were found in the structural steel, according to the U.S. Department of Transportation. It will be closed indefinitely, according to a notice the Federal Highway Administration posted Oct. 27 in the Federal Register.
Benton says he's having customers pick up repairs on Saturday, when the traffic isn't as bad. He's made special arrangements to return unsold merchandise.
The disrepair of U.S. surface-transportation systems cost businesses and households about $130 billion last year, according to the American Society of Civil Engineers, based in Reston, Virginia. Of that, $32 billion is related to travel delays, it said in a report issued in July.
The average U.S. bridge is 43 years old, while the average useful life is generally about 50 years, according to the highway agency. The agency said in 2006 that it would cost $140 billion to immediately repair every deficient bridge in the U.S. That's more than three times what the U.S. government receives in taxes annually to pay for road, mass transit and bridge projects.
Oceanic Bridge
The amount of traffic a bridge carries, the location of the next nearest bridge, and whether it's on a commuter route determine how much economic impact a closing may have, Andrew Herrmann, president of the American Society of Civil Engineers, said in an interview. The group in 2009 issued a report card that gave the condition of U.S. bridges a grade of C and overall infrastructure a D.
"We're neglecting our investments in bridges," Herrmann said. "Regular inspections is what's keeping the driving public safe."
The 72-year-old Oceanic Bridge spanning the Navesink River between Rumson and Middletown, New Jersey was closed Oct. 17. Within days, five families withdrew their children from Mountain Hill School in Atlantic Highlands, New Jersey, said Andrew Kaiser, the school's owner. The closing added 15 minutes a trip to the school, time parents couldn't spare, Kaiser said.
The families represent about 5 percent of enrollment at the private preschool and kindergarten, where tuition can be as much as $7,500 a student, Kaiser said.
Time Is Money
The Mountain Hill School is a six-minute drive from the closed bridge. The detour to get around it is as long as 9.1 miles for some families, he said. The 2,700-foot bridge is scheduled to open in May and is slated to be replaced within 10 years, according to the Monmouth County, New Jersey, website.
"If the bridge opening is delayed much longer than May, next year's finances could be very interesting," Kaiser said.
Traffic congestion resulting from bridge closings has the most obvious economic impact, increasing fuel consumption and disrupting schedules, Herrmann said.
A bridge built in 1929 over Lake Champlain in upstate New York was closed in 2009 after cracks were found. Residents had to take ferries to work and appointments. The ferry companies weren't equipped for the volume and traffic to use them is often backed up for hours, he said. The bridge, which had about 3,000 vehicle trips a day, will reopen sometime next year, according to the New York Department of Transportation website.
"When there is only one crossing it can be a big economic problem," Herrmann said.
UPS, FedEx
Companies like UPS, whose business model makes understanding the U.S. highway and bridge system a necessity, have developed information systems to reroute drivers when detours occur, Susan Rosenberg, spokeswoman for the Atlanta-based company, said in an interview.
"Contingency planning is in our DNA," Rosenberg said. "We work around bridge closing in the same way we do floods or tornadoes, earthquakes or even tsunamis."
Dealing with bridge closures is a "fairly standard" part of Memphis, Tennessee-based FedEx Corp. operations and the company "simply adjusts," Jim McCluskey, a spokesman for the world's largest package-delivery service, said in an e-mail.
Rural Bridges
Detours from bridge closings in rural areas can cost farmers 5 cents a bushel, according to a study by the Illinois Soybean Checkoff and the Illinois Corn Marketing Board. The study said that closed or weight-restricted bridges lead to detours in rural areas of as much as 20 miles. About one-fifth of rural bridges are in poor to mediocre condition, according to the federal highway agency.
Randolph, Nebraska, farmer Jim Kuchta was charged $28,000 by his local township after a 40-year-old bridge he'd been using since 1979 collapsed two years ago as he drove across it in his combine.
Kuchta's $350,000 combine exceeded the bridge's weight limit of 11 tons. A crane was needed to pull out the combine at a cost of $1,400, Kuchta said in a telephone interview. Because the combine exceeded the weight limit, township officials charged him for the damage.
"That money disappears into a hole somewhere," Kuchta said. "The whole process has to revamped."
Before it's here, it's on the Bloomberg Terminal.
LEARN MORE