Azumi Thwarts Yen Bulls, Helping Stocks Beat Debt: Japan Credit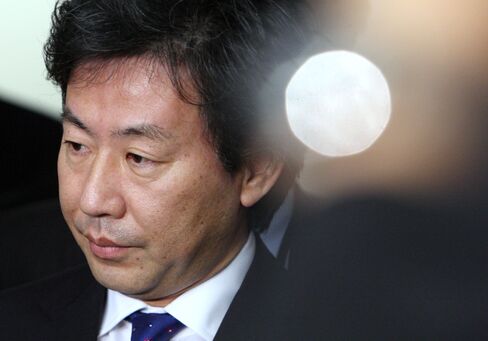 Japan's third round of yen sales this year may help equities extend their first monthly gain versus bonds since June as the currency's drop boosts exporters and curbs foreign demand for the nation's debt.
The Topix index of stocks snapped its three-month losing streak to rise 0.4 percent in October, Bloomberg data showed. Japanese government bonds lost 0.2 percent, their first decline since February, according to Bank of America Merrill Lynch indexes, while U.S. Treasuries fell 0.8 percent.
Yen gains that helped increase debt returns for investors outside the nation are now under threat after the currency's surge to a postwar high of 75.35 against the dollar yesterday prompted Japanese Finance Minister Jun Azumi to make good on a pledge to take action, saying he'll "continue to intervene until I am satisfied." Japan joins Switzerland in trying to cap rallies in their currencies that threaten export-led recoveries.
"Stocks will rise along with what's happening in the foreign exchange market," said Koichi Kurose, chief economist in Tokyo at Resona Bank Ltd., which oversees the equivalent of $68 billion. "The focus will be whether they will do a massive Swiss-kind of intervention or repeat what they have been doing. I'm skeptical they will change their tactics."
'Currency Risks'
A currency rally this year helped make the nation's debt a winner for foreign investors. Japanese government bonds, so-called JGBs, have returned 5.6 percent in 2011 in dollar terms, versus 8 percent for Treasuries. Japan was ahead of the U.S. until the government's yen sales yesterday.
An index of global sovereign bonds gained 7.1 percent in dollar terms.
"For those investors taking currency risks, they have mark-to-market losses," said Satoshi Yamada, chief quantitative analyst in Tokyo at SMBC Nikko Securities Inc., one of the primary dealers obliged to bid at government debt sales. "If they determine the currency will be at current levels for a longer period, they might decide to sell their JGB holdings to cut their losses."
Foreign investors hold 5 percent of Japan's outstanding bonds, according to the Ministry of Finance. By contrast, foreign investors hold about half of publicly traded U.S. debt.
The Topix has lost 15 percent so far in 2011 before currency adjustments, set for its third annual decline of more than 10 percent in the past five years.
Government Bonds
The yen is the only one among the 16 major currencies to appreciate in the past six months against the dollar, Bloomberg data show. It was little changed today at 78.16 per dollar as of 12:53 p.m. in Tokyo, after falling as much as 4.7 percent yesterday.
Elsewhere in Japan's credit market, 10-year yields fell two basis points today to 1.025 percent. They were as high as 1.045 percent yesterday, the most since Sept. 5. The rate is about even with Switzerland's for the lowest among developed bond markets tracked by Bloomberg. The Ministry of Finance is scheduled to sell 10-year bonds today.
The 10-year rate will rise to 1.17 percent by the end of March, according to a Bloomberg survey of banks and securities companies, with the most recent forecasts given the heaviest weightings.
The extra yield investors demand to buy 10-year bonds instead of two-year notes was 88.2 basis points. The difference widened to 90.1 basis points on Oct. 28, the most since Sept. 1.
Default Swaps
The spread between yields on Japan five-year government bonds and inflation-linked securities, a gauge of trader expectations for consumer prices over the life of the debt, was negative 31 basis points yesterday. It has climbed from this year's low of negative 68 basis points in March.
Credit-default swaps tied to Japan's debt fell to 96.36 basis points on Oct. 28, the least since August, CMA prices in New York showed. The contracts pay the buyer should a government or company fail to adhere to debt agreements. CMA is owned by CME Group Inc. and compiles prices quoted by dealers in the privately negotiated market. A basis point equals $1,000 annually on a contract protecting $10 million of debt.
The extra yield investors demand to own Japan's corporate bonds rather than government debt has held at 83 basis points for a week, the highest since February 2009, according to an index compiled by Nomura Securities Co.
Azumi said yesterday the government took unilateral steps to combat "one-sided speculative moves that don't reflect the economic fundamentals of our economy." The yen slid to 79.53 per dollar, the weakest since Japan last intervened on Aug. 4. The Swiss National Bank imposed a ceiling of 1.20 francs per euro in September.
Futures Bets
Futures traders increased bets to the most since August that the yen will gain against the dollar, figures from the Washington-based Commodity Futures Trading Commission showed last week. The difference in the number of wagers by hedge funds and other large speculators on an advance in the yen compared with those on a drop -- so-called net longs -- was 54,279 on Oct. 25, double the amount from the week before.
The yen tends to appreciate during economic and financial turmoil because Japan's current account surplus makes it less reliant on foreign capital. Currency gains have hurt the overseas competitiveness of Japanese companies.
Japan's bonds may also fall as prospects for global economic growth improve, Shinji Ebihara and Kenro Kawano, strategists at Credit Suisse Group AG in Tokyo, wrote in a report yesterday.
Investors should be "bracing for a continued rise in yields," according to Credit Suisse, another primary dealer.
A statement from the Ministry of Finance late yesterday said the government didn't sell any yen in the period from Sept. 29 to Oct. 27. The operation in August amounted to 4.51 trillion yen ($58 billion), the largest monthly amount since March 2004.
The value of yesterday's sales may have exceeded $50 billion, according to estimates by Credit Suisse AG analysts.