World Cup Winning-Coach Henry Steps Down, Set for Mentoring Role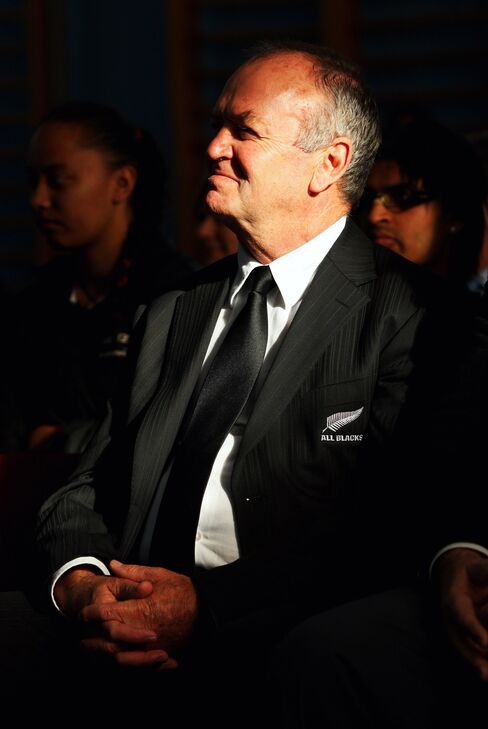 All Blacks head coach Graham Henry stepped down nine days after guiding the team to the Rugby World Cup title and is set to take a mentoring role in New Zealand.
Henry, who has been linked with jobs at home and overseas since the All Blacks beat France 8-7 on Oct. 23 to win their first World Cup in 24 years, said today that he'd "had enough" after eight years and 103 Tests in charge.
"It's been a privilege and an enormous part of my life," Henry, 65, said at a televised news conference in Auckland. "I've enjoyed it immensely but it's time to move on."
New Zealand won 88 of its 103 elite matches -- an 85 percent winning ratio -- since former school headmaster Henry was appointed in December 2003. Under the coach, the All Blacks also clinched five southern hemisphere Tri-Nations titles, secured three so-called Grand Slam sweeps of the U.K. and Ireland and swept the touring British & Irish Lions 3-0 in 2005.
While Henry said he has no desire to coach again, the New Zealand Rugby Union said it's in talks to retain him as a coaching mentor at Super Rugby and provincial level.
"He still has so much to offer the game and it's fantastic that up-and-coming New Zealand coaches will continue to benefit from his vast knowledge," Steve Tew, Chief Executive Officer of the NZRU, said today in a statement.
Tew told reporters in Auckland last week that there will be a "contestable process" in the selection of a new All Blacks coach and that the Wellington-based organization hoped to make an appointment by Dec. 25.
Recommends Hansen
Henry endorsed former Wales coach Steve Hansen, one of his two assistants during his tenure, as his replacement, saying that continuity was crucial in elite rugby.
"You learn a lot by being in this position and if you have complete change of the coaching team you lose that," Henry said. "You lose what has been learnt before and you have to start from scratch again so I think Steve Hansen should do the job. It does give us continuity from what's happened over the last eight years and what goes on in the future."
After stints with Auckland's provincial and Super Rugby teams, Wales and the British & Irish Lions, Henry succeeded John Mitchell as All Blacks coach following the failed World Cup campaign of 2003, where New Zealand lost in the semifinals.
Although the All Blacks exited in the quarterfinals four years later, Henry and his assistants Hansen and Wayne Smith were reappointed through this year's tournament following a review. Smith will take up a coaching role with the Chiefs Super Rugby team next season.
Henry said after New Zealand held on for the narrowest win in seven World Cup finals nine days ago that he could at last enjoy some "inner peace."
"It does take its toll," Henry, the record five-time winner of the International Rugby Board's Coach of the Year award, said today. "I didn't particularly enjoy the last 20 minutes of the game against the French in the final of the Rugby World Cup."