'Generational War' Seen as Lawmakers Stall on Deficit Accord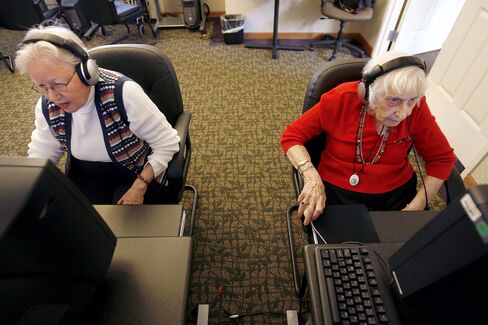 The elderly will likely be the most vulnerable Americans in Washington's future budget fights. Right now, their grandchildren may be among the biggest casualties.
With Democrats and the 37 million-member AARP seniors' lobby working to protect Medicare and Social Security, and Republicans opposing tax increases to curb the deficit, programs for young people may be disproportionate targets if negotiators can't reach a budget deal and automatic spending cuts kick in.
That's sparking concern that lawmakers are sacrificing the U.S.'s future investment in children, education, infrastructure and other programs.
"I don't think Congress on either end understands the consequence of their inaction," said James Jones, an Oklahoma Democrat and former House Budget Committee chairman who is a board member of the bipartisan Committee for a Responsible Federal Budget. "You're creating generational war."
Title 1 funding for low-income students, the Head Start health and nutrition program, Child Welfare Services, and vaccines are among items likely to be hit by the automatic cuts if a congressional panel can't agree on a debt-reduction package of at least $1.2 trillion. That's according to a study by the nonpartisan Federal Funds Information for States, which analyzes the impact of federal policy on state budgets and is affiliated with the National Governors Association.
Social Security and Medicare, the major entitlement programs for the elderly that together cost more than $1 trillion a year and account for about a third of the budget, are exempt from the automatic cuts, which would be split between defense and domestic programs.
Less Clout
One reason child health and education programs are at risk is that those advocating for young people, many from low-income or impoverished homes, lack the political clout that the elderly or defense contractors have.
AARP, the largest group representing senior citizens, spent $9.7 million on lobbying during the first six months of this year, and the defense industry spent $68 million, according to the Center for Responsive Politics, a Washington-based research group. The Children's Defense Fund, one of the largest child advocacy groups, spent $48,245 during all of last year.
Also, Congress appropriates many programs for children on a discretionary, annual basis, making them an easier mark than the mandatory entitlement spending that automatically grows as the retiree population increases. In 2011, the share of federal spending dedicated to children will fall to 8.4 percent, from 9.2 percent in 2010, according to a report by First Focus, a Washington-based group that concentrates on children's issues.
Just a Preview
The new round of spending cuts would merely be a preview of what's in store for programs serving future generations if Republicans continue to block tax increases and Democrats won't agree to reduce benefits for future retirees, said Bob Bixby, head of the nonpartisan Concord Coalition, which presses for debt reduction.
"You've got a 'hell no' to benefit cuts and 'hell no' to tax increases, and those are two very powerful political constituencies," said Bixby. AARP is "squeezing the heck out of the future" and "programs for kids," he said.
David Certner, AARP legislative policy director, disagreed, saying the group is also looking to the years ahead.
"Our members and all older Americans depend on their hard-earned Medicare and Social Security benefits, and want these vital programs to be strong now and for future generations," he said in a statement. "But as long as members of Congress continue to target seniors and future retirees as if they were mere line items in a budget, we can't have a conversation about how to strengthen Medicare and Social Security."
Income Disparity
Representative Jan Schakowsky, an Illinois Democrat, rejected the notion that generational tensions are growing.
"We haven't seen any blaming of the older generation for being too greedy," she said. "If there's any blame people feel, it's the disparity right now between ordinary Americans and the very wealthy."
To be sure, the automatic spending reductions also would exempt the Medicaid health-insurance program for the poor, half of whose recipients are children. And a new Congress can short-circuit the cuts before they take effect.
Still, the outlook for a major accord from the supercommittee is dim as Democrats and Republicans harden their resistance to sweeping changes to taxes and entitlement benefits. And that gridlock increases the likelihood the so-called automatic trigger will take effect.
No Fingerprints
"Given that we're already in the election season, doing something to hurt the elderly is something neither political party wants its fingerprints on," said Ron Pollack, director of Families USA, which advocates for affordable health care.
As a result, the U.S. Department of Education may face about $3.5 billion in spending reductions, according to the study by Federal Funds Information for States, which is also linked to the National Conference of State Legislatures. That may include a cut of about $1.3 billion in Title 1 funding.
The Head Start program could see as much as $700 million in cuts, a 9-percentage-point drop, according to the Federal Funds report. Child welfare services and child-care and development block grants would also be targets, it said.
"If the federal government is cutting or not increasing, the states aren't going to pick it up," said Steve Clermont, policy director for the Every Child Matters Education Fund in Washington.
Education Budget
For the fiscal year that began July 1, at least 23 states enacted deep cuts in pre-kindergarten and/or K-12 spending and at least 25 are doing so in higher education, according to the Center on Budget and Policy Priorities in Washington. Florida's reductions in state university funding have led to tuition increases of 15 percent for the new school year, bringing the total rise since 2009 to 52 percent, the center said.
With the automatic trigger set to focus strongly on defense, industry officials and Republicans have begun to sound alarms. The share of reductions aimed at the poor and children could expand if defense lobbying groups succeed in shrinking the Pentagon's exposure to the trigger.
Republicans have also been critical of what they say is Washington's refusal to make the politically difficult decisions necessary to bring down the long-term debt by cutting entitlements, citing the effect on the next generation.
'Lower Living Standard'
"We know without a shred of doubt that we're bequeathing a lower living standard to the next generation based on the path we're on," said House Budget Committee Chairman Paul Ryan. "The sooner we grapple with this the more likely we are to avert that."
Yet women and children also bore the brunt of the cutbacks under the Wisconsin Republican's budget, which the Republican-controlled House approved in April. It called for scaling back food stamps, Pell grants for college students and Medicaid. Ryan said the pain will only intensify if Congress delays action.
The elderly's pain has been eased since the New Deal era and Democratic President Lyndon Johnson's "Great Society" social programs. While seniors have been lifted out of poverty, children's situation has improved at a much slower rate.
In 1959, seniors were the poorest demographic cohort, with 35 percent living in poverty, compared with 27 percent of children in poor families. In 2010, only 9 percent of people age 65 and older were poor, while 22 percent of those under 18 were living in poverty, according to U.S. Census Bureau data.
The trend coincides with a generational gap in federal spending. In 2008, per capita federal spending on those 19 and younger was $3,660, compared with $23,900 for those 65 and older, according to a report by the Urban Institute and Brookings in Washington.
"The generational warfare, whether it's intentional or not, comes from saying 'we won't give anything; somebody else has to give,'" said Bixby. "That somebody else is children."