'Angry Birds' Maker to Open First Stores in China This Year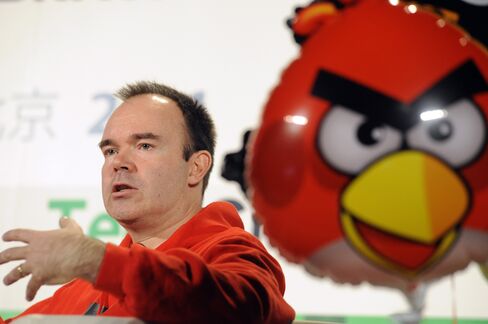 Rovio Entertainment Oy, the creator of the "Angry Birds" mobile-phone games, will open its first retail stores this year in China, its fastest-growing market.
The company aims to hit $100 million in retail sales in China in the first year of store operations, Chief Marketing Officer Peter Vesterbacka said at the Techcrunch conference in Beijing today. He didn't provide possible locations or say how many outlets the Espoo, Finland-based company plans to open.
"Angry Birds" has multiple game versions in which players use a virtual slingshot to fire birds at structures populated by green pigs. Rovio currently sells merchandise including stuffed toys, flip-flops and Halloween costumes through its online store.
"China is our fastest-growing market, so we are taking it very seriously," Vesterbacka said. "We want to be more Chinese than the Chinese companies."
The company is tailoring games to appeal to the local market, such as the recent "Moon Festival" version timed for the Mid-Autumn celebration last month, Vesterbacka said.
"Angry Birds" is the most-copied brand in China, the executive said. The company is taking inspiration from pirate merchandise, including mylar balloons featuring unlicensed characters from the game, for ideas on products to introduce, Vesterbacka said.
Merchandise makes up 10 percent to 20 percent of the business, and stuffed toys are selling a million units a month, Vesterbacka said in a Bloomberg Television interview this month. The "insanely profitable" company may sell shares to the public as early as next year and is probably worth more than $1 billion, he said at the time.
— With assistance by Lena Lee, and Edmond Lococo
Before it's here, it's on the Bloomberg Terminal.
LEARN MORE