Northeast Storm Leaves More Than 3.8 Million Without Power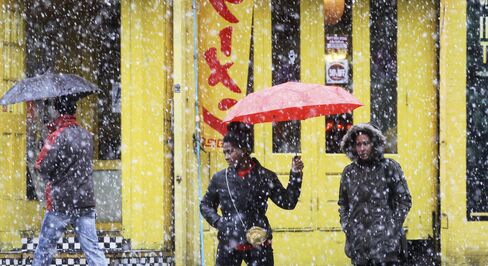 U.S. Northeast utilities were at work today, restoring power to more than 3.8 million homes and businesses after the region's biggest October snowstorm in decades blanketed some towns with 31 inches.
Connecticut Light & Power said 800,935 customers were without service this afternoon, surpassing the outages caused by Hurricane Irene. The state capital of Hartford set an October snow record with 12.3 inches (31 centimeters).
The pre-Halloween nor'easter, which stretched from West Virginia to Maine, was historic for both its timing and the amount of snow, said Kristina Pydynowski, a meteorologist for AccuWeather.com Inc. in State College, Pennsylvania. Numerous snowfall records were set, she said, though data isn't always kept for smaller towns and villages.
"We know of at least 20 cities that set records from this storm, and there were likely many more set in small towns," she said in a telephone interview.
The system brought rain, snow and 69 mile-per-hour (111 kilometers per hour) winds with it. Felled tree limbs led to many power outages as leaves weighed down by heavy, wet snow caused branches to break and come down on power lines.
Hurricane Irene, which cut a similar path across the Northeast in August, knocked out power to as many as 6.69 million people at its peak, according to U.S. Energy Department estimates. Three days later, 1.72 million homes and businesses remained without power.
Worse Than Irene
The severity of outages varied with this weekend's storm.
In Maryland, 9,773 customers were without power today, according to the Maryland Emergency Management Agency. New York, meanwhile, had 367,032 homes and businesses without power. New Jersey's four utilities, including FirstEnergy Corp.'s Jersey Central Power & Light and Public Service Enterprise Group Inc., reported outages for 607,026 customers.
Frank Poirot, a spokesman for Connecticut Light & Power, said the storm downed 29 transmission lines and 15 of the utility's substations were out.
"The severity on our system was far greater than Irene, and we have more customers without power than after Irene," he said in a telephone interview. It's going to take some time to restore service, he said, especially since transmission lines are higher off the ground and often located in remote areas without paved roads for access.
Two Feet Plus
AccuWeather said the storm dropped the most snow on the Northeast this month since 1979.
New York City received 2.9 inches (7 centimeters), the most since records were first kept in 1869. Before yesterday, the city hadn't received as much as an inch during October since the 19th century.
According to the National Weather Service, Plainfield, Massachusetts, about 100 miles (160 kilometers) west of Boston received 30.8 inches of snow. Parts of southern New Hampshire got at least 21 inches, while Jaffrey measured 31.4 inches, according to the weather service.
Bristol, Connecticut, about 85 miles northeast of New York City, had 17 inches.
Farther south, West Milford, New Jersey, had 19 inches and 16 inches fell in Huffs Church, Pennsylvania. Harriman, New York, had 16 inches, while Armonk, New York, measured 12.5 inches.
Trains, Planes
Airlines were working today to clear passenger backlogs.
The storm caused 1,268 flights to be canceled yesterday, according to FlightAware.com. New York's three area airports and Boston's Logan International Airport, reported 264 cancellations today.
Amtrak said this morning that some service disruptions remain, and some routes on the Keystone Corridor and Springfield Line have been suspended.
In New Jersey, NJ Transit said today service on the Morris & Essex and Montclair-Boonton lines will remain suspended through tomorrow due to downed trees and overhead wires.
Separately, the Associated Press said at least three deaths were blamed on the weather, including an 84-year-old Pennsylvania man killed when a snow-covered tree limb fell on his home.