Hedge Funds Eye 64% Return on Next Ronaldo as Fans Jeer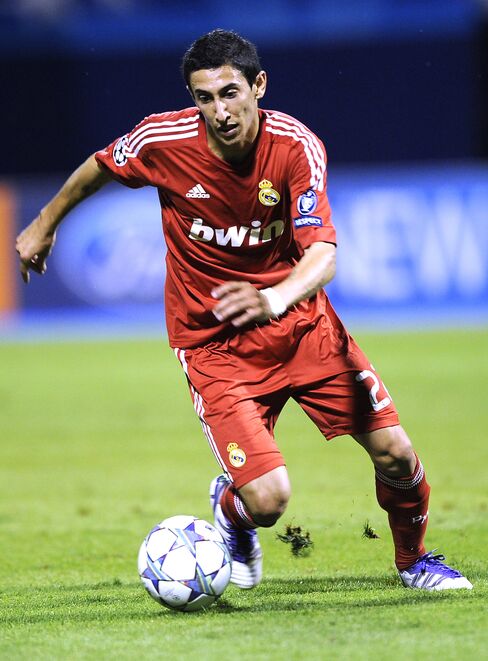 Hedge funds are making bets on the soccer player transfer markets in Spain, Portugal and Turkey, clashing with fans who say they are profiting from teams' financial woes.
Quality Sports Investments Ltd., based on the island of Jersey in the English Channel, and London-based Doyen Capital Partners LLP are working with teams including Atletico Madrid, Sporting Lisbon and Turkey's Besiktas to bankroll signings in return for a share of any profit when the players are traded to another club.
The investments -- which yielded returns of as much as 64 percent per player for a fund managed by Banco Espirito Santo SA -- are taking hold in Spain as banks refuse to extend credit to clubs, according to former league vice-president Javier Tebas. The trend is undercutting club's ability to make money from player sales, one of their main sources of income, said Jose Luis Sanchez, head of "Senales de Humo," an Atletico fan club.
"This is a short-term fix that only benefits a select group of investors and team owners," Sanchez said. "It's no way to develop a soccer team."
As well as buying shares in transfer rights when players move teams, the funds are buying stakes of under-contract squad members. Banned by the English Premier League since 2008, the purchases are allowed by Zurich-based soccer ruler FIFA as long as investors don't interfere in player trades.
In Atletico Madrid's 3-1 home win against Real Zaragoza last night both teams fielded players part-owned by funds.
$62 Million Fund
Lisbon-based Espirito Santo has managed the Benfica All Stars fund since 2009, betting 44 million euros ($62 million) on the rights of 24 players contracted to the Portuguese club, according to team filings. According to Bloomberg calculations, a 4.4 million-euro purchase of 20 percent of the rights of playmaker Angel di Maria in 2009 will yield a return of as much as 64 percent after he joined Real Madrid for as much as 36 million euros. The money will be paid over several years.
Espirito Santo spokeswoman Ana Matos declined to provide information on the fund's overall performance, as did Benfica spokesman Ricardo Maia.
Quality Sports bought a share of the rights of about 15 players after raising money from 20 individuals, former Creative Artists Agency Inc. executive Peter Kenyon, now an advisor to the company, said Sept. 16. The fund is a venture between the Los Angeles-based talent agency CAA and Gestifute SA, which represents Cristiano Ronaldo, the world's most expensive player, among about 70 others. FIFA is looking at the fund to check that it complies with soccer rules.
Uranium Trading
Based in an office in London's Mayfair district where staff also trade uranium, Doyen Capital signed sponsorship accords with Spain's Atletico Madrid, Getafe and Sporting Gijon with a view to investing in transfer rights through a unit in Malta, according to an Oct. 20 statement. Doyen executives declined to comment.
Asked about Atletico's links with investment funds, sports director Jose Luis Perez Caminero told reporters Sept. 7 that executives always act in the best interest of the team although "we don't always want to say everything we are doing." Club spokesman Juan Jose Anaut declined to give details of agreements with investment funds.
Sporting Gijon spokesman Jose Luis Rubiera said it hasn't sold any transfer rights yet. Getafe spokeswoman Luz Monzon said no-one at the club was available for comment. Besiktas officials didn't return two e-mails seeking comment.
'At The Limit'
Soccer clubs' finances in Spain were "at the limit" even before the credit crunch and now banks are reluctant to extend credit lines to them, Tebas said. Spanish banks' bad-loans ratio rose to 7.15 percent in August, the highest since 1994, the Bank of Spain said Oct. 18.
Now all but the biggest teams, Real Madrid and Barcelona, are slashing wages by as much as 25 percent to stay in business and some are turning to investment funds to finance signings, Tebas said.
"For many clubs it's the only way to get access to credit," Tebas said in an interview. "It reflects the situation of the country."
After seeking creditor protection, Real Zaragoza in August financed "almost all" of the fee to sign Benfica goalkeeper Roberto Jimenez for 8.6 million euros through an investment fund, team spokesman Ruben Ramos said.
Besiktas Loss
In Portugal, Sporting Lisbon had a net loss of 44 million euros for the year through June, when it sold shares in transfer rights of seven players to Quality Sports, according to the team's annual report that didn't disclose the fee. Istanbul-based Besiktas, which has also sold transfer rights to Quality Sports, posted a loss of 120.1 million liras ($68.5 million) for the 12 months to May 31.
The Premier League banned third-party ownership of transfer rights after it complicated striker Carlos Tevez's move to Manchester United in 2007. It's frowned on by many U.K. supporters, said Tom Cannon, a professor at England's Liverpool University who has researched soccer finance.
"It's still very important for fans: the notion that players belong to the team and not to a hedge fund," Cannon said. "It's not wanted and not welcome."