Try Halloween With Sinderella, Phantom, Tasty Devil's Margarita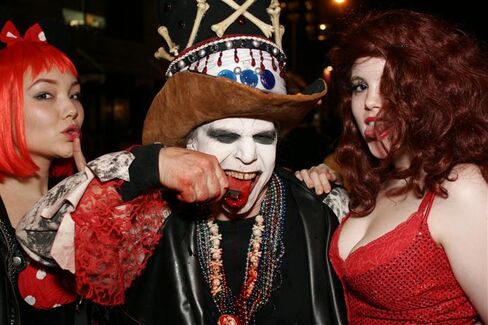 "I want her, the blond one," says the man behind bars searching for fresh meat.
The Caged Cannibal shares Blood Manor with Voodoo Ron, the Wall Crawler and the Killer Klowns.
Halloween is on Monday and lots of alarming activities are on the agenda, including the Village Halloween Parade and the Tiki-inspired "Mahaloween" party at Lani Kai. Here are a few others, many happening over the weekend.
Blood Manor is a haunted house with 19 horrifying settings, some in 3-D. Your journey sends you through the Graveyard of the Doomed into Death Row and down to Hannibal's Kitchen. One blood cocktail coming up.
The full-blown, digital sound of smacking, screaming and screeching doesn't prepare you for the Zombie Killer's gun, which will drive you insane. Is that organ music for your funeral?
Blood Manor, at 163 Varick St., aims to scare you senseless until Nov. 5. Open most evenings. R.I.P express entry tickets are available for $45 plus handling. Information: http://www.bloodmanor.com/.
By then you'll need a Swamp Thing from the nearby 508, a gastro-brewery. It's a drink made from light rum and absinthe for $13. After one of those you'll fantasize that you're still screaming your head off at the haunted house. And you liked it!
The restaurant and bar recently added eight tap beers brewed on-site, like Coffee Porter and Cream Ale for $7.
Try the Yucca Bravas with aioli for $9 or the $1 oysters at the bar.
It's located at 508 Greenwich St. Information: +1-212-219-2444; http://508nyc.com/.
Three Times Dead
In Mexican culture, death happens when our heart stops, when we are buried, and again when we are forgotten. Revive memories and pay respects to the departed by celebrating Halloween and Day of the Dead at Maya on the Upper East Side.
A well-balanced Devil's Margarita, built from reposado tequila and blood orange puree, is made perfect by a mole negro rim that includes chocolate abuelita and chili pequin for $13.
Tasty tamale treats and other handcrafted cocktails, all made from fresh ingredients, are on special from today until Nov. 2. Happy Hour runs all night on Halloween.
Maya is at 1191 First Ave. Information: +1-212-585-1818; http://www.richardsandoval.com/mayany/.
'Phantom' Ship
Sail around New York Harbor on Saturday night in your best Angel of Music disguise. You'll likely need a costumed Christine to win the contest's grand prize: a pair of tickets to the 10,000th showing of Phantom of the Opera.
The ship, which cruises from 9 to midnight, will be outfitted in a black, white and silver theme with chandeliers and fog suggesting the 25-year-old production.
A complementary glass of champagne, Smiling Pumpkin Ale and Grateful Red Lager are included in the $40 ticket price.
The Phantom of the Opera's Halloween Masquerade Cruise boards at 8:30 p.m. from Pier 83 at 42nd Street and 12th Avenue; 21 and older only. Information: www.circleline42.com.
'Tiger Lillies'
It's not only the operatic vocals, macabre music and mocking lyrics that draw fans to the Tiger Lillies shows; there's also freak-show make-up and guys in drag.
Just in time for Halloween, "Sinderella Songs" joins the Lillies' composer-leader Martyn Jacques, and the Adrians (Huge and Stout) with Justin Vivian Bond (Kiki of Kiki and Herb) in a lurid remake of the children's classic featuring bullying broads and a crack whore.
The show, at St. Ann's Warehouse in Brooklyn tonight and tomorrow night, includes greatest-hits sets from both Bond and the Lillies.
You can take drinks, like Brooklyn Pilsner, or wine into the show. Information: +1-718-254-8779; http://www.stannswarehouse.org/index.php.
Hot Dog
You could always dress up your hound as a hot dog and escort him in the Brooklyn Heights Howl-o-Ween Muttsquerade Parade and costume contest on Sunday from 1 to 3 p.m.
Your pooch has to be pre-registered at Perfect Paws, 102 Hicks St. in Brooklyn, and the fee is $25. There's a catered after-party with cocktails and champagne and lots of prizes, and all proceeds are donated to animal charities.
Access is through the Brooklyn Heights Promenade Remsen Street entrance. Information: http://perfectpawsinc.com/.
Creepy Wax Figures
How about sleeping with the dead in a swank midtown hotel? For $5,000, spend Halloween night on the 13th floor in the "Dare to Check-In" haunted suite at the Renaissance New York Times Square Hotel.
Frightfully created by Madame Tussauds, creepy wax figures relax among body parts, chains, bones, candles and cobwebs.
The package comes with ghoulish cocktails, as many horror films as you can watch, an After Dark VIP tour of Madame Tussauds, and early checkout if you just can't take it.
The hotel is at 714 Seventh Ave. at 48th Street. Information: +1-212-765-7676; http://www.marriott.com/renaissance-hotel/travel.mi.
(Catherine Smith writes for Muse, the arts and culture section of Bloomberg News. The opinions expressed are her own.)
Before it's here, it's on the Bloomberg Terminal.
LEARN MORE