Shang to Replace Liu as China Banking Regulator, Reuters Reports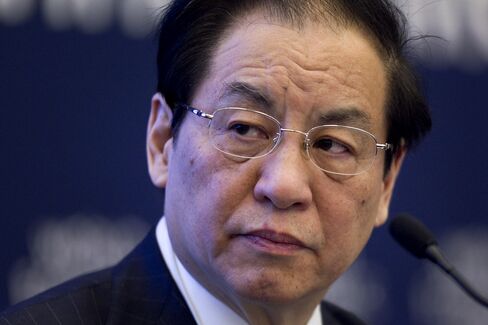 China may name new heads for the nation's banking and insurance regulators as early as this week as the current chairmen have reached the compulsory retirement age of 65, Reuters reported, citing three people it didn't name.
Liu Mingkang, chairman of the China Banking Regulatory Commission, may be replaced by China Securities Regulatory Commission Chairman Shang Fulin, Reuters said. Wu Dingfu, chairman of the China Insurance Regulatory Commission, may be succeeded by Agricultural Bank of China Ltd. Chairman Xiang Junbo, it said.
Naming new personnel at the regulators would be part of the broader leadership changes expected in China over the next 1 1/2 years as the ruling Communist Party selects officials to replace President Hu Jintao and Premier Wen Jiabao. Older leaders will step down from positions in the local governments, military and cabinet ministries, Reuters said.
Guo Shuqing, chairman of China Construction Bank Corp., may replace Shang as the head of the securities regulator, Reuters reported. Jiang Jianqing, chairman of Industrial and Commercial Bank of China Ltd., is also a contender to head the banking regulator, Reuters said.
ICBC and Construction Bank are the world's two largest banks by market value. Agricultural Bank, China's fourth-largest lender by assets, sold shares in the world's largest initial public offering last year. Press officials at the three banks and the banking regulator declined to comment on the Reuters report.
Mounting Defaults
Shares of China's five biggest banks have dropped an average 17 percent in Hong Kong trading this year on investor concern that bad debts may mount as economic growth slows and triggers defaults by manufacturers, local governments and property developers.
China's Communist Party held an annual meeting in Beijing earlier this month with top officials seeking to shape the core leadership that will run what may become the world's biggest economy in the next decade. They aim to mold membership of the nine-person Politburo Standing Committee that will rule collectively under the leadership of Vice President Xi Jinping.
China's economy, which has overtaken Japan to become the world's second largest, may surpass the U.S. in size by 2020, according to estimates from Standard Chartered Plc and PricewaterhouseCoopers LLP. Gross domestic product grew 9.1 percent in the third quarter, the slowest pace since 2009.
Before it's here, it's on the Bloomberg Terminal.
LEARN MORE