Shakespeare Was a Drunken Fraud; Timberlake Steals Time: Movies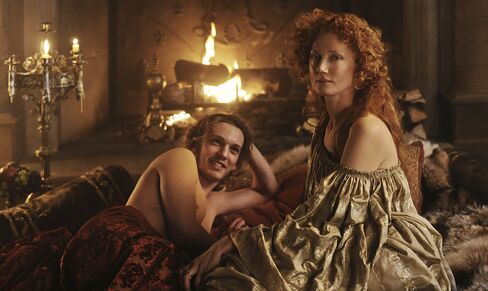 William Shakespeare was a drunken, whore-mongering, semiliterate murderer who took credit for plays written by someone of much higher standing. And he was a pretty poor actor, too.
Were Shakespeare alive today, he'd surely file a defamation suit against "Anonymous," the new film from director Roland Emmerich ("Independence Day") and screenwriter John Orloff. Their revisionist history is ridiculous and baffling.
The movie squanders the talents of an illustrious British cast led by Vanessa Redgrave, Joely Richardson, Rhys Ifans and Derek Jacobi. They do their best to animate this tale of literary treachery and royal infighting; the fault lies not in the stars.
It also doesn't lie in the premise that someone other than Shakespeare penned "Hamlet," "Macbeth" and other masterpieces. That speculation was started more than 150 years ago by skeptics claiming that no one with Shakespeare's modest background could have written such sophisticated plays.
Emmerich and Orloff aren't content to postulate that Edward de Vere, the 17th Earl of Oxford, was the real author -- and that he let Shakespeare take credit because playwriting was considered unsuitable for a nobleman. They have to turn Shakespeare into a buffoon.
Royal Rumble
The film's Shakespeare (Rafe Spall) is a pathetic loser who becomes a famous writer by accident. De Vere (Ifans) originally gives his plays to celebrated dramatist Ben Jonson (Sebastian Armesto), but Jonson deems them unworthy of his name and pawns them off on his friend Will.
When the plays become popular hits, Shakespeare basks in the spotlight. He enjoys his celebrity so much that, it's hinted, he kills a man to protect his secret.
Meanwhile, de Vere is consumed with royal power struggles involving Queen Elizabeth I (Redgrave), the Earl of Southampton (Xavier Samuel), the Earl of Essex (Sam Reid) and the future King James I (James Clyde).
It's virtually impossible to follow all the subterfuge and time-traveling, which often push the Shakespeare question to the background. "Anonymous" is how the filmmakers should have listed their contributions in the credits.
"Anonymous," from Columbia Pictures, is playing in major U.S. cities. Rating: *
'In Time'
"In Time" takes place in a futuristic world where people stop aging at 25 and life spans are determined by social status.
If you have the means, you can live for centuries by accumulating years on the imbedded wrist clock everyone has to show how much time they have left. If you don't, you live day-to-day, scratching for every minute you can beg, borrow or steal.
It's a clever idea that writer/director Andrew Niccol has turned into a slick, shallow starring vehicle for Justin Timberlake and Amanda Seyfried.
Timberlake plays Will Salas, a factory worker who becomes an outlaw after his destitute mom (Olivia Wilde) -- who looks even younger than him -- runs out of time and dies in his arms.
Hunted by a "timekeeper" cop (Cillian Murphy) who suspects him of robbing a century from a man in a bar, Salas flees his ghetto neighborhood and hides out in a wealthy area where everyone has time in the bank. There he wins a high-stakes bet at a casino and meets Sylvia (Seyfried), the spoiled, bored daughter of a tycoon (Vincent Kartheiser) who made his fortune by lending time at loan-shark rates.
Robin Hood
Cornered by cops, Salas escapes by holding Sylvia at gunpoint. She soon undergoes a Patty Hearst transformation and teams up with Salas on a Robin Hood robbery spree, stealing brick-like objects that store time and giving them away to the poor.
"In Time" has some exciting action scenes and, as Sylvia observes after seeing their Most Wanted pictures on TV, "we look cute together." I'm just not sure they're worth spending this much time with.
"In Time," from 20th Century Fox, is playing across the U.S. Rating: **1/2
What the Stars Mean:

****          Excellent
***           Good
**            Average
*             Poor
(No stars)    Worthless
(Rick Warner is the movie critic for Muse, the arts and leisure section of Bloomberg News. Opinions expressed are his own.)