Nuclear Promotion Dropped in Japan Energy Policy After Fukushima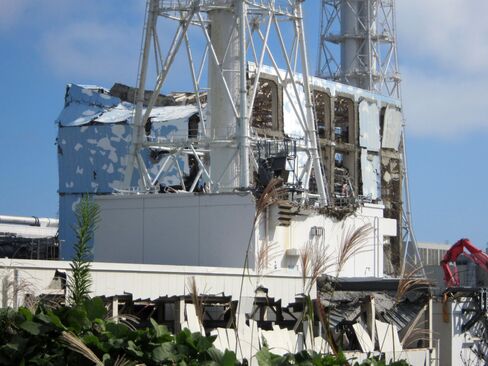 Japan's government abandoned its policy of promoting atomic power, saying it will reduce reliance on the sector in its first annual review of energy since the Fukushima nuclear disaster.
The energy white paper, approved by the Cabinet today, calls for a reduction in the nation's reliance on atomic power in what was the third-biggest user of the fuel before the March 11 earthquake and tsunami. It also omits a section on nuclear power expansion that was in last year's policy review.
The earthquake and tsunami disabled power and cooling systems at Tokyo Electric Power Co.'s Fukushima Dai-Ichi nuclear station, leading to the worst atomic disaster since Chernobyl in 1986. Prime Minister Yoshihiko Noda is planning to reduce the country's dependency on nuclear energy while seeking to restart idled nuclear reactors once their safety is secured and local governments approve.
"Public confidence in safety of nuclear power was greatly damaged by the Great East Japan Earthquake and the accident at Tepco's Fukushima atomic station," the paper said. The government "regrets its past energy policy and will review it with no sacred cows."
Japan, which was the third-most reliant on nuclear power after the U.S. and France, only has 10 of its 54 reactors operating now, either because they were shut down by the quake and tsunami or because of scheduled maintenance. None have been restarted because of safety concerns.
The white paper makes no mention of the government's plan to separate the Nuclear and Industrial Safety Agency from the Ministry of Economy, Trade and Industry. NISA's lack of independence hampered a quick response to the disaster, the government said in a report to the International Atomic Energy Agency in June.
A government panel confirmed on Sept. 30 that NISA was involved in attempts by utilities to influence public opinion in favor of nuclear energy, further damaging public confidence in the industry. The government is aiming to form a new nuclear agency under the environment ministry by April, by merging NISA and the Nuclear Safety Commission.
The government delayed the publication of the white paper, usually issued in May or June, after the Fukushima disaster, which led to the evacuation of 160,000 people. The trade and industrial ministry, which promotes nuclear power, draws up the white paper for approval by the cabinet.
Before it's here, it's on the Bloomberg Terminal.
LEARN MORE