Manchester City Reduces Tevez's Four-Week Fine in Half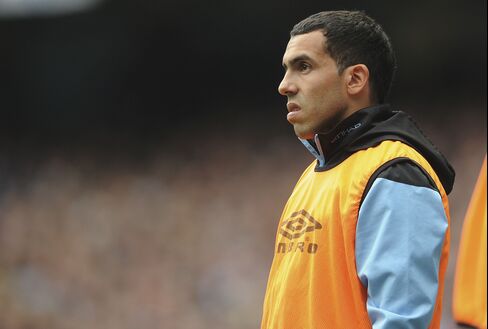 Manchester City will fine Carlos Tevez only two weeks wages after the players' union wouldn't allow the soccer club's plan to add another two-week fine.
The Professional Footballers Association must approve any fine greater than the standard two weeks' wages included in player contracts. City imposed the fine three days ago after club disciplinary hearing upheld a charge of misconduct against the Argentina striker.
Tevez, 27, was suspended with full pay on Sept. 28 pending a probe after manager Roberto Mancini said Tevez refused to enter the field as a substitute during the second half of a Champions League game at Bayern Munich the previous day. Tevez has said he never refused his manager's request to play.
Mancini has said that Tevez will never play for the club again. He joined City in 2009 from Manchester United, where he helped the club win two league titles and the Champions League in 2008. Tevez asked City to trade him in December, saying he wanted to be closer to his family in Argentina.
City said it accepted the PFA's decision, which cannot be challenged, but did accuse the union of a conflict of interest after Gordon Taylor, its chief executive officer, represented Tevez at his hearing.
"Manchester City has been in constant dialogue with the PFA since Sept. 28," the club said in a statement on its website. "Today's PFA decision is a departure from the club's understanding of that dialogue. Without recourse to the PFA decision available, the maximum two-week fine provided for in standard player contracts will now be applied in relation to the misconduct of Carlos Tevez."
Tevez has until Nov. 8 to appeal the fine to Manchester City's board of directors.