Singapore to Toughen Money Laundering, Terror Financing Laws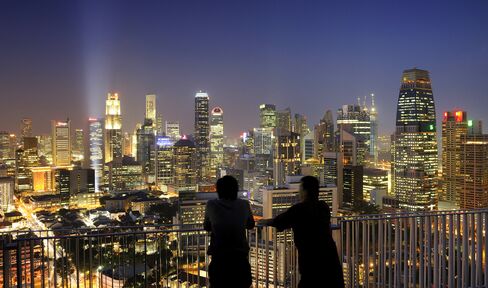 Oct. 28 (Bloomberg) -- Singapore, where assets under management have risen fivefold to $1.2 trillion since 2001, will consider a "tougher penalty regime" and boost enforcement against money laundering and terrorist financing.
The city-state will also make laundering of proceeds from tax offenses a crime and tighten laws on tax evasion, said Ravi Menon, managing director of the Monetary Authority of Singapore, the country's central bank.
"We will ensure that financial crime does not pay in Singapore and those who jeopardize Singapore's hard-earned reputation as a financial center of integrity face severe consequence," Menon said in a speech late yesterday. "Singapore is sending a clear message that it neither wants nor will tolerate these illicit inflows."
The Asian nation, which has the highest proportion of millionaires in the world, was criticized in a March U.S. State Department report as being vulnerable to money launderers. Singapore's economy expanded 14.5 percent last year, boosted by two new casino resorts.
"The speech sends a clear signal that the authorities do not want to see tax evaders from other countries using Singapore as a safe haven for their undeclared funds," said Edmund Leow, a tax lawyer at Baker & McKenzie.Wong & Leow in Singapore. "This will put Singapore in a similar position to Hong Kong, where tax evasion is already a money-laundering offense."
Supervisory Intensity
Singapore, where bank deposits for foreigners and gains from investments including equities are tax-exempt, has pledged to comply with international standards. It was dropped from the Organization of Economic Co-operation and Development's so-called gray list in 2009.
The Commercial Affairs Department, the city-state's white-collar crime unit, will double the number of employees monitoring suspicious financial transactions to detect criminal activity, Menon said.
The central bank has conducted on-site inspections at financial institutions to ensure anti-money laundering and terrorism financing laws are followed, and those that didn't meet standards were warned and reprimanded in writing, he said.
The "MAS is reviewing whether we need to increase our supervisory intensity and is considering if we should make public sanctions against persistently or egregiously errant institutions," Menon said.
Deferred Prosecution
The central banker's comments come about a month after Singapore Attorney General Sundaresh Menon said he will seek tougher penalties for white-collar criminals and cooperate more with global agencies to deter money laundering and tax evasion.
Singapore, which is known for imposing high fines for minor infractions such as littering, uses caning as a punishment for certain offenses. It also enforces the death penalty for serious crimes such as drug smuggling.
The city-state is also considering the use of deferred prosecution, the attorney general said, referring to a commonly used method in the U.S. under which defendants who agree to cooperate with investigators, pay fines or implement corporate reforms, have charges against them dismissed if they fully comply.
Money-laundering convictions in Singapore climbed to an average of 21 a year from 2008 to 2010, compared with four between 2000 and 2007, according to the Financial Action Task Force, a Paris-based watchdog. Hong Kong had 360 money-laundering convictions in 2010, compared with 179 in 2007.
"Tales of large inflows of funds from Europe into Singapore are vastly exaggerated," said Menon from the central bank, adding that the growth of the city's private banking industry was spurred by wealth generated from Asia's economic growth.
To contact the reporters on this story: Luzi Ann Javier in Singapore at ljavier@bloomberg.net;
To contact the editor responsible for this story: Lars Klemming at lklemming@bloomberg.net