Shell Profit Doubles on Higher Energy Prices, New Projects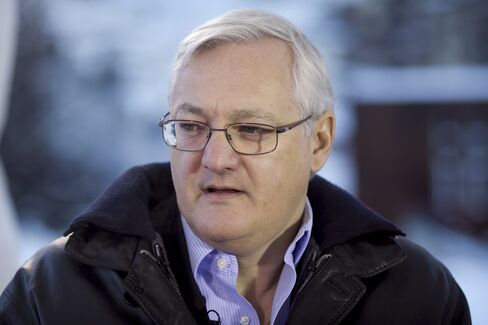 Oct. 27 (Bloomberg) -- Royal Dutch Shell Plc, Europe's biggest oil company, said third-quarter profit doubled as energy prices rose and it ramped up projects from Qatar to Canada.
Net income increased to $7 billion from $3.5 billion a year earlier, The Hague-based Shell said today in a statement. Excluding one-time items and inventory changes, earnings beat analyst estimates.
"Dare we say it but things appear to be going very smoothly for Shell," Richard Griffith, a London-based analyst at Evolution Securities Ltd., wrote in a report. "Shell is in a sweet spot and should continue to get stronger as over 20 major projects come on stream in the next three years."
Chief Executive Officer Peter Voser is seeking to boost output with a $100 billion investment plan through 2014, including the Pearl gas-to-liquids and Qatargas 4 liquefied natural-gas projects and an upgrade at an oil-sands project in Alberta. Shell has sold about $6.2 billion of assets this year, exceeding a $5 billion target.
"Assets sales from the non-core positions will continue, however the pace will probably slow down from here after very active period in 2010 and this year to date," Chief Financial Officer Simon Henry said in a video statement on Shell's website.
Full-year net investment will be below $25 billion, the lowest range of the target, because of the higher asset sales, Henry said. Shell forecast disposals to total $7 billion to $8 billion this year.
Beating Forecast
Adjusted earnings of $7 billion compared with the $6.6 billion mean estimate of 12 analysts surveyed by Bloomberg.
Shell's Class A shares in London rose 1.2 percent to 2,280 pence as of the close of trading. The stock is up about 6.6 percent this year.
Earlier this week, BP Plc also reported profit that beat analyst estimates and increased an asset sales target by 50 percent to $45 billion. Statoil ASA, Norway's biggest energy producer, said today that output rose for the first quarter in five as earnings fell on higher taxes. Eni SpA of Italy today said third-quarter earnings beat estimates. Exxon Mobil Corp., the largest U.S. oil company, said earnings were in line with analysts' estimates.
LNG Sales
LNG sales volumes increased 12 percent to 4.76 million tons from the year-earlier quarter, Shell said.
Overall production fell 2 percent to 3.012 million barrels of oil equivalent a day. New fields contributed about 270,000 barrels of oil equivalent a day in the third quarter, including the expanded Canadian oil sands project, which produced about 50,000 barrels, and about 140,000 of new barrels from Qatar, Henry said.
Shell's cash flow benefited from a 33 percent gain in U.K. gas futures and a 46 percent increase in Brent oil prices from the year-earlier quarter.
Shell received its first "couple of hundred million dollars" contribution from its $12 billion biofuels joint venture with Cosan SA Industria & Comercio in Brazil, Henry said today. It was involved in two exploration discoveries in French Guiana and Australia. Shell also secured new exploration projects in the Americas, Ukraine, Tanzania and New Zealand.
The Anglo-Dutch company is also "looking for opportunities" to produce LNG and explore for oil and gas in Papua New Guinea, possibly with Petromin PNG Holdings Ltd., Henry said.
To contact the reporter on this story: Eduard Gismatullin in London at egismatullin@bloomberg.net
To contact the editor responsible for this story: Will Kennedy at wkennedy3@bloomberg.net