For $57 Million N.Y. City Center Restores Aladdin Lair: Review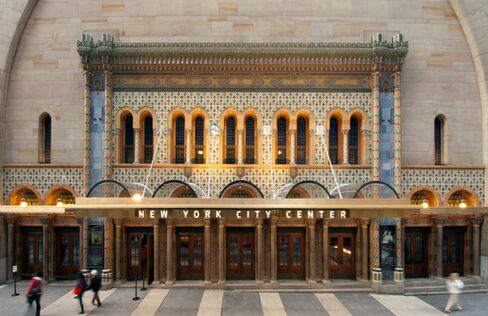 Above a narrow Manhattan street, leaves and vines explode in colorful arabesques. This desert fantasy in ceramic tiles is pasted over the entrance on the domed pile of New York City Center.
After months of frantic work, the scaffolding has just come down in this home for theater and dance, a short walk from Carnegie Hall.
The achievement is major.
As recently as April 2010 I stood on the stage and looked at an auditorium whose every inch was slathered with dingy beige paint. I couldn't imagine the pulsing colors I had been told lurked beneath. I wondered just how architect Duncan Hazard, of the Manhattan architecture firm Ennead, was going to fix the famously terrible sightlines that seemed to obscure views from a good third of the 2,753 seats.
The Alvin Ailey American Dance Theater and American Ballet Theatre perform annually at the center, which also offers the Fall for Dance festival with its $10 tickets and the "Encores!" series that resuscitates musicals.
The building dates from 1924 and served as the meeting place of the Ancient Arabic Order of the Nobles of the Mystic Shrine, better known as fez-wearing Shriners. The City of New York ended up owning it when the Shriners couldn't pay their taxes during the Depression.
Mayor Fiorello LaGuardia reopened the building in 1943 as a home of affordable performing arts. He helped start City Opera that year, and "the people's opera company" played its first performances at City Center before moving to Lincoln Center, from which it has since departed.
Moorish Romanticism
The center's original designer, Harry P. Knowles, gave the building an over-the-top Moorish-style romanticism that has been wondrously restored.
On a visit last week, I saw floral patterns in gold, sage-green, and maroon swirl up the side walls to meet a ceiling spider-webbed with brightly colored panels. A pair of domed, columned and gilded archways that look swiped from some Arabian Nights lair frame the stage. Plump brass Aladdin's lamps dangle in front of the proscenium. What was once a drab room best appreciated when the lights were low is now a delight.
Hazard said there were no color photographs to help identify the original palette, so every square inch of the walls and ceiling had to be painstakingly stripped and analyzed to match the old colors.
No 'Knee Crunchers'
By borrowing a few inches available within the massive steel supports concealed in the fronts of the two large balconies, Hazard was able to change the rake of the seats so that almost all viewers can see the entire stage. He replaced what he called "knee crunchers" with wider seats and added legroom. The sightlines, if not perfect, are now improved more than I thought possible.
After all, in 2007, it looked like the only way to fix the hall was to lift the entire auditorium a full story. That project was estimated to cost $150 million and would have taken years to do. This project got done in two summers for $57 million.
City Center is close to its $75 million capital campaign goal. The difference will underwrite programming. Six of the center's directors were victims of Bernard Madoff's $50 billion Ponzi scheme, although the board has said the renovation wasn't affected. Madoff himself was a director for at least a decade, until his arrest on Dec. 11, according to City Center tax returns.
Architectural sleight of hand found space for much-expanded bathrooms, an additional elevator and a more generous orchestra-level lobby. Long-suffering patrons will be delighted. Hazard's team overhauled stage lighting and behind-the-scenes technology.
Seats Lost
In the process City Center lost 500 seats, which is worrisome to the extent that it seems to accept smaller audiences as a given. It's a trend: new performing-arts halls rarely surpass 2,000 seats these days, and Hazard, who was the Ennead partner in charge of Carnegie Hall's 1986 restoration, has been asked to shrink Cincinnati's 3,400-seat Music Hall by 1,500 seats.
"You are not in a hall to suffer for art but to be comfortable and enjoy," Hazard explained. Especially in orchestra venues, "People want to see the musicians and watch the process," so he'll bring the Cincinnati stage closer to the middle of the hall and wrap it with seats.
At City Center, smaller is certainly better. The hall lost its worst seats. That allows the "Encores!" series, for one, to justify adding additional performances.
(James S. Russell writes on architecture for Muse, the arts and culture section of Bloomberg News. Island Press has just published his book, "The Agile City." The opinions expressed are his own.)