Yen Gains on Speculation Japan to Avoid Intervention; Won Rises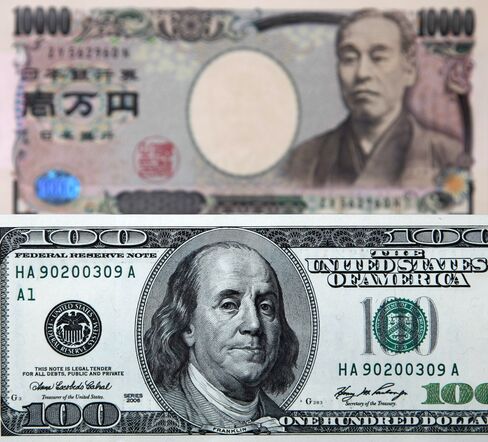 The yen appreciated against most of its major counterparts as speculation Japan will intervene to weaken its currency faded even after it rose to a record for the fourth time in five days this week.
Japanese Finance Minister Jun Azumi reiterated today that he will take "bold" action against the strong yen if needed. The euro headed for a third weekly gain against the dollar after European leaders yesterday agreed new measures to tackle the region's debt crisis. The U.S. currency was set for a five-day loss against all its major peers amid the prospect of further monetary easing. South Korea's won reached a six-week high as the current-account surplus widened.
"We can see the Japanese authorities would like to refrain from intervention as long as possible to keep their options open," said Koji Takeuchi, a senior economist at Mizuho Research Institute Ltd. in Tokyo. "Timing is important."
The yen rose 0.1 percent to 75.87 per dollar at 8:11 a.m. in London after reaching a post-World War II high of 75.66 yesterday. It climbed 0.2 percent to 107.50 per euro. The euro was little changed at $1.4169, after rising 2 percent this week.
The MSCI Asia Pacific Index of shares advanced 1.2 percent.
European Accord
European Union leaders meeting until the early hours of yesterday in Brussels agreed to boost the region's rescue fund capacity to 1 trillion euros ($1.4 trillion), crafted a second aid package for Greece and persuaded holders of Greek bonds to accept a 50 percent writedown on the country's debt.
China's Vice Finance Minister Zhu Guangyao said a contribution by his nation to a rescue package to contain Europe's debt crisis is "under discussion" and his government is "open to all options." China is a good, loyal investor in European Financial Stability Facility bonds, EFSF Chief Executive Officer Klaus Regling said in Beijing today.
U.S. consumer spending rose 0.6 percent in September after a 0.2 percent increase the previous month, according to a Bloomberg News survey before the Commerce Department data today. The U.S. economy grew at a 2.5 percent annual rate in the third quarter, the fastest pace in a year, government figures showed yesterday.
Federal Reserve policy makers, who meet next week, and the Obama administration are considering additional measures to reduce an unemployment rate that has been stuck around 9 percent or higher for 30 months. The central bank pledged in August to hold the benchmark interest rate near zero at least through the middle of 2013 so long as joblessness stays high and the inflation outlook is "subdued."
Prone to Selling
"The dollar is prone to being sold because risk aversion has eased," said Toshiya Yamauchi, a senior currency analyst in Tokyo at Ueda Harlow Ltd., which provides foreign-exchange margin-trading services. "Because interest rates are seen staying low despite an improved U.S. economy and higher stocks, the dollar selling will accelerate as things get better."
Demand for the dollar was supported amid speculation the recent decline in the currency was excessive. The currency's 14-day relative strength index against the Australian dollar fell to 32 yesterday, nearing the 30-level that some traders see as a sign that an asset price has fallen too rapidly and may be about to reverse direction.
"At these levels you may probably want to take some profit on if you are long into risk currencies like the Aussie and euro," said Adam Carr, a senior economist in Sydney at ICAP Australia Ltd., a unit of the world's largest interdealer broker. "Certainly the market has started that."
The greenback rose 0.6 percent to $1.0669 per Australian dollar after a 3.1 percent drop yesterday.
The won gained after the central bank said the current-account surplus widened to $3.1 billion last month from $293 million in August.
"The won will try to strengthen to near 1,090 per dollar, which was the level from which the currency started weakening," said Kim Doo Hyun, a senior currency dealer at Korea Exchange Bank in Seoul. "South Korea has posted current-account surpluses for 19 months, which is also positive for the won."
The won rose 0.9 percent to 1,104.88 per dollar.