China's Industrial Profits Growth Slows Amid Rising Costs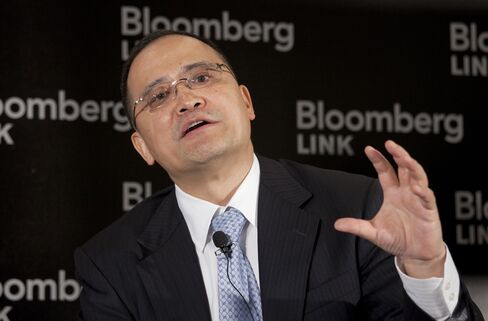 Chinese industrial companies' profits grew at slower pace in September as companies including Anhui Conch Cement Co. and Aluminum Corp. of China faced rising costs even as sales gained.
Net income rose 27 percent in the first nine months of 2011 from a year earlier to 3.68 trillion yuan ($579 billion), the National Bureau of Statistics said on its website today. That compares with a 28.2 percent increase from January through August. Sales climbed 29.6 percent to 60.8 trillion yuan, a similar pace to the previous period.
Profits are being threatened by an economic slowdown as a government campaign to curb inflation cools demand at home and the European debt crisis damps exports. Higher labor and raw-material costs and a strengthening currency are also eating into margins at companies including Yanzhou Coal Mining Co.
"Domestic growth is moderating and external demand is weakening so Chinese companies' profit growth will be affected by these factors," Liu Li-Gang, head of Greater China Economics at Australia & New Zealand Banking Group Ltd., said before today's release. Businesses with monopolies are less affected because they can transfer costs to consumers, he said.
The Shanghai Composite Index, which tracks the bigger of China's stock exchanges, rose 0.4 percent at the 11:30 a.m. local-time break.
Financing Difficulties
Profits in the refinery, coking and nuclear-fuel processing industries slumped 84 percent and telecommunications and electronics manufacturers' earnings fell 2.5 percent, the statistics bureau data show.
Yanzhou Coal, China's fourth-biggest producer of the fuel, said last week its third-quarter profit dropped 70 percent to 1.1 billion yuan ($172 million) due to foreign-exchange losses and rising labor and raw material costs.
China Aluminum, also known as Chalco, the country's biggest producer of the metal, said this week it returned to profit in the third quarter after sales jumped 45 percent to 41.6 billion yuan. Still, President Luo Jianchuan said profit in September fell from the previous month, prices have fallen close to production costs and the government's tighter monetary policies have made financing increasingly difficult.
Twenty-one regions in China, including Beijing and Tianjin, raised minimum wages by an average 22 percent in the first nine months of the year, the Ministry of Human Resources and Social Security said on Oct. 25.
Metals Smelting
The statistics bureau's profits data cover companies with annual sales of at least 20 million yuan in 39 industries including oil and gas exploration, transport equipment manufacturing, telecommunications and power generation.
In the first nine months, 37 industries saw profits increase, the statistics bureau said. Overall profit margins were 6.05 percent, down from 6.2 percent in the first half of the year, the bureau said, without saying whether the rate referred to operating or net margins.
Profits at state-owned and state holding companies rose 20 percent, earnings at foreign invested companies grew 13 percent while privately owned companies saw net income surge 45 percent, according to today's data.
Metal smelters posted a 62 percent jump in profits from a year earlier while companies in the oil and gas exploration industry saw a 40 percent rise.
Before it's here, it's on the Bloomberg Terminal.
LEARN MORE