Chef Gagnaire's Berlin Restaurant to Focus on Wine: Interview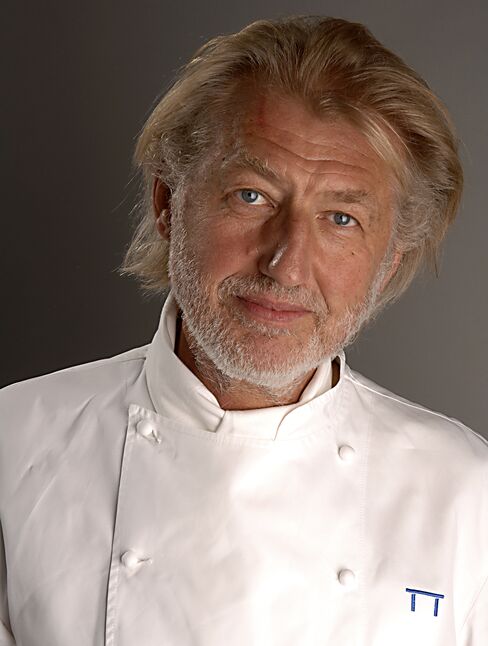 Pierre Gagnaire is known for exotic dishes built on centuries of culinary tradition. He likes to flip that tradition upside down, mix in a few Asian spices and play around with the temperature and texture.
Gagnaire, 61, devised a menu for Sketch's VIP restaurant at this month's Frieze Art Fair in London, where well-heeled collectors sampled his two veloutes: pumpkin or chestnut with green curry, sticky rice and dragon fruit.
The French chef also is working on his latest project: a restaurant for the Waldorf Astoria Berlin, which is scheduled to open early next year. It's the latest outpost of a culinary empire that already encompasses the U.S., U.K., France, Russia, Japan, Korea, Dubai and Hong Kong.
"I think this is the end because it's difficult to find enough time," he said in an interview. "It's important not just to achieve a certain standard, but to create a place where you feel the heart of the owner. It's my mission and for that I need time to understand the city and also the building. If I open a new place I think perhaps I'll close places."
I've met Gagnaire a few times and he's always entertaining: smiling and gesticulating as he attempts to communicate in English, a language in which he's not entirely comfortable. He's unfailingly courteous and yet I've also witnessed his concentration when it comes to food and restaurants. Gagnaire will sit alone at the edge of the room, silently tasting and watching.
Ham and Beer
This will be his first restaurant in Germany, a country he used to visit more than 30 years ago, when he would share meals of bread, ham and beer with friends in Westphalia.
"I'm happy to go to Berlin because today it's very creative, very new," he said. "It's the New York of Europe and, to be honest, I'm happy to be in Europe, with the produce, the people, the mentality. It's not far from Paris so it's easy to go, like London.
"I don't know German cuisine well but I think of it as simple and tasty," Gagnaire said. "I know it has changed because today everybody says that in Germany there are many good restaurants. I want to go three or four times to see the market, to meet people, to meet the producers and to try to come up with good ideas. I'm not a concept man but I want to create a restaurant around the wine."
Urban Energy
Would he consider opening a restaurant in New York? He already owns Twist at the Mandarin Oriental in Las Vegas.
"If I go to New York it's for a very good project because it's like London," he said. "If I go there I must be strong and I must have the time, and for the moment I'm not free. Every city produces energy and only with time do you learn the qualities and faults of each place. I have begun to know the English spirit, to know London. I like to run in the park, to see the museums, to see the shops."
Does he ever feel tired and just want to slow down?
"Sometimes yes, sometimes no," he said. "I'm lucky because I have good health, I do sports. I try to sleep well. I don't drink too much, I don't eat too much." He looked at my bulky frame and laughed. "It's your job to eat. My job is to make the food."
(Richard Vines is the chief food critic for Muse, the arts and leisure section of Bloomberg News. Opinions expressed are his own.)
Before it's here, it's on the Bloomberg Terminal.
LEARN MORE