California Bond-Cost Cut Even as State Revenue Lags: Muni Credit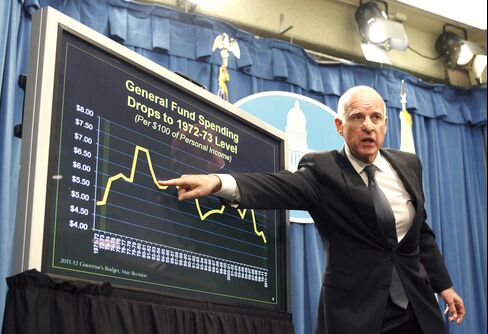 The biggest rally of municipal bonds rated below AAA in almost three months is helping California cut borrowing costs only a week after the most-populous state had to raise yields to sell $1.8 billion of general-obligation debt.
Tax-exempt bonds rated A+, four levels below Standard & Poor's top grade, yielded about 86 basis points more than AAA debt yesterday, near the least since Aug. 8, according to data compiled by Bloomberg. A basis point is 0.01 percentage point. The difference is down 21 points from Sept. 30, the most since a 34-point drop from 111 in July, the highest since at least 1994.
California, S&P's lowest-rated state at A-, had to boost yields on 10-year debt to 3.7 percent from 3.51 percent to attract institutional buyers when it sold bonds Oct. 19, after AAA yields reached a two-month high. This week, it was able to lower yields on the largest part of a $438.6 million sale to 0.93 percent from 1.125 percent.
"People are seeking out A level credits so they can potentially get a little better return," said John Hallacy, head of municipal research at Bank of America Merrill Lynch in New York. The difference in credit quality between single A and double A "is measurable, but it's not a chasm."
The yield on top-rated 10-year tax-exempt bonds fell to 2 percent last month, the lowest since at least January 2009, when the Bloomberg Valuation index begins. It was 2.4 percent yesterday, down from a two-month high 2.6 percent Oct. 13.
The yield on 10-year debt rated A-, six levels from the top, was 3.6 percent yesterday, 1.2 percentage points more than AAA bonds, according to Bloomberg indexes.
Future Help
Investor interest in higher-yielding bonds will help California in future sales, said Scott Eldridge, director of portfolio management for Caprin Asset Management LLC, in Richmond, Virginia, which has $800 million of municipals.
"Whenever you see absolute interest rates so low in the muni market, investors are more likely to look around and say, 'What is California offering,'" he said.
The state can use the cost savings. Tax collections in the first fiscal quarter were $705 million short of projections, the controller reported Oct. 10.
If revenue falls $1 billion or more behind forecasts for the year, California will have to cut funds for universities, social services and other programs under the $86 billion budget hammered out by Democratic Governor Jerry Brown and the Legislature.
Sales-Tax Backing
California's $438.6 million sale on Oct. 25 was rated A+, two levels higher than its general-obligation grade because they're repaid with sales taxes. Proceeds will pay off part of $14.1 billion of bonds sold in 2004 and 2008, during Republican Governor Arnold Schwarzenegger's two terms, to plug budget deficits. The state moved up the offering by a day by combining sales to individuals with bids from institutions.
Yields on $363.8 million of debt maturing in July 2016 were lowered to about 30 basis points less than five-year AAA debt that day, according to a Bloomberg Fair Value index. The yield on $74.8 million maturing in July 2017 went to 1.1 percent from 1.25 percent.
"The shorter end of the curve is where retail likes to buy," said Tom Dresslar, a spokesman for California Treasurer Bill Lockyer.
The yields were attractive relative to other investment opportunities, said Bud Byrnes, chief executive officer of RH Investment Corp. in Encino, California.
"In this market right now, there really is no yield," he said. "Getting 1 1/8 percent for five years on a tax-exempt California bond, it's a no-brainer."
Ratings' Importance
The demand for lower-ranked bonds also is a sign of the "diminished" importance of ratings in the municipal market, Byrnes said.
"The real difference between A+ and AAA is negligible in my opinion as far as creditworthiness," he said. "A good A+ bond is mighty good."
Investors will still discriminate among different kinds of lower-rated debt, said Bank of America Merrill Lynch's Hallacy.
"Electric, water, sewer are going to be a little more stable, a lot less volatile, than housing or project finance," he said.
Further gains by lower-rated securities may be limited as borrowers step up issuance, Byrnes said. Municipal sales are set to total $7.9 billion this week and may reach $32 billion in October, the largest monthly total of 2011, according to data compiled by Bloomberg.
"Now that the market is having to digest supply for really the first time this year, you'll start to see higher yields and a widening spread," Byrnes said.
Following are descriptions of pending sales of municipal debt:
STATE OF NEW YORK MORTGAGE AGENCY, which bought 2,110 home loans in fiscal 2010, will sell $168.6 million of revenue refunding bonds as soon as next week, according to a preliminary official statement. The sale will include $118.6 million of federally taxable debt. Moody's Investors Service rates the sale Aa1, second-highest grade. Citigroup Inc. will lead banks marketing the debt. (Added Oct. 27)
GEORGIA, one of only eight states with S&P's AAA rating, will sell $400.8 million of general-obligation bonds as soon as next week through competitive bid, according to a preliminary official statement. The sale includes $153.8 million for refunding. (Added Oct. 27)
CALIFORNIA HEALTH FACILITIES FINANCING AUTHORITY and Arizona Health Facilities Authority, which finance hospitals, plan to sell a combined $476 million of revenue debt as soon as Oct. 27 on behalf of Catholic Healthcare West, the fifth-largest health-care system in the U.S. Proceeds will finance capital projects and refund debt. The transaction is rated A2, Moody's sixth-highest grade. JPMorgan Chase & Co. is senior manager. (Added Oct. 26)
WASHINGTON SUBURBAN SANITARY DISTRICT, Maryland, plans to sell $300 million of public-improvement bonds as soon as next week through competitive bid. The district provides water and sewer service for 1.8 million people in Montgomery and Prince George's counties. The bonds are backed by the district's general-obligation pledge. (Added Oct. 26)