Sweden's Borg 'Very Skeptical' on Common Euro Bond Proposals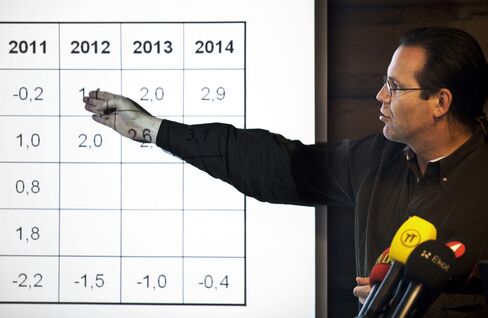 Swedish Finance Minister Anders Borg said a common euro bond is unlikely to ease the single currency bloc's crisis as Europe's leaders try to agree on a model that combines common borrowing with stricter budget controls.
"I tend to be very skeptical toward those kinds of proposals," Borg said yesterday in an interview in Stockholm with Bloomberg Television's Andrea Catherwood. "I can't see how lower interest rates for the most indebted" countries "paid for by the mortgage and house owners in the countries that have been taking care of them can solve those problems."
Europe is struggling to find a funding model for the euro area that respects Germany's aversion to common borrowing while accommodating southern euro nations' appetite for combined debt issuance. One compromise may come in the form of so-called stability bonds, which the European Commission says would require more budget discipline from euro nations to be feasible.
"They probably need a tougher fiscal rule book," Borg said. "But that has to be on the national level. This cannot be something that is imposed from Brussels."
The commission proposed adding the right to screen national budgets earlier and monitor more closely nations such as Italy, where rising borrowing costs threaten financial stability. The commission, the EU's executive arm, also asked for tighter fiscal surveillance of nations such as Greece, Ireland and Portugal after they exit rescue programs.
'Lack of Growth'
None of these models addresses the main issue, Borg said. "The core of the problem is the lack of growth reforms, structural reforms," he said.
Borg said Sweden is ready to step up its economic support measures should the crisis in the euro area deteriorate. The country's budget surplus provides a buffer that gives the government scope to act without jeopardizing its fiscal health, he said.
"We have some dry powder, so we would be obviously ready to step in, in such a situation, with some further tax cuts and some stimulus measures but always in the interest then of stimulating demand from a Swedish perspective," he said.
Swedish 10-year bonds yielded 55 basis points less than similar-maturity German bunds today, versus 53 basis points yesterday. Germany at an auction yesterday failed to sell all the January 2022 bonds it offered, sending bund yields higher.
Reducing Debt
Sweden has reduced its debt burden since the global financial crisis started in 2007, and will post a budget surplus this year and next after the fastest economic expansion in the European Union last year.
Sweden will post a 0.9 percent budget surplus of gross domestic product this year as debt dwindles to 36.3 percent of GDP, the European Commission said on Nov. 10. The average debt load in the euro area will swell to 88 percent this year, the commission forecast. The economy, home to companies such as wireless network maker Ericsson AB and appliance maker Electrolux AB, will expand 4 percent in 2011, more than twice the 1.5 percent rate in the euro area.